These tasty Chocolate Chip Chickpea Cookies are a real treat and never least long in our house. Soft, chewy and delicious, they're simple to make and (as cookies go) they're healthy too. Made with Almond Butter, Chickpeas, Gluten free Oats, and a good amount of ground Flax Seed for a healthy dose of essential Omega 3 fatty acids.

You can give these to the kids and know that you're getting plenty of goodness into them so everyone's a winner!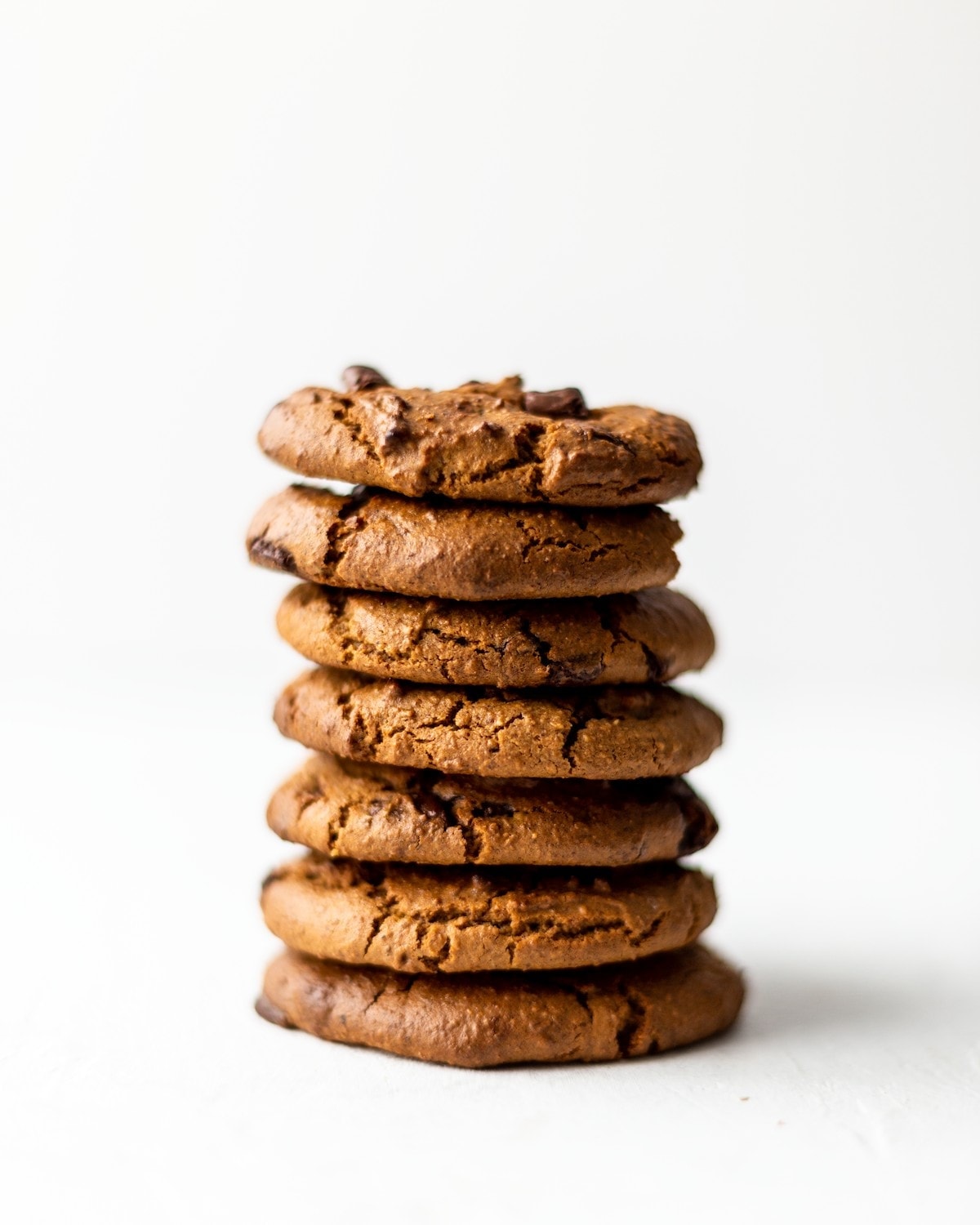 Jump to:
Why do we use Chickpeas in this cookie recipe?
Chickpeas make a great gluten-free flour substitute in cookie recipes. They're thick texture and neutral flavour allow the dough to retain its shape when baking. Whilst also giving it a pleasant 'bite', similar to the popular soft-style cookie.
The bonus of using Chickpeas in a cookie recipe is that you're adding in important plant based nutrients, without the kids having to know.
What You'll Need
Ingredients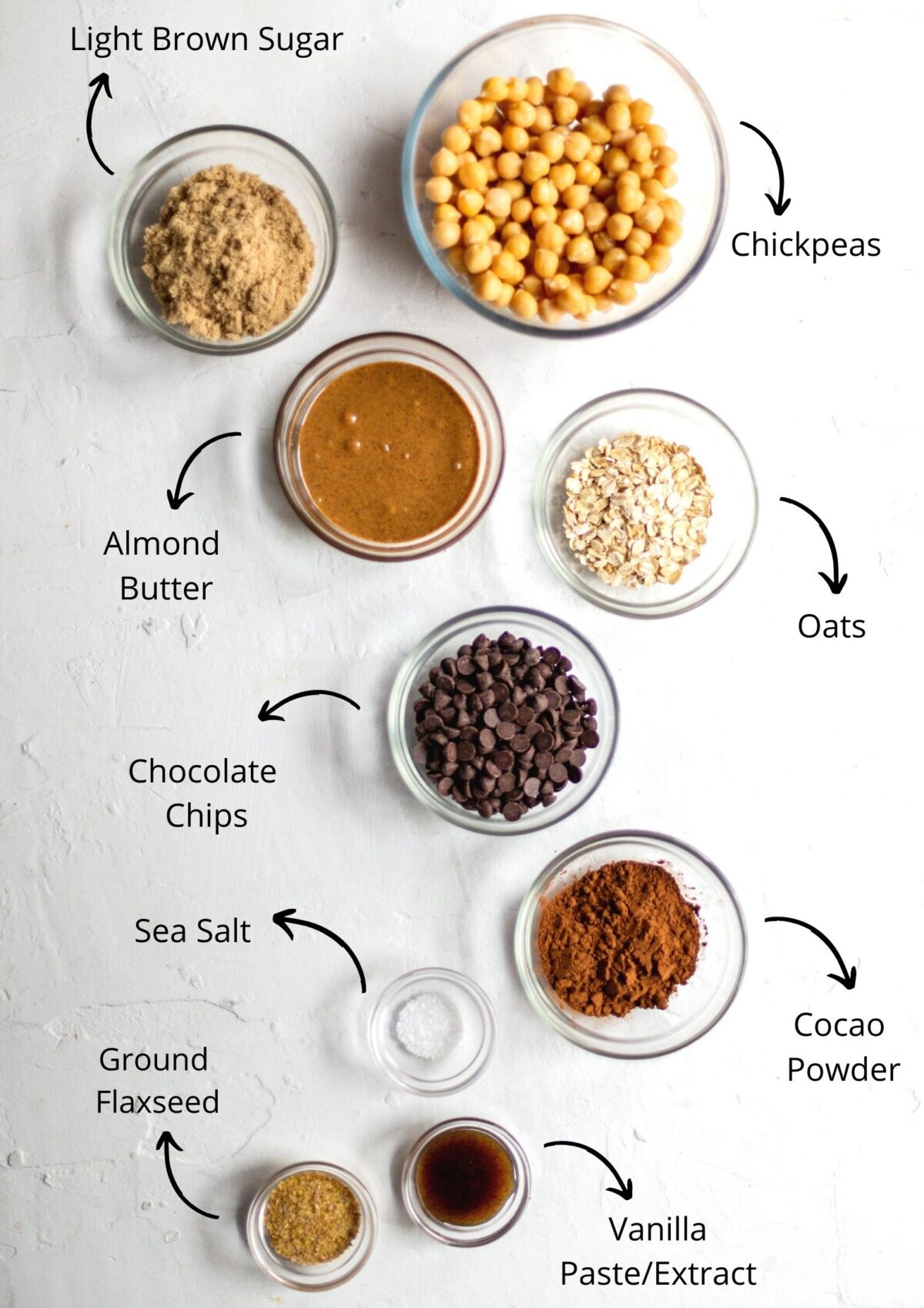 Almond Butter – You can buy this by the kg in larger supermarkets, or whole food stores. Alternatively you can easily and inexpensively make your own, but you will need a high speed blender or food processor to get the job done. Alison from LovingitVegan has a simple recipe for homemade Almond Butter.
Bicarbonate of Soda (baking soda)- It is used in things like breads and cakes to help them rise. In cookies it's used to give them a light and chewy texture. If you don't use Bicarb you are very likely to end up with flat and hard cookies.
Chickpeas - These can be bought dried or tinned. If using dried chickpeas be sure to soak them for at least 8 hours. Handy Tip - Stir a teaspoon of Bicarb/Baking Soda in to the water that your Chickpeas are soaking in, its helps soften them. 1 Cup of dried Chickpeas equates to 3 cups cooked, so measure the 1 ½ cups required for this recipe after soaking, not before.
Chocolate Chunks - You can use any dairy free chocolate. Chocolate chunks/chocolate chips, white chocolate, dark chocolate, whatever floats your boat.
Coconut Sugar - Often used for the fact that it's a less processed sugar than your standard white sugar. It also contains trace minerals and has a lower GI score. You can find this is most Health Food Stores, although it is becoming more widely available in supermarkets due to the increasing demand. Swap this for light brown sugar if preferred.
Gluten Free Oats - Gluten-free oats are now available in most Supermarkets, however if you're struggling to find them you can visit your local Health Foods store or buy them from various places online depending on your location. If you're not avoiding gluten, you can just use regular oats.
Ground Flaxseed - It's important here to use Ground Flaxseed and not whole. This is due to the fact they are more nutritionally bio-available once ground. Our bodies can't break down the outer casing easily. Ground Flax is usually another easily accessible product from wholefood or health stores. You can purchase this from multiple places online by simply searching in Google.
Maple Syrup - This can be subbed out for Agave Syrup if needed. I like to use Maple Syrup for its flavour, and the fact that it contains vitamins, minerals and antioxidants. In particular it has high amounts of Zinc and Manganese - a mineral essential for healthy brain and nervous system function.
Vanilla Paste - Can easily be subbed for Vanilla Extract. The difference in flavour is very mild and the two can be used interchangeably in most recipes.
Equipment
Blender (we used our Vitamix)
Mixing Bowl
Baking Tray
Baking Paper or equivalent
Wooden spoon/Spatula
How to Make them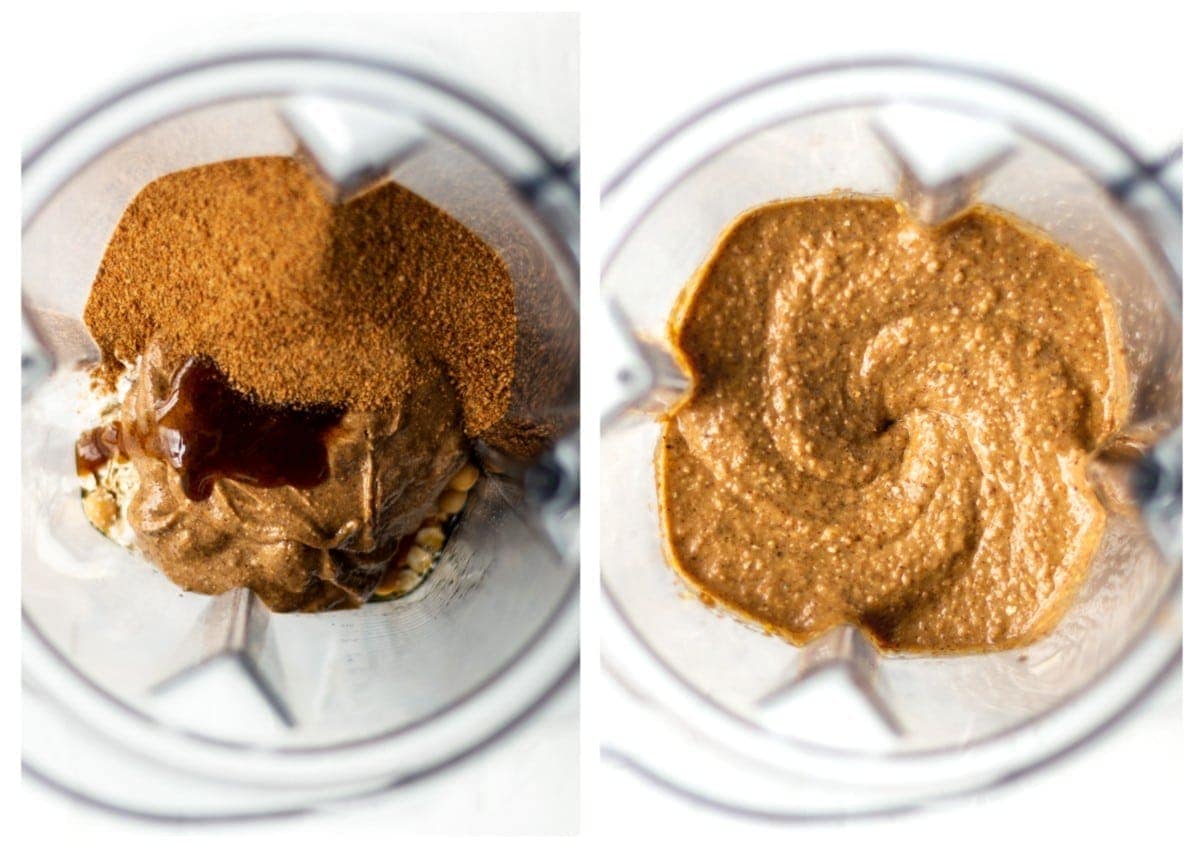 Add the ingredients to the blender (except the Chocolate), then blend until smooth. You're looking for a consistency similar to Hummus.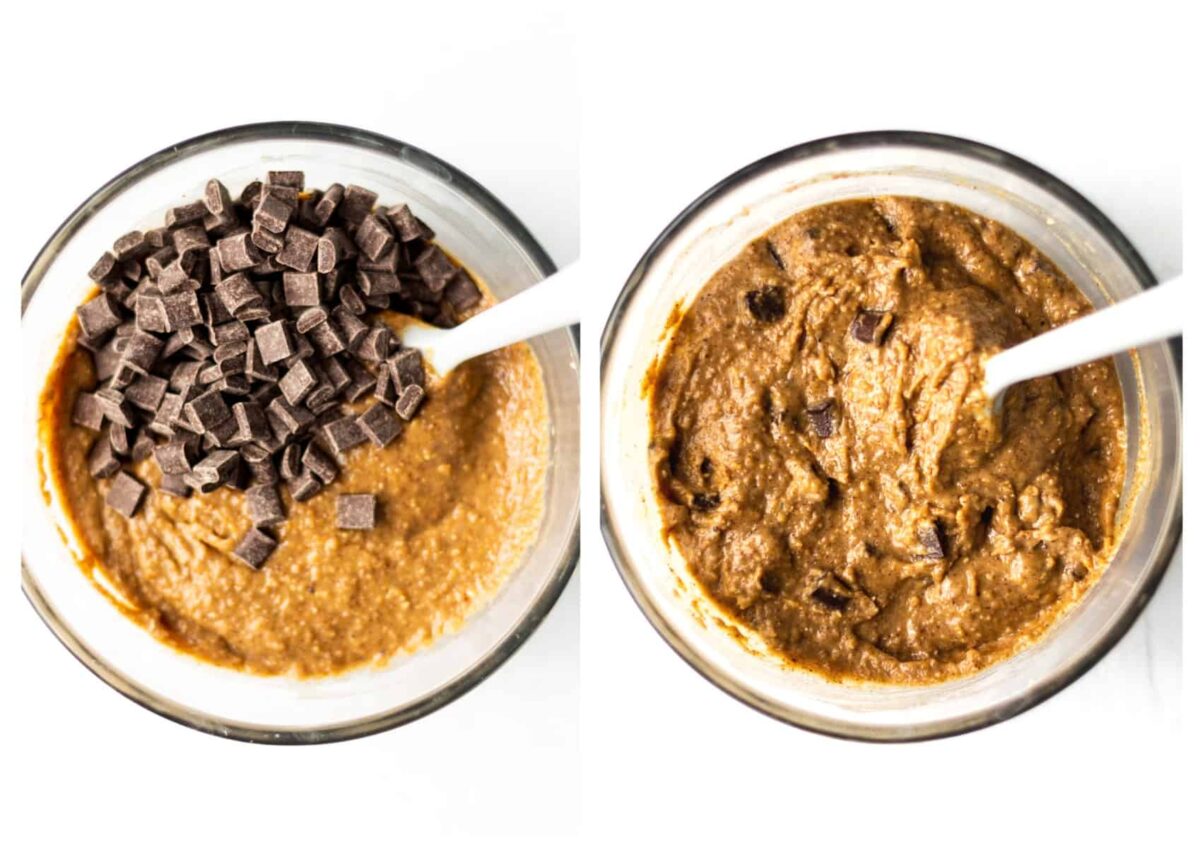 Transfer to a bowl and fold in the chocolate chunks.
What's really handy to know here is that this cookie dough is edible raw, so if you need to do a little 'taste test', now's the time to do it. I'll leave it up to you to decide whether you tell the kids or not...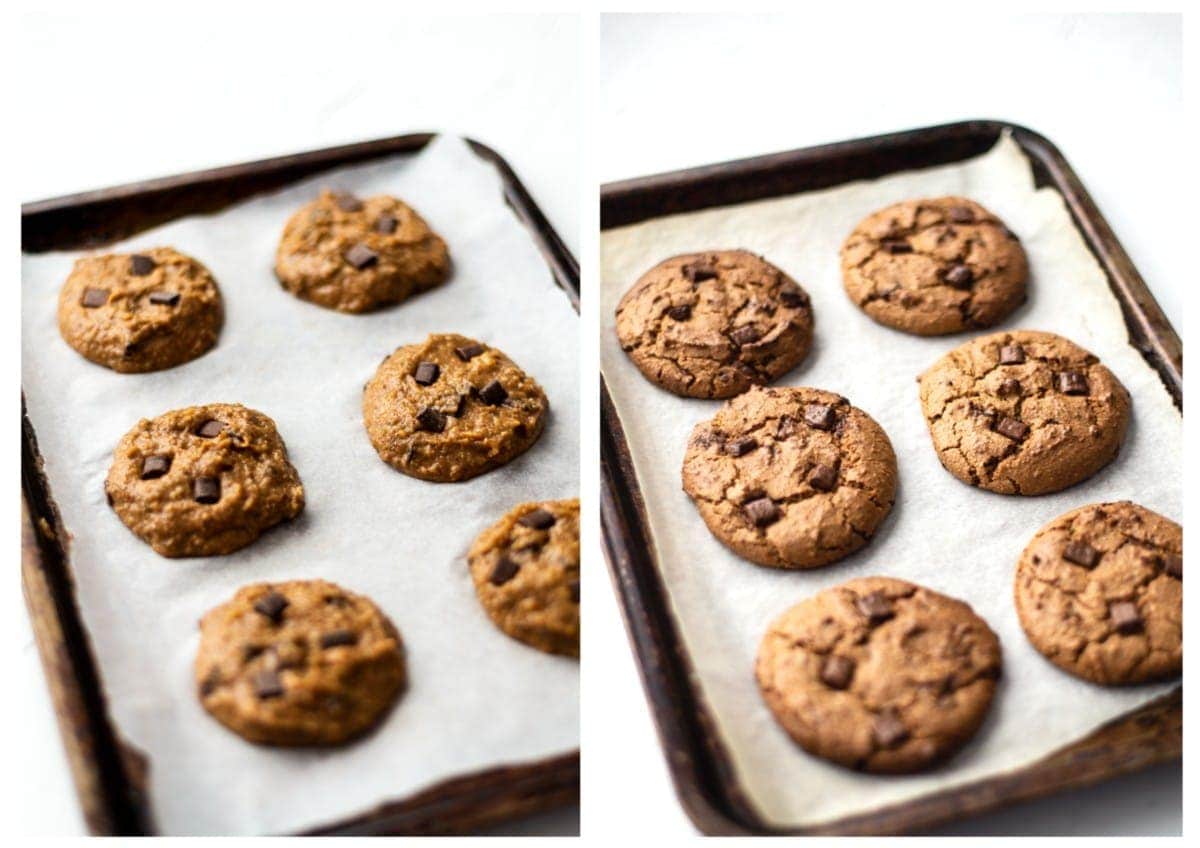 Portion out the cookies on a lined baking tray. The cookies don't spread very much compared to a regular cookie as they don't contain butter. So you may need to spread the mixture out a little on the tray with the back of a spoon - see photos above for reference.
I then top with a few more chocolate chunks before placing in the oven to bake.
Storage
These can be stored in an airtight container for up to 5 days. Something to bear in mind is that these will soften up a little when storing. To get that 'fresh cookie' feeling back, pop it in the oven for 5 minutes to warm it through.
Serving Suggestions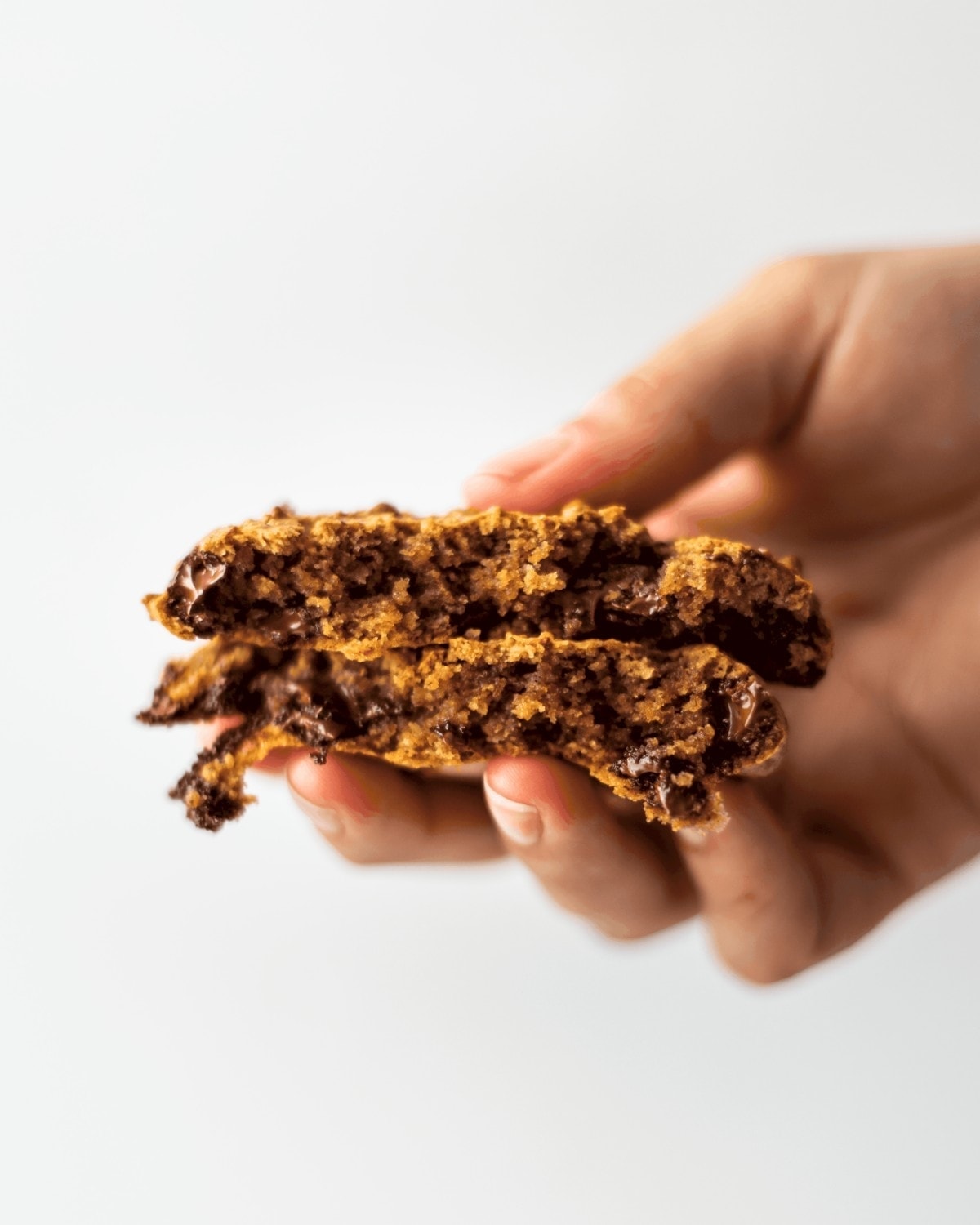 Fresh out of the oven is always best! But they will keep in an airtight container for up to 3 days. If they do survive for more than 2 seconds after getting them out of the oven, then I highly recommend that you re-warm them in a preheated oven (at 140°C/ fan 120°C/ 275°F/ Gas mark 1), for 5 minutes before tucking in.
These also make for a great lunchbox treat (for those that can take nuts in to school placements). Or for an on-the-go snack.
FAQ's
Can I use another nut butter instead of Almond Butter?
Yes you can. I've made these with Peanut Butter before, and also with Cashew Butter, both are equally delicious. I haven't tried them with Hazelnut Butter, but I would imagine they'd be very tasty as well.
Are Chickpea Cookies healthy?
Yes they are, compared to regular cookies. They're high in fibre, because of the chickpeas, and have the added benefits of Omega 3 from the flax seed. Also they contain Calcium along with Mono and Poly Unsaturated Fats from the Nut Butter. Both of these fats are good fats, which help lower the levels of bad cholesterol in your blood and help maintain levels of good cholesterol. For an even healthier cookie you could try our delicious Date and Peanut Butter Cookies.
More Cookie and Cake Ideas
Here are a few more of our Delicious Recipes that you might like to try.
Recipe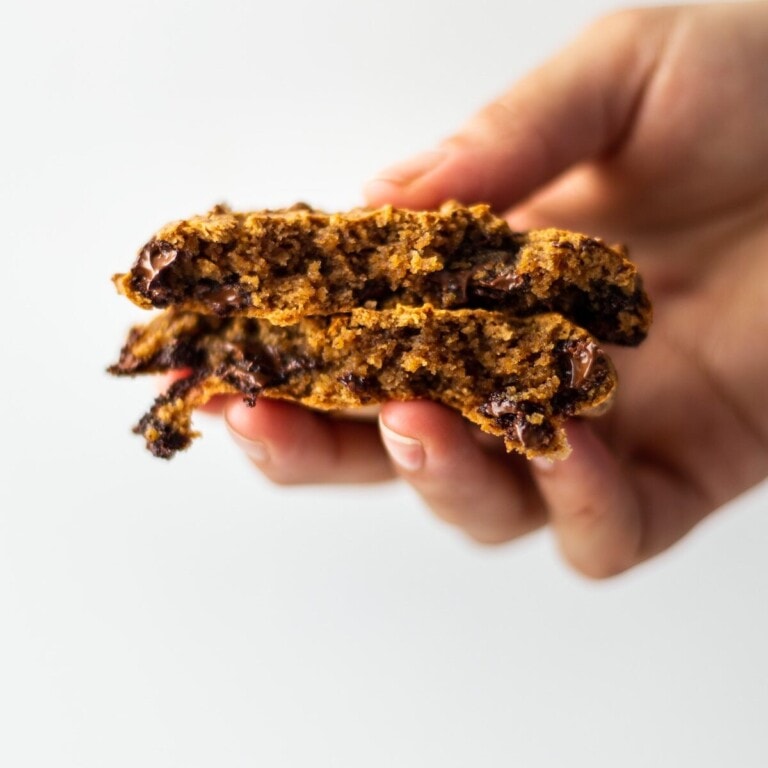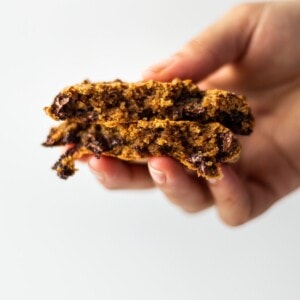 Chocolate Chip Chickpea Cookies
Super tasty and super simple. These Gluten Free Cookies are full of Fibre, Omega 3 and Good fats. So as well as being delicious, they're good for you too.
Print
Pin
Rate
Equipment
Blender or Food processor

Baking Tray 

Baking Paper
Ingredients
1 ½

cups

1 tin Cooked Chickpeas

½

cup

Almond Butter

¼

cup

Gluten Free Oats

optional

2

tablespoon

Ground Flax Seed

2

teaspoon

Vanilla Paste

½

cup

Maple Syrup

¼

cup

Coconut Sugar

optional

½

cup

Chocolate Chunks

½

teaspoon

Bicarbonate of Soda

Pinch

of Salt

optional
Instructions
Preheat the oven to 160°C /325°F/Gas Mark 3

Measure out all of your ingredients.

Put all the ingredients (except the Chocolate chunks) in the blender and blend until it resembles the texture of hummus.

1 ½ cups 1 tin Cooked Chickpeas,

½ cup Almond Butter,

¼ cup Gluten Free Oats,

2 tablespoon Ground Flax Seed,

2 teaspoon Vanilla Paste,

½ cup Maple Syrup,

¼ cup Coconut Sugar,

½ teaspoon Bicarbonate of Soda,

Pinch of Salt

Transfer the mixture to a bowl, add the Chocolate Chunks and stir through.

Line a baking tray with baking parchment and portion out the Cookies, about 1 heaped tablespoon per cookie. Be sure to leave about an inch between the cookies as they will spread a little when baking.

Put the tray in the preheated oven and Bake for 18 Minutes.

Remove the tray from the oven and leave the cookies to cool on the tray.
Nutrition
Calories:
150
kcal
|
Carbohydrates:
32
g
|
Protein:
8
g
|
Fat:
8
g
|
Saturated Fat:
3
g
|
Trans Fat:
1
g
|
Cholesterol:
1
mg
|
Sodium:
42
mg
|
Potassium:
261
mg
|
Fiber:
6
g
|
Sugar:
16
g
|
Vitamin A:
11
IU
|
Vitamin B1:
1
mg
|
Vitamin B2:
1
mg
|
Vitamin B3:
1
mg
|
Vitamin B5:
1
mg
|
Vitamin B6:
1
mg
|
Vitamin B12:
1
µg
|
Vitamin C:
1
mg
|
Vitamin E:
3
mg
|
Vitamin K:
2
µg
|
Calcium:
84
mg
|
Copper:
1
mg
|
Folate:
50
µg
|
Iron:
2
mg
|
Manganese:
1
mg
|
Magnesium:
71
mg
|
Phosphorus:
136
mg
|
Selenium:
2
µg
|
Zinc:
1
mg