Deglet Noor and Medjool dates are two of the most popular varieties of dates. In this blog post we look at the main differences between the two, including appearance, taste, origin and nutritional values.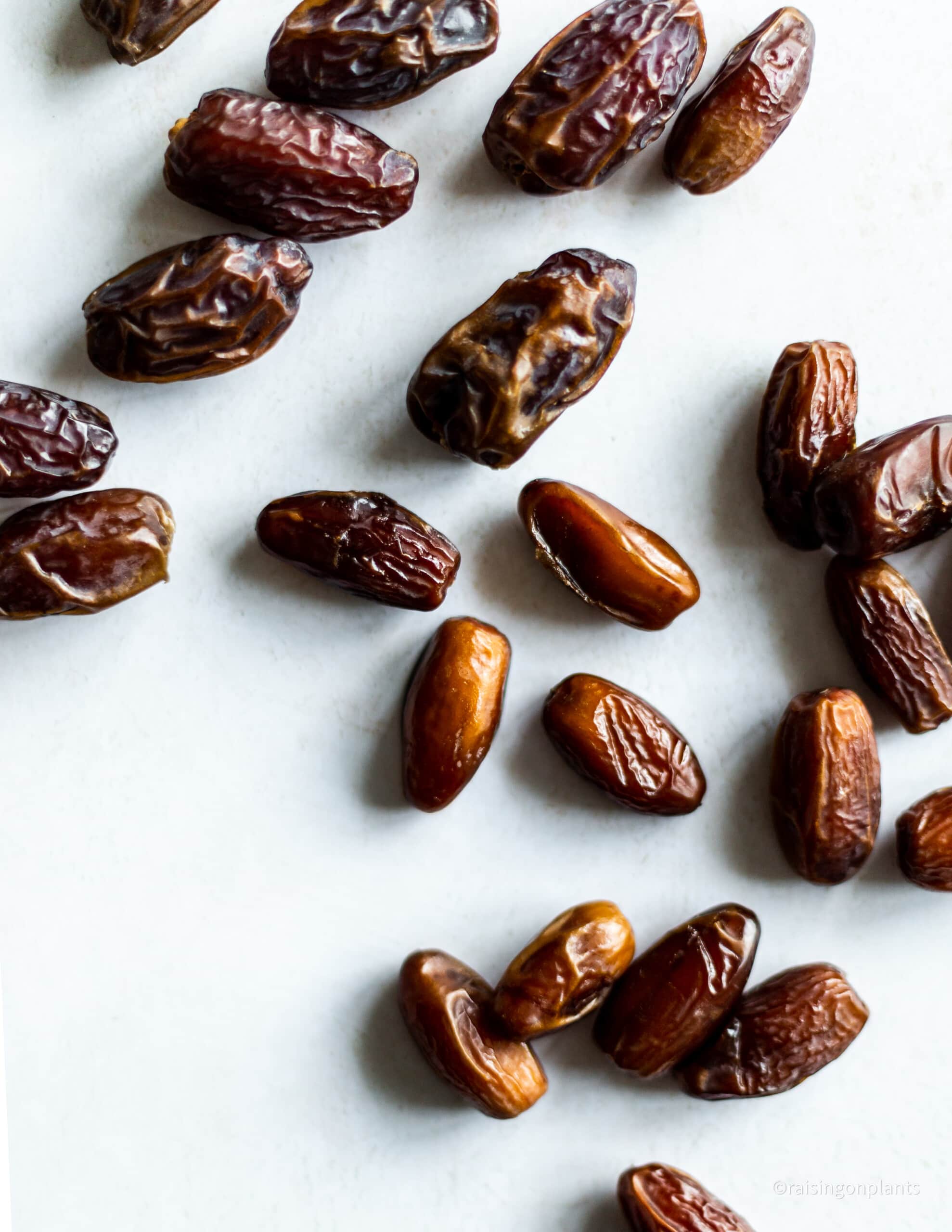 Dates are one of the oldest cultivated fruits in the world. And they are a popular food enjoyed in many countries and cultures across the globe. Dates contain natural sugars, making them a preferred option by those wishing to avoid processed sugars such as cane, which is why you will find them used often in our recipes.
Jump to:
The origin of dates.
The scientific name for a date palm tree is PHOENIX DACTYLIFERA, which is ancient Greek. 'Phoenix' comes from a place between the Jordan Valley, and Meditteranean Sea called Phoenicia. Date palms grew abundantly here, and it was believed to be the homeland of the trees. And 'Dactyliferia' is a Greek word meaning 'finger bearing'. Which is reference to the appearance the dates take in clusters when growing on the date palms.
Interesting fact - There is fossil evidence that Dates go back as far as 50 million years.

The Date People
What are Medjool dates?
Medjool dates are the fruit of the Date Palm Tree. The Medjool cultivar (variety) of Date Palm is typically grown in many places throughout the middle east.
Medjools are characterized by their large size, elongated shape and deep brown colour. They are soft dates, with a chewy texture and have a caramel-like flavor. Medjool dates are native to Morocco, however, they are now grown in several countries, including the United States, Jordan, and Israel. In fact, Israel owns approximately 60% of the global market share of Medjool dates.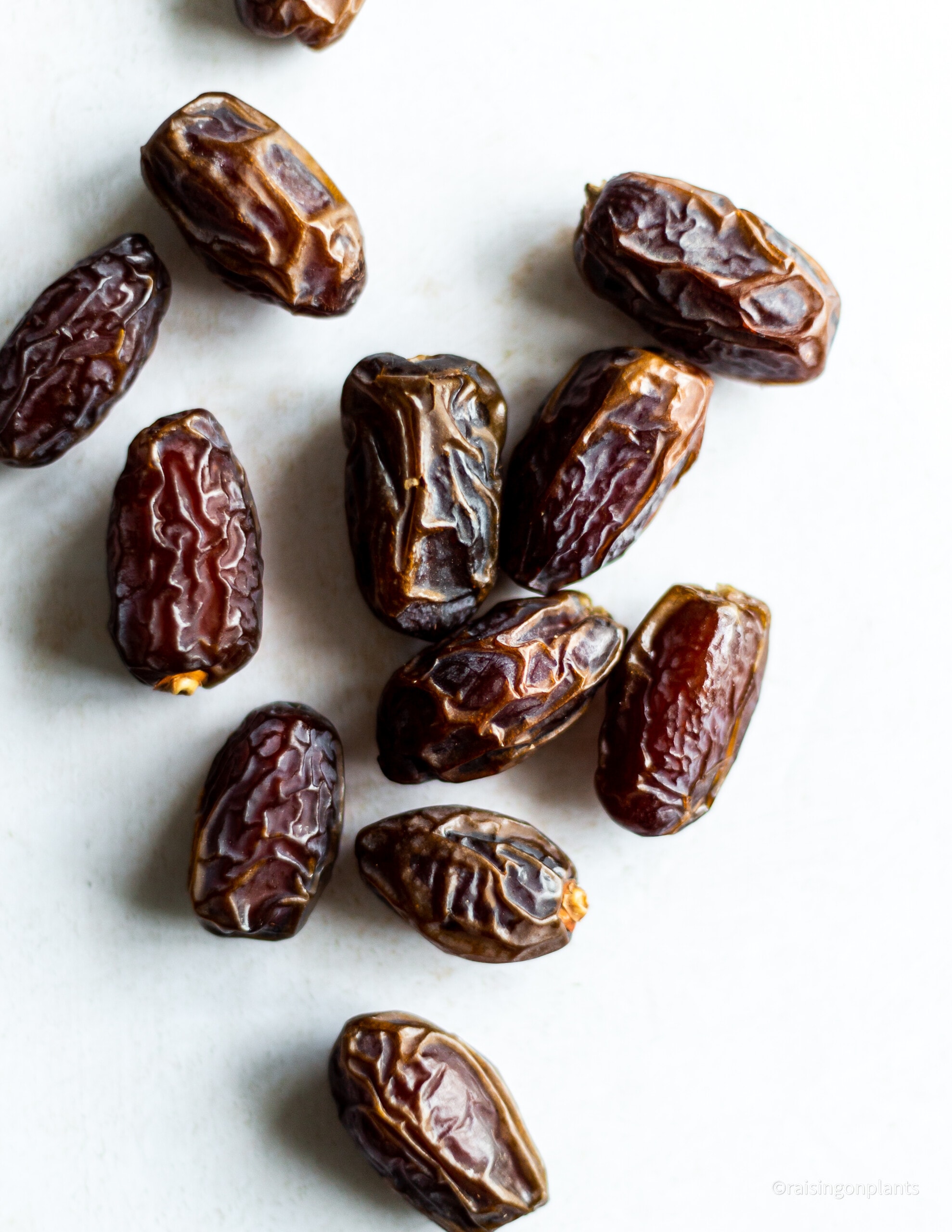 They are known as 'The King of Dates', and are the most commonly eaten date all over the world. Medjool dates are definitely my families favorite. But there are many delicious date varieties to choose from. Morocco alone has 100+ varieties of dates, 45 of those varieties are in the south of the country.
What are Deglet Noor dates?
Deglet Noor dates are grown on the Deglet cultivar of Date Palm Tree. The main differences between these and Medjool, are that they are smaller, lighter in colour - more amber than brown, and they are semi-dry in texture, making them soft but firm. Deglet dates are less sweet than Medjool, and also have a slightly nutty taste to them similar to browned butter or cashews. Despite these having less sugar, they are still a great and inexpensive way to satisfy a sweet tooth.
They are often referred to as the 'Queen of dates', and are native to Algeria. However these dates are also grown largely in southern California, most famously in Coachella Valley.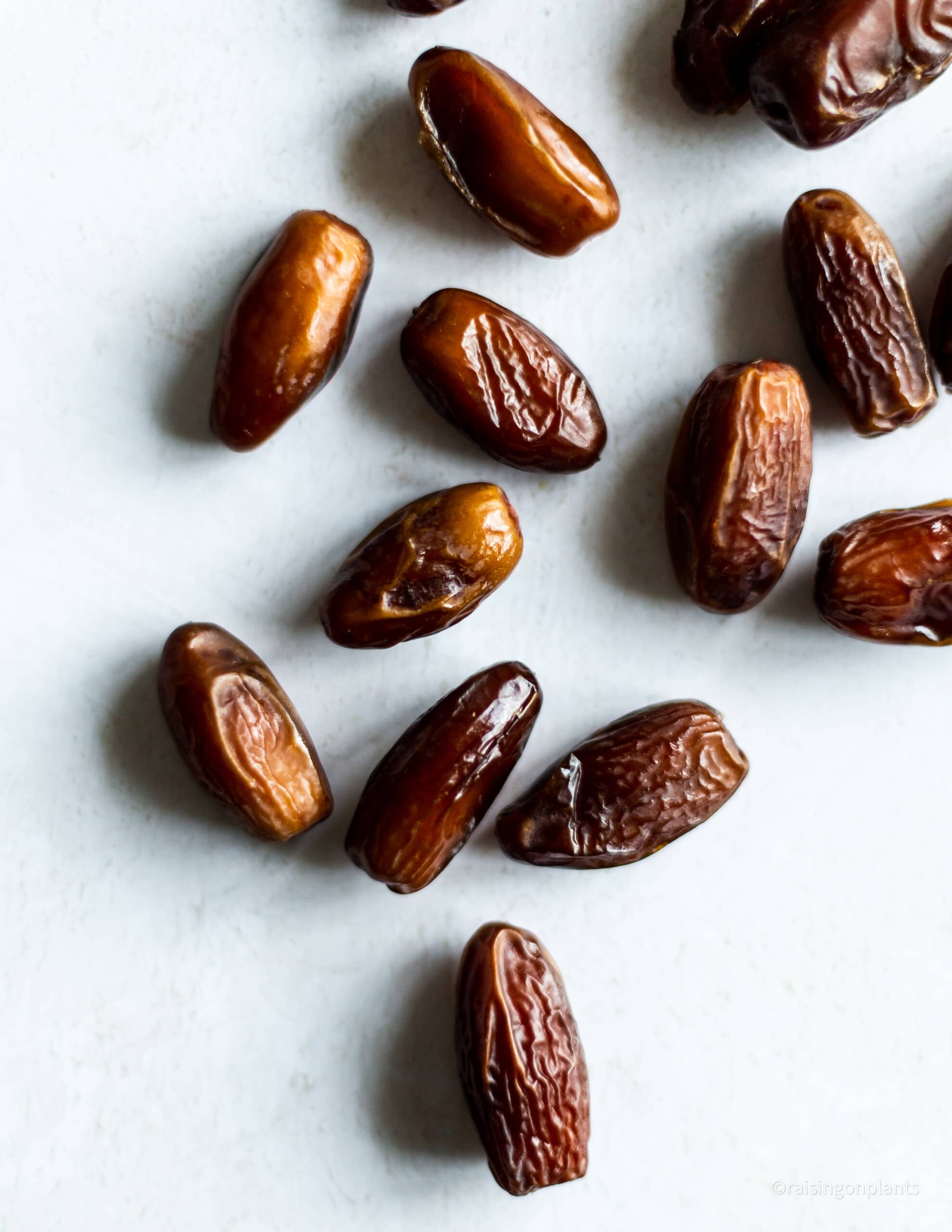 Are dates good for you?
Dates are a good choice for something sweet to eat, instead of reaching for a chocolate bar or candy.
Because they are a whole food (not a processed food), the natural sugars in the dates also come with a wide range of vitamins and minerals to benefit your health. For instance, 100g of Medjool dates provides 40% of your recommended daily intake of Copper. Your body uses copper to carry out many important functions, including making energy, connective tissues, and blood vessels. Copper also helps to maintain the nervous and immune systems. And it also facilitates brain development.
Dates also contain Vitamin B, Iron, Magnesium and Folate. Folate is essential, especially when growing babies, which makes dates a great food for pregnant women.
Dates also contain Antioxidants (specifically Phenolic Acid), which helps to strengthen your immune system.
Deglet Noor Dates vs Medjool - Nutrition value comparison.
The nutritional value of the different varieties doesn't vary by much. But the difference between Medjool and Deglet Noor are listed below for comparison:
MEDJOOL DATES 100g
Calories: 277
Carbs: 75 grams
Fiber: 7 grams
Protein: 2 grams
Potassium: 15% DV
Magnesium: 13% DV
Copper: 40% DV
Manganese: 13% DV
Iron: 5% DV
Folate: 15mcg
Vitamin B6: 15% DV
DEGLET NOOR DATES 100g
Calories: 282
Carbs: 75 grams
Fiber: 8 grams
Protein: 2.5 grams
Potassium: 14% DV
Magnesium: 10% DV
Copper: 23% DV
Manganese: 11% DV
Iron: 6% DV
Folate: 19mcg
Vitamin B6: 10% DV
Whole dates vs pitted dates.
Whole dates are dates with the stone (or pit) still in the center. Whereas pitted dates have had the stones removed. Which makes them a convenient option for a snack on the go.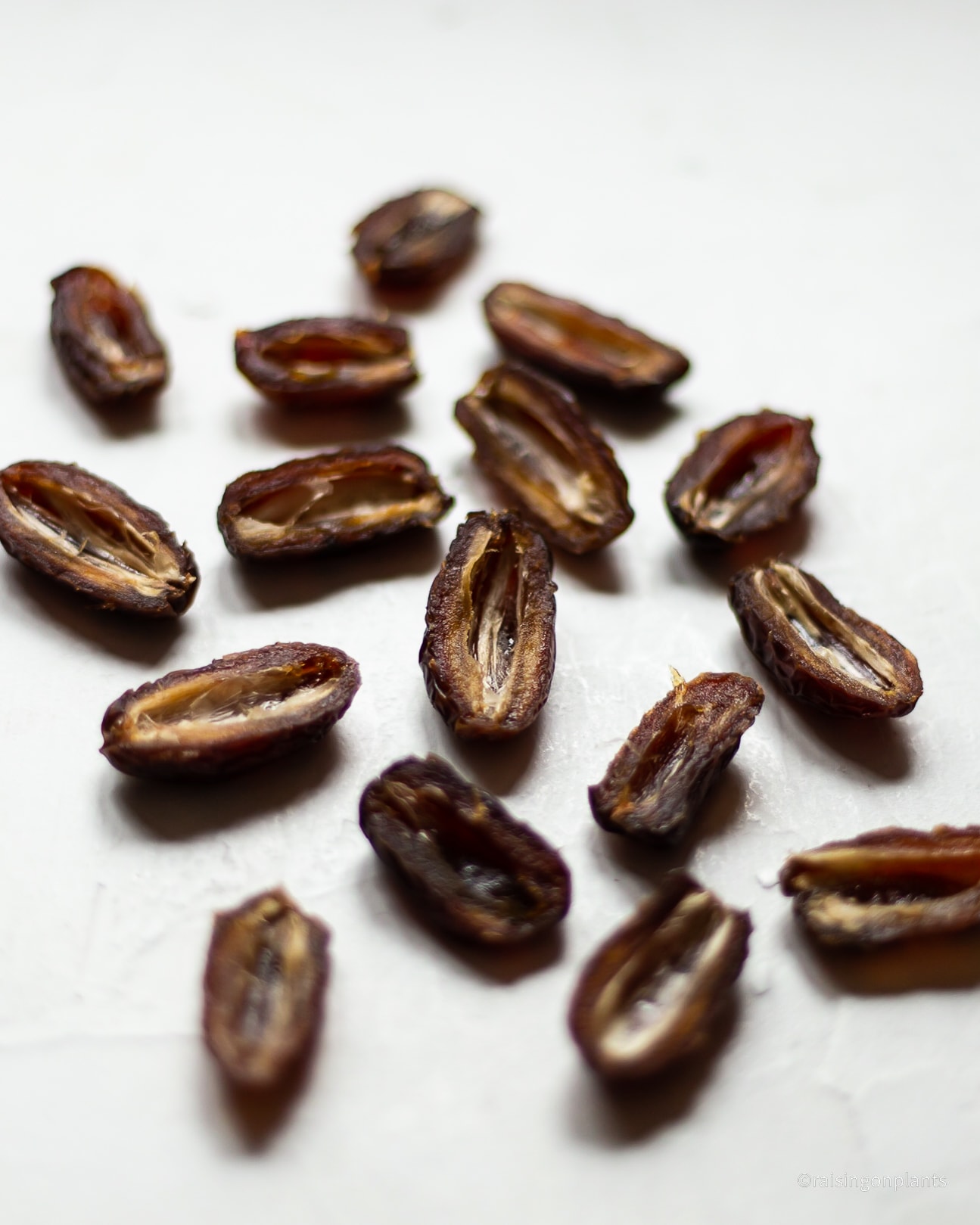 Where to buy dates?
You'll find dates either in the dried fruit and nuts section, or by the fresh produce in grocery stores.
You can also buy dates from almost all ethnic food stores, and any health food store. Larger superstores are likely to sell a variety of dates, whereas you may only get one type in smaller stores. Either way, as Medjool and Deglet Noor are the most popular dates, you will usually find one or the other.
And as always, you can find most things that you need online, although I do prefer to buy our dates from grocery stores. That way I can see the quality of them better in person before purchasing. I find that depending on the time of year, or the country of origin, some Medjool dates can be plumper than others. And we prefer plump and juicy dark brown Medjool dates, as they always have a more pronounced caramel flavor. Others can be a little lighter in colour, and slightly drier. Still delicious, but not as great when eaten fresh.
What other varieties of dates are there?
As I mentioned earlier, in Morocco alone there are over 100 different types of dates. However, globally there are over 200 types of date. Which is pretty crazy! But what luck that we have so many options to choose from.
Other date varieties that you have most likely heard of before include Zahidi dates, Halawi dates, Barhi dates, and juicy Mazafati dates.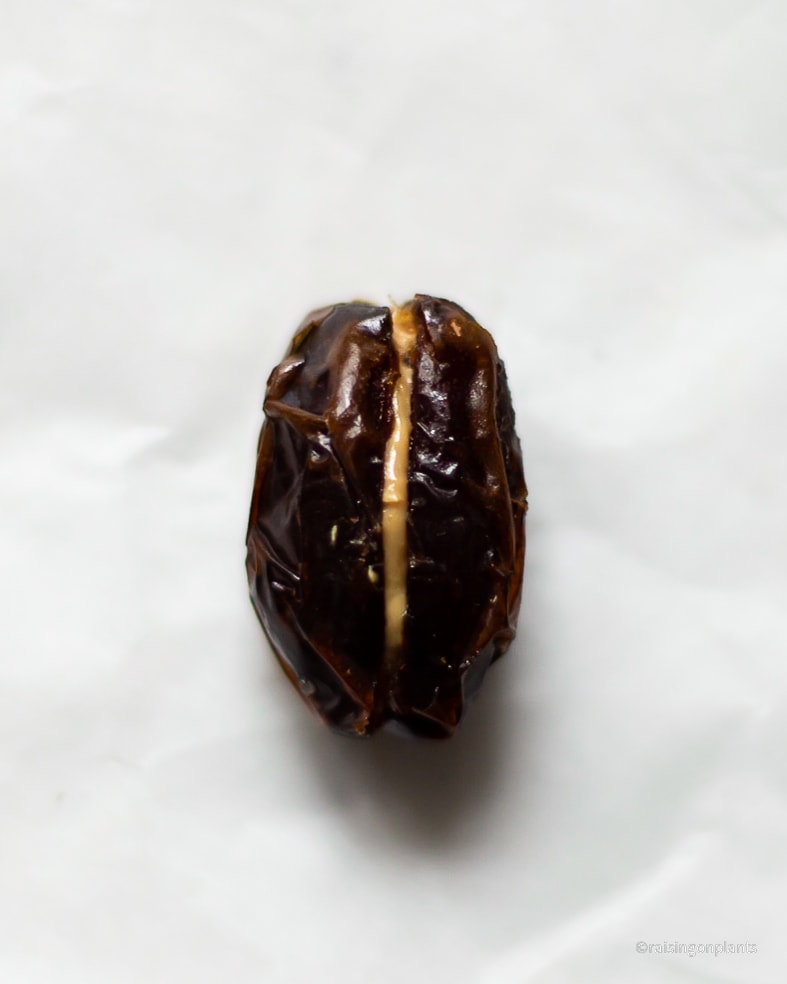 How to eat dates?
Probably the most popular way to eat dates is by stuffing them. We stuff them with almond butter, then sprinkle over some cinnamon. Simple but soooo so tasty. You can also use other nut butters, cream cheese, goats cheese, or ricotta. Once you've stuffed them, you can also dip them in melted chocolate.
We use them most often in our Chocolate Black Bean Smoothie, and our Vegan Date Brownies. I highly recommend you give these two recipes a try. Both use Medjool Dates.
Another simple way to eat them is to make a date paste using a food processor. You can then use it in recipes as a natural sweetener, in place of maple syrup or other sugars. It's also great spread on toast and topped with banana.
How to store dates?
Fresh dates have a shelf life of approximately 1 month. They are best stored in an airtight container, in a cool dry place. You can also store them in the fridge, if you do this they will be firmer and super chewy (aka delicious).
Date recipes