This flaxseed pudding recipe is a quick and healthy breakfast for the whole family, using simple ingredients. You can easily substitute the layers of fresh fruit and nuts by using your favorite toppings instead. This recipe is naturally gluten free and vegan too.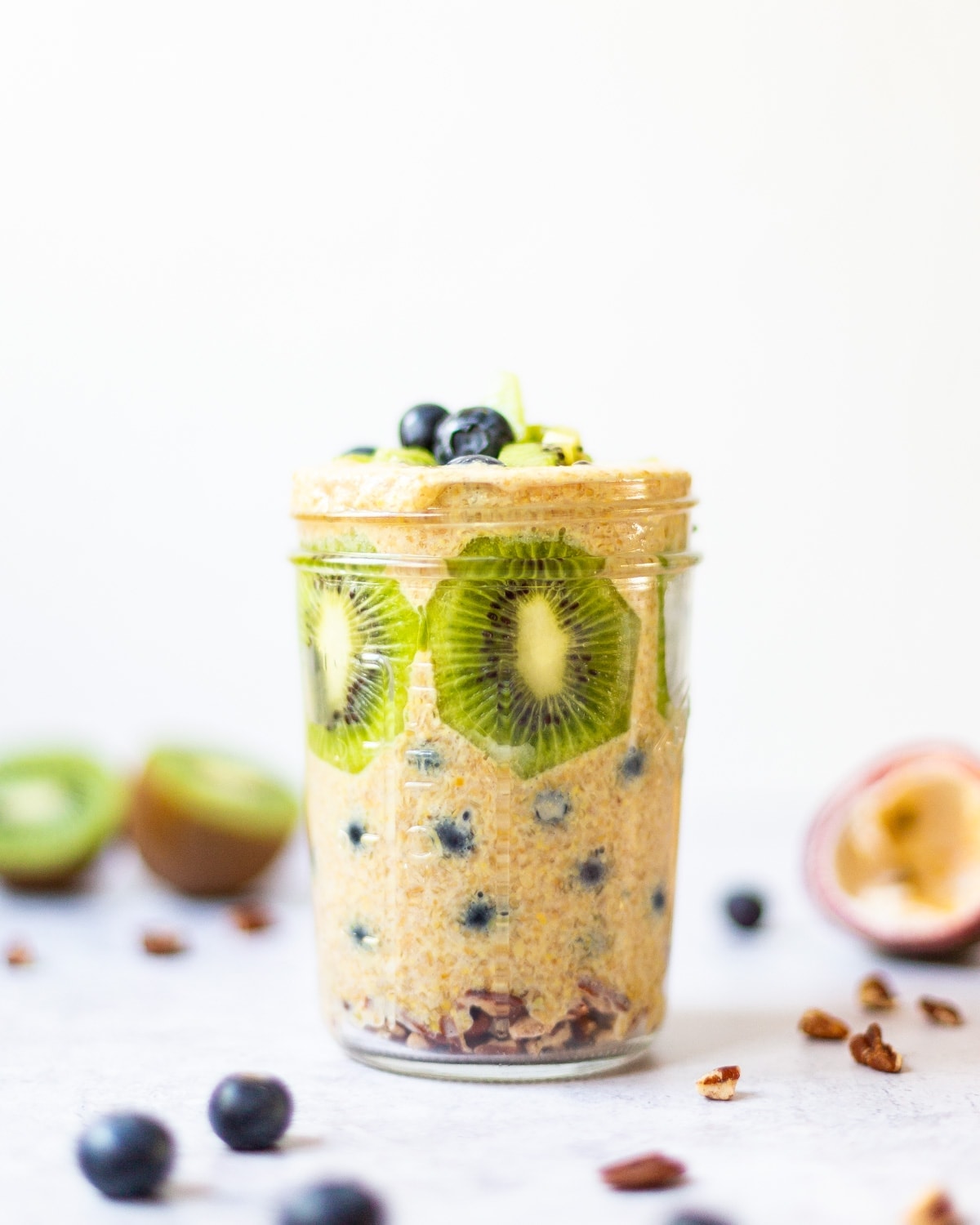 Jump to:
Why is this recipe so good?
Flaxseeds are one of the best sources of healthy fats, which have been known to improve cholesterol levels and reduce blood pressure. Specifically plant-based omega 3 fatty acids.
Other health benefits of flaxseed include the high amounts of plant-based protein, and insoluble fiber they contain.
Unlike chia pudding that requires 1-2 hours in the fridge to thicken, flaxseed pudding is ready in as little as 30 minutes.
Flaxseed pudding is an easy recipe that only needs 4 simple ingredients.
You can make this to enjoy as an easy breakfast or a healthy snack.
This recipe is gluten free, low carb and vegan.
What You'll Need
Ingredients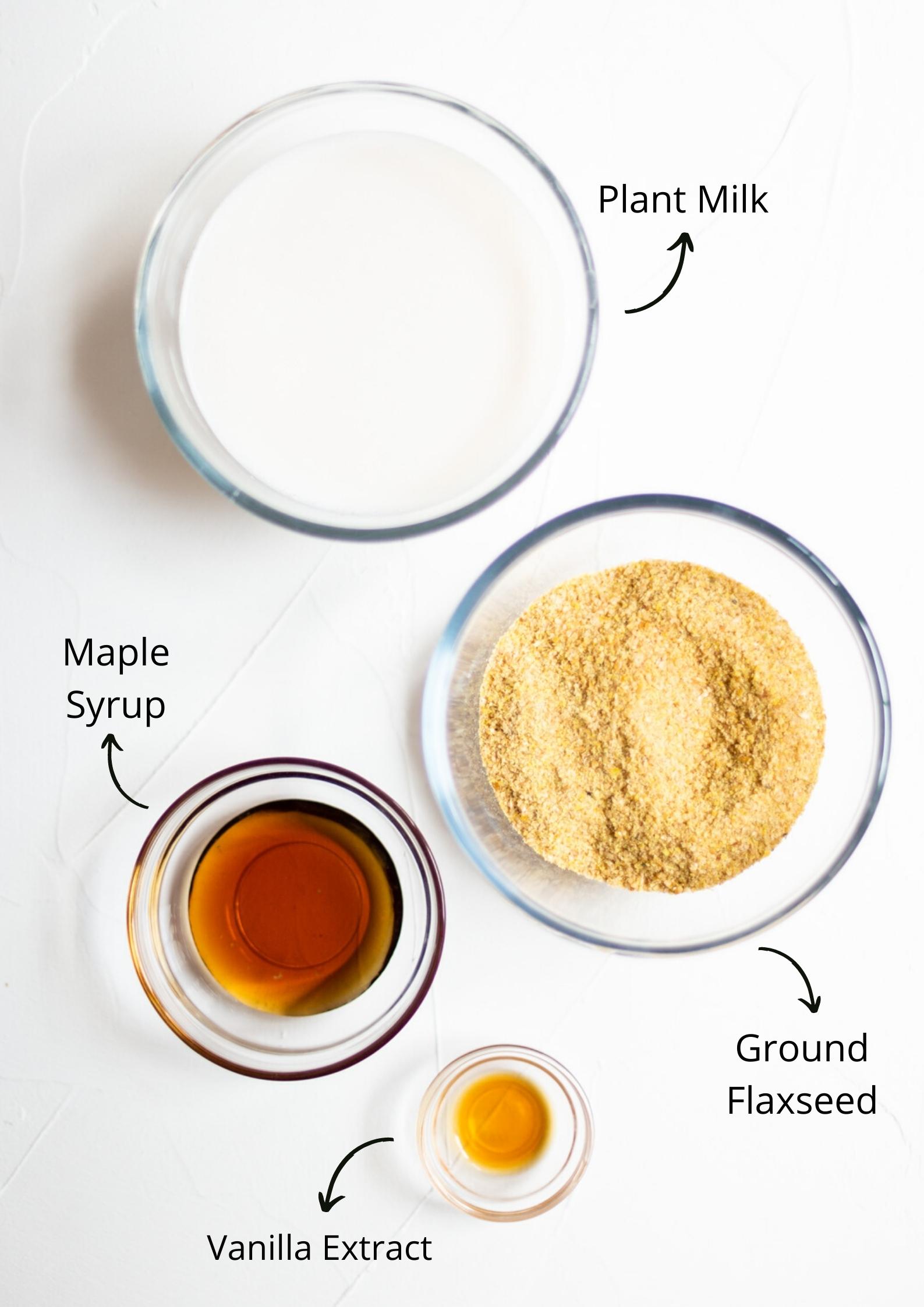 Flaxseed Meal (or ground flaxseed) - It's important here to use flaxseed meal and not whole seeds. Our bodies can't break down the outer casing of the whole flaxseeds easily, and we therefore don't absorb much of the nutrients unless they're ground up in to 'flax meal'. Flaxseed is a great source of insoluble fiber too, which is great for keeping things moving if you know what I mean.
Maple Syrup - I like to use maple syrup for its flavour, and the fact that it contains small amounts of vitamins, minerals and antioxidants. Any liquid sweetener can be used in it's place though. Alternatives include agave syrup or date syrup.
Unsweetened Plant Milk - You can use any plant-based milk. We choose to use soy milk in this recipe but we often just use whatever we have in the fridge. Almond milk and oat milk are great alternatives. We also have a cashew milk recipe if you'd rather make your own.
Vanilla Extract - This can be subbed for vanilla paste.
Toppings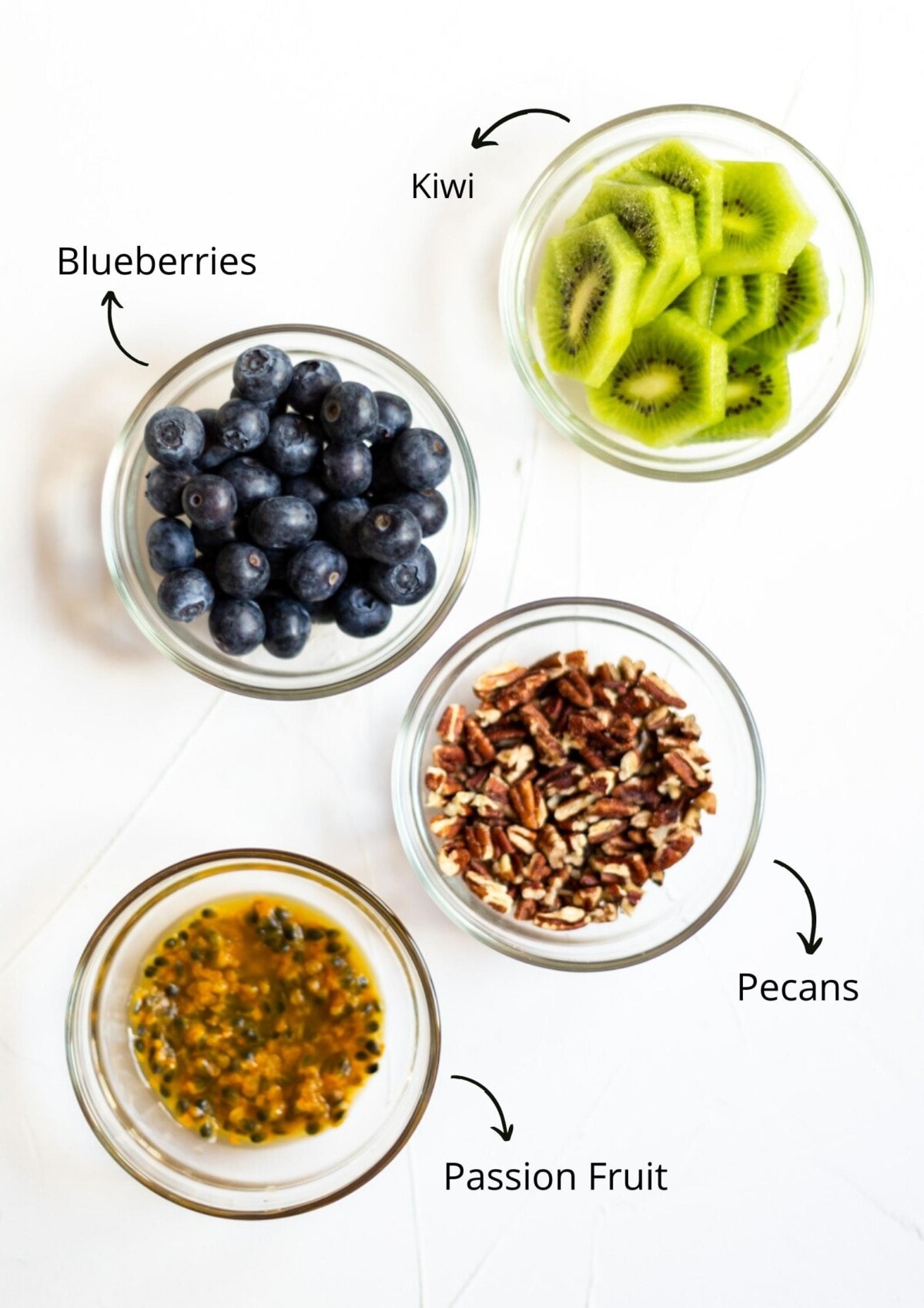 Blueberries - Blueberries are sweet, nutritious and wildly popular. Often labeled a superfood, they are low in calories and incredibly good for you. In fact they're one of the most nutrient dense berries you can get.
Kiwi - Kiwis give this breakfast a tasty tropical twist.They are also high in a type of antioxidant that's known to help with supporting healthy skin. A little known fact about Kiwis, and not one I've tried myself, but you can actually eat them with the skin on. Something I've seen my Dad do, but makes my tongue feel a little funny, so personally I'll steer clear. But you do you.
Passionfruit - They're absolutely bursting with flavour and to be quite honest I don't think they get enough credit for just how tasty they are. We also really like them on our pancakes.
Pecans - Commonly used in desserts such as pecan pie, or simply eaten on their own as a snack. Pecans are a tree nut that's rich in a lot of nutrients. Zinc is key mineral found in pecans, and it's necessary for immune function, as well as cell growth and brain function.
Equipment
Mixing Bowl
Sharp knife (for cutting the fruit)
Chopping Board
Whisk or fork
​How do you make flaxseed meal?
To make your own flaxseed meal, you can add whole flax seeds to a food processor or coffee grinder, and whiz them up in to a fine meal. Alternatively you should be able to find pre-made flax meal in large grocery stores or health food stores.
How to make the pudding
Combine the flaxseed, plant milk, maple syrup and vanilla extract in a bowl. Stir together, using a whisk or fork, until well combined. Leave for 1-2 hours in the fridge, to allow the flaxseed to soak up all of the milk.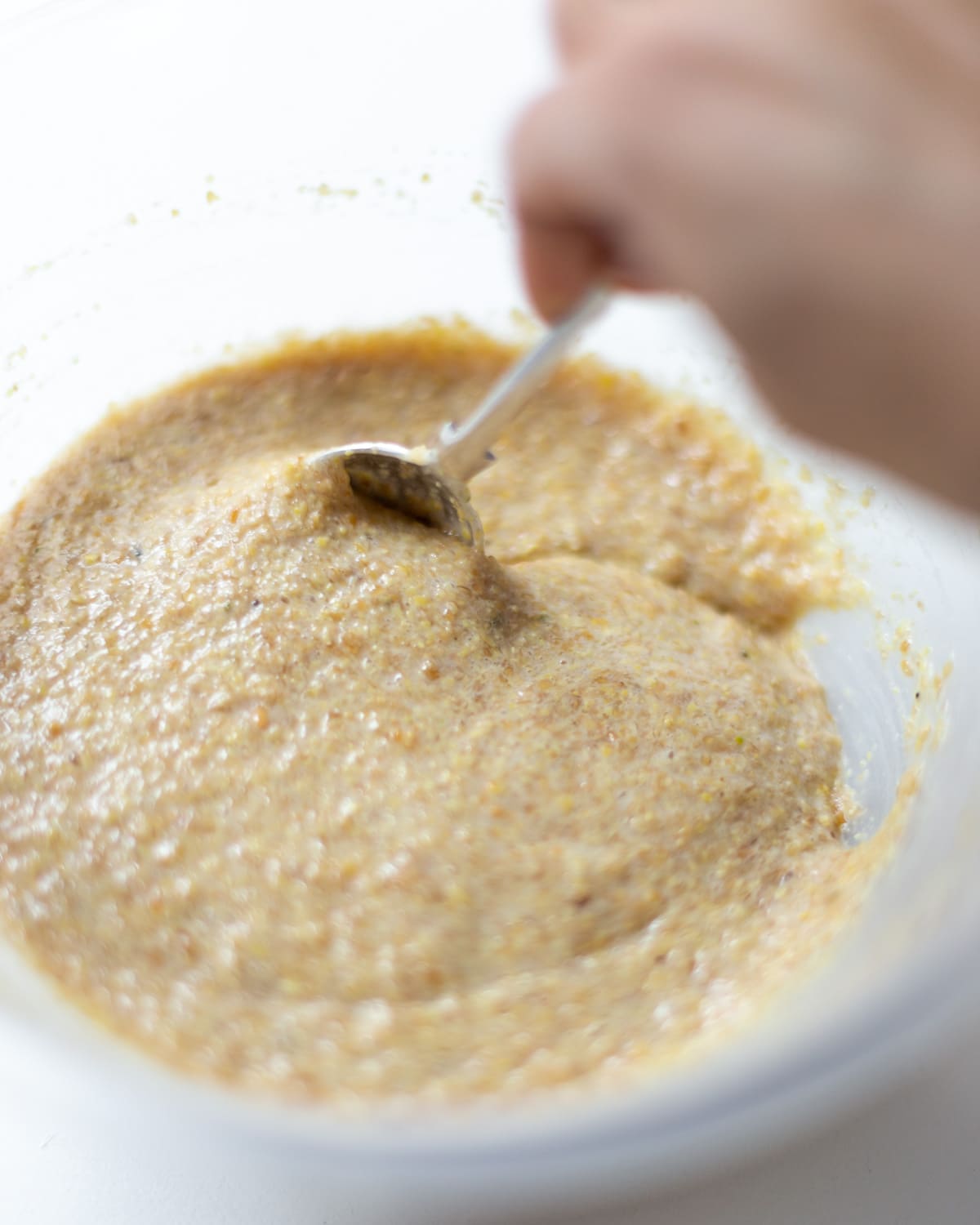 Remove the pudding from the fridge and stir well.
Hint: You're looking for a pudding-like consistency. If it's feeling a little thick, add another 2 tbsps of plant milk and stir it through.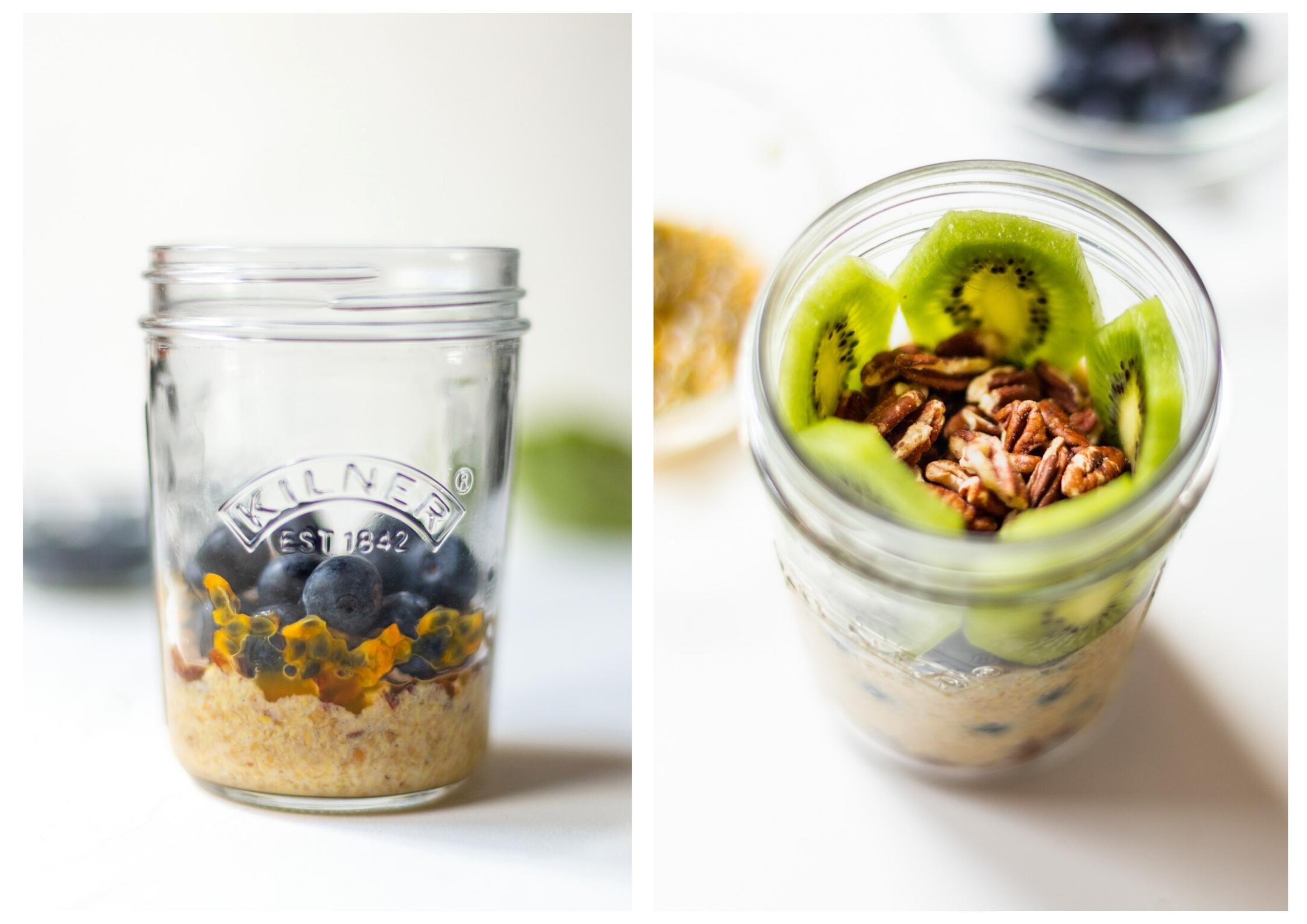 Transfer one layer of pudding to an open mouthed mason jar (as shown in the photos below). You can choose to layer your flaxseed pudding however you like. We chose to use flaxseed pudding, passionfruit, blueberries and pecans as the first few layers (in that order). I then thinly sliced the kiwi and placed that on the sides of the jar above the pecans. Another generous layer of flaxseed pudding went in next. And I topped the whole thing off with little more of each.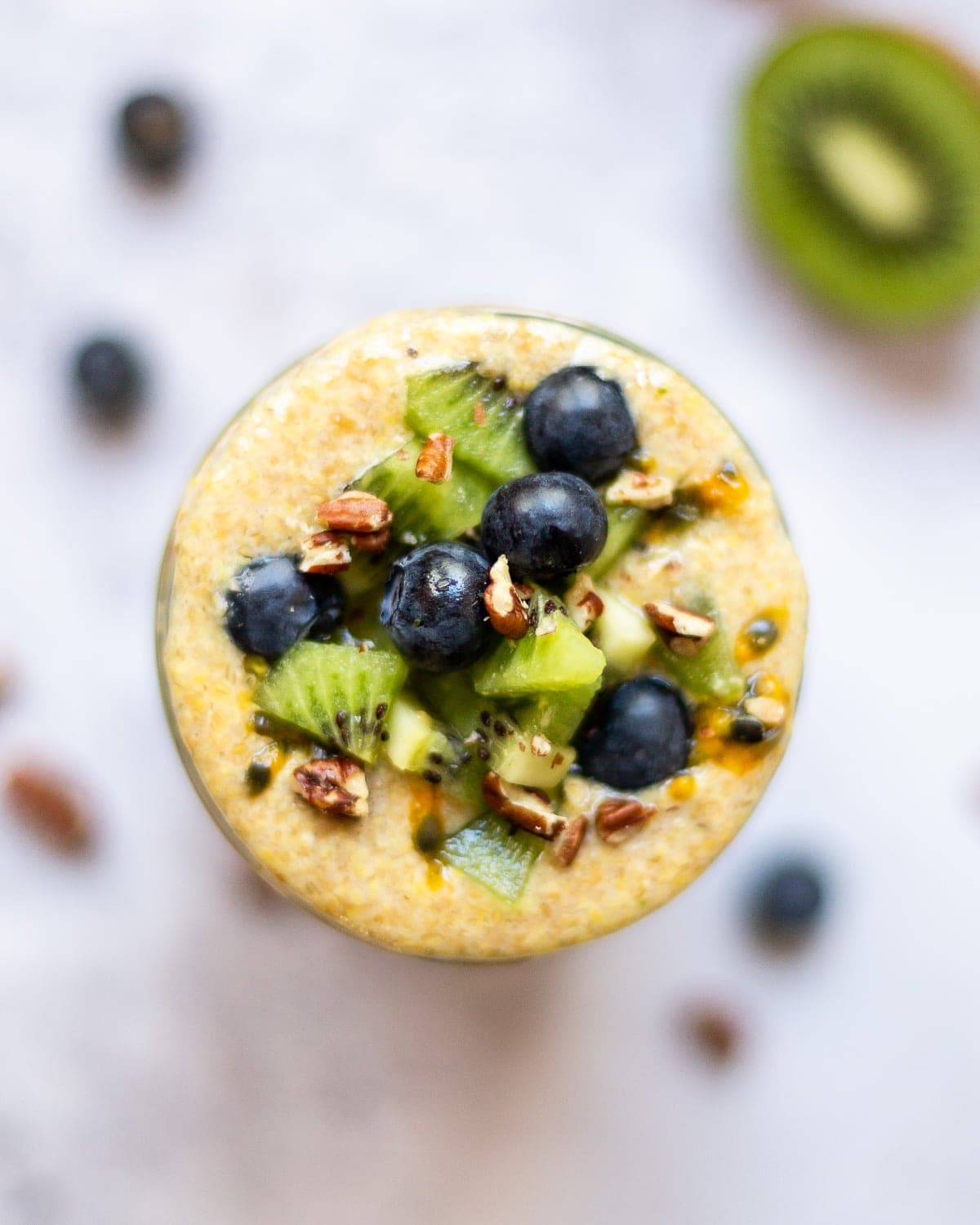 You could also use a medium sized bowl and have it like you would a smoothie bowl. Add all of the flaxseed you'd like in to the bowl, and then top with the blueberries, kiwi, pecans and passion fruit.
Substitutions & Variations
Nut-free - Pumpkin and sunflower seeds are a great replacement for nuts in a lot of recipes, this one included.
Nut butter - Use almond butter or peanut butter for a tasty protein and healthy fat boost.
Toddler friendly - Use 1 mashed banana instead of maple syrup, for a sugar free option.
Different flavors:
Fresh fruit - You can get creative and use your favorites. Chopped apples, almond butter and a sprinkle of cinnamon would be a delicious combo on top of bowl of your flaxseed pudding.
Chocolate pudding - Add a tablespoon of cacao or cocoa powder to the flaxseed pudding mixture, and you can top it off with some chopped bananas and chocolate chips - delicious!
Tropical - Keeping in line with the tropical fruits we have in the recipe (kiwis and passionfruit), you can try adding some canned coconut milk instead for a creamy texture. Then top the bowl with mango, kiwi and passionfruit. Then top with coconut flakes, we like these ones from Urban Fruit.
Storage
Our flaxseed pudding is best made on the day of eating. Alternatively you can make it the night before as meal prep for breakfast the next morning, just store it in an airtight container in the fridge overnight (the same way you would with overnight oats).
We wouldn't recommend freezing this pudding though.
Recipe Tip
Once set in the fridge, if you find that your pudding is too thick, add 1-2 tablespoons of plant milk and mix well. Or if you find that its a little too runny, add in another 1-2 tablespoons of flaxseed, stir well, and place back in the fridge to set for a further 10 minutes.
FAQ's
What can I use instead of Flaxseed?
If you're not a huge fan of Flaxseed, you can use Chia Seeds instead. Just swap the same amount of flaxseed for chia seeds, and follow the recipe instructions.
Other breakfast ideas
If you like this recipe, then take a look at our other breakfast recipes, including our chia seed pudding.
Recipe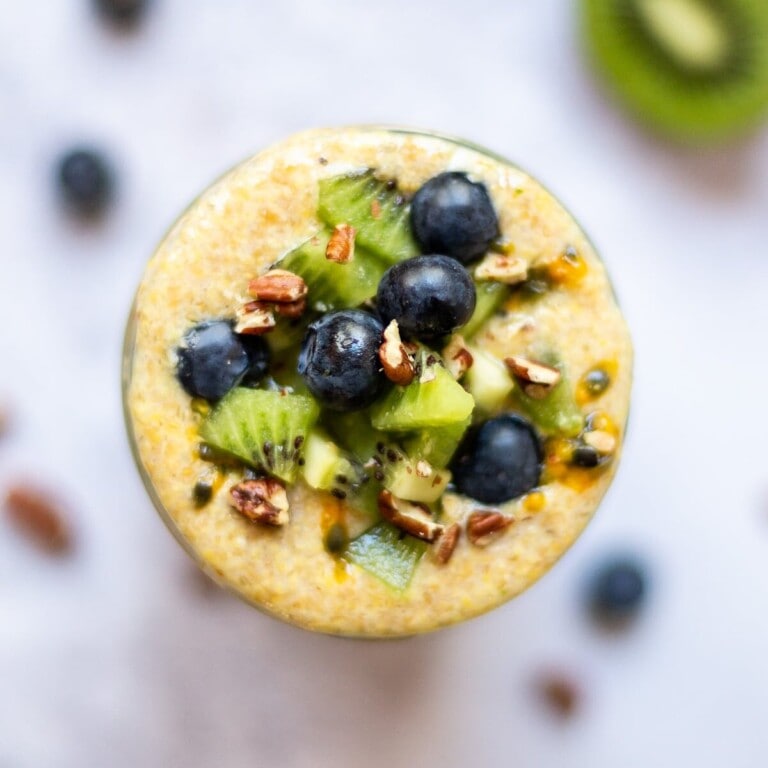 Flaxseed Pudding
Our flaxseed pudding is a simple and omega packed breakfast that's easily prepped the night before for a quick start to the day.
Print
Pin
Rate
Equipment
Chopping Board

Glass or Plastic Bowl

Sharp Knife

Whisk or fork
Ingredients
1

cup

Ground Flaxseed

2

cups

Plant Milk

2

tablespoon

Maple Syrup

1

teaspoon

Vanilla Extract

½

cup

Blueberries

2

Kiwis

2

Passionfruit

¼

cup

Chopped Pecans
Instructions
Combine the flaxseed meal, plant milk, maple syrup and vanilla extract in a bowl. Stir together thoroughly using a whisk or fork.

1 cup Ground Flaxseed,

2 cups Plant Milk,

2 tablespoon Maple Syrup,

1 teaspoon Vanilla Extract

Place the bowl in the fridge for half an hour, to allow the flaxseed to soak up all of the liquid and turn in to a pudding like consistency.

Remove the bowl from the fridge and stir the pudding well.

In a wide mouth mason jar, or in a serving bowl, layer the fruit, pecans and pudding as desired.

½ cup Blueberries,

2 Kiwis,

2 Passionfruit,

¼ cup Chopped Pecans
Notes
Once set in the fridge, if you find that your pudding is too thick, add 1-2 tablespoons of plant milk and mix well. Or if you find that its a little too runny, add in another 1-2 tablespoons of flaxseed, stir well, and place back in the fridge to set for a further 10 minutes.
Nutrition
Calories:
381
kcal
|
Carbohydrates:
39
g
|
Protein:
10
g
|
Fat:
23
g
|
Saturated Fat:
2
g
|
Polyunsaturated Fat:
13
g
|
Monounsaturated Fat:
6
g
|
Sodium:
108
mg
|
Potassium:
629
mg
|
Fiber:
18
g
|
Sugar:
18
g
|
Vitamin A:
594
IU
|
Vitamin B1:
1
mg
|
Vitamin B2:
1
mg
|
Vitamin B3:
2
mg
|
Vitamin B5:
1
mg
|
Vitamin B6:
1
mg
|
Vitamin C:
49
mg
|
Vitamin E:
1
mg
|
Vitamin K:
24
µg
|
Calcium:
140
mg
|
Copper:
1
mg
|
Folate:
55
µg
|
Iron:
3
mg
|
Manganese:
2
mg
|
Magnesium:
188
mg
|
Phosphorus:
322
mg
|
Selenium:
11
µg
|
Zinc:
2
mg