Our recipe for Orange Chocolate Spread is made with just 6 ingredients, its quick to make and incredibly moreish. This recipe uses macadamia nuts, cacao powder, vanilla, orange extract & zest, along with a little maple syrup to make a wholefoods take on a well loved flavour duo.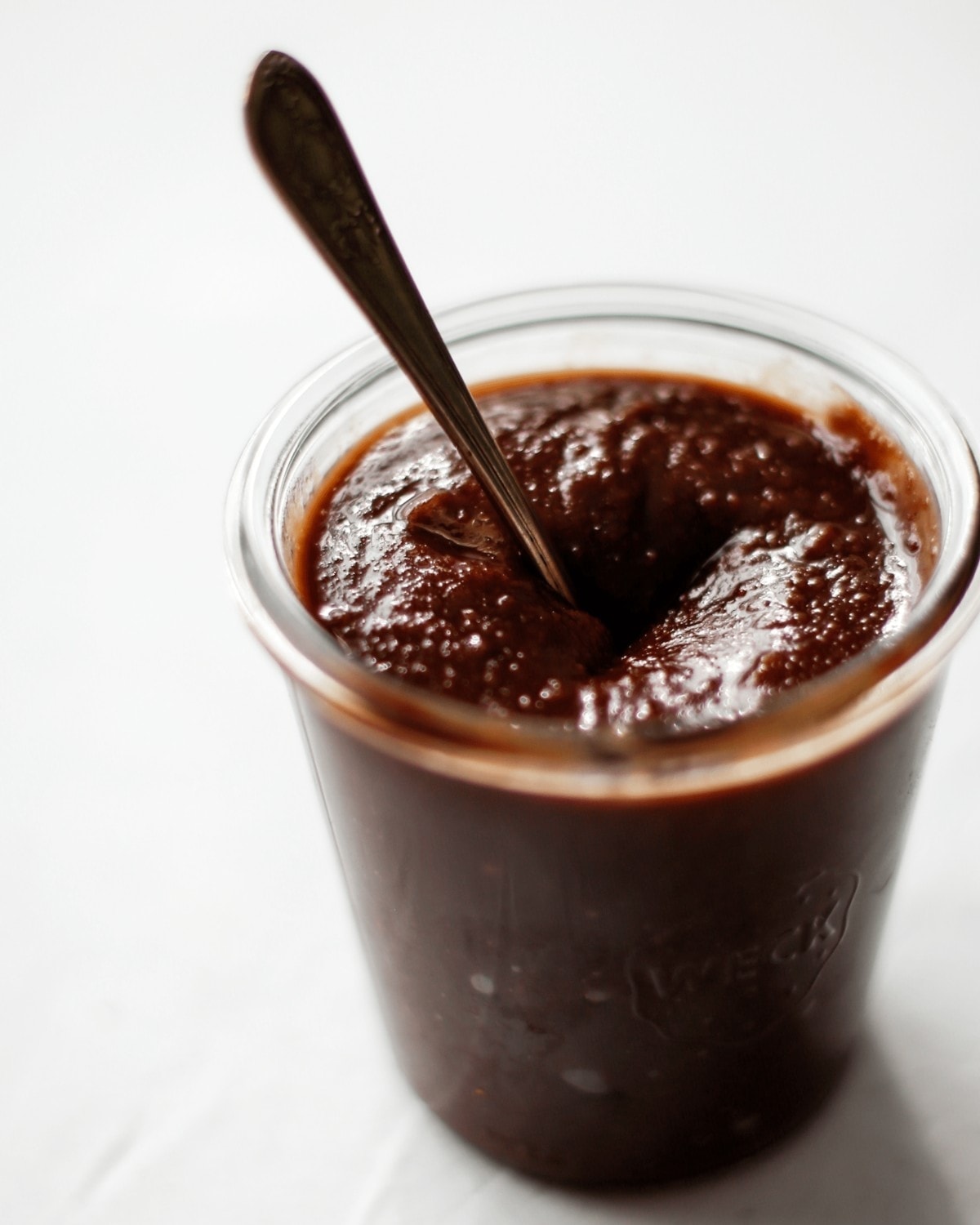 Jump to:
What You'll Need
Ingredients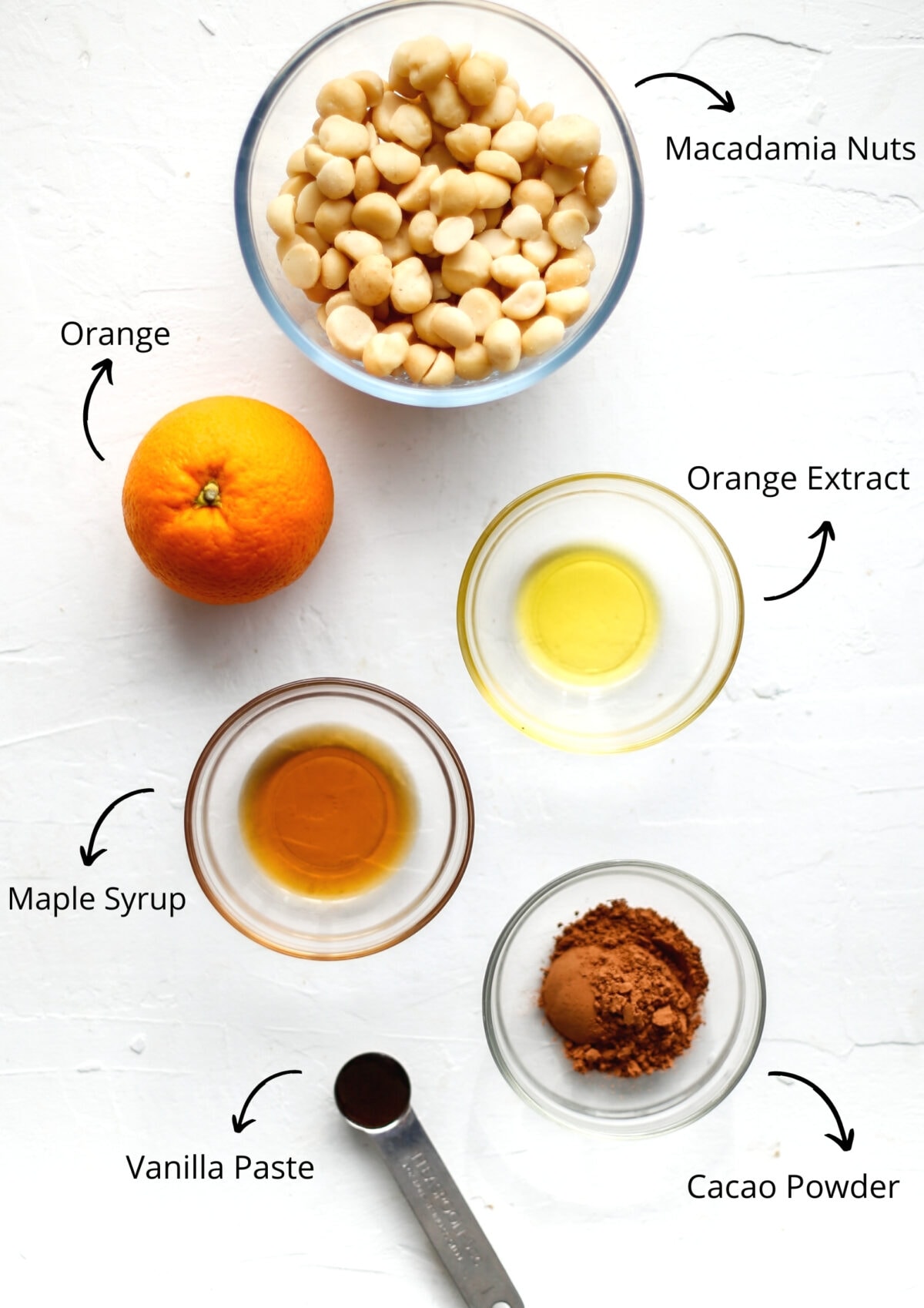 Macadamia Nuts - We use Macadamias for their healthy fat content and it's benefits for heart and brain health. It's also worth noting that the soluble fiber in Macadamia Nuts can act as a pre-biotic, meaning that it helps feed your beneficial gut bacteria - great news for everyones tummies.
Orange Zest - You'll need the zest of 1 whole Orange, being sure not to grate the pith (white bit under the skin). We used the Jaffa variety as we feel this has the most flavour. As with all fresh ingredients, the better quality your fruit is, the more flavourful your end result will be.
Orange Extract - The Cacao is a strong flavour and with the zest alone (which we've tried), the Orange flavour doesn't quite come through enough. It needs the concentrated flavour of the extract, so don't omit this. You should be able to find this in the baking aisle of any large Supermarket.
Cacao Powder - We use Cacao Powder in this recipe instead of the more common Cocoa Powder. This is because it's high in antioxidants, has a great flavour, and is still inexpensive. I buy mine by the kilo from an online Health Food Store. You can also get them in almost all health food shops, and some Supermarkets now stock it but it's a more expensive way to buy it compared to health food stores or places online.
Vanilla Paste - If you aren't able to find Vanilla Paste, you can use Vanilla Extract instead (not Essence). Sub 1 teaspoon of Vanilla Paste for 1 teaspoon Vanilla Extract. Again, you'll find all Vanilla in the baking aisle of a large Supermarket.
Maple Syrup - When using Maple Syrup, the darker the syrup is, the more antioxidants it will contain. It will also have more flavour and minerals (such as Manganese, Zinc and Calcium). Look for Amber, Dark or Grade B Maple Syrup, Amber is the most common type found in stores. Make sure you buy

Pure Maple Syrup

and not a product that contains a percentage of Maple Syrup - Always read the ingredients list.
Equipment
How to make the chocolate orange spread
Unlike some other nuts, you don't need to roast Macadamias in the oven prior to blending, as they are already quite an oily nut. You will however need to stop and scrape the nuts down towards the blades several times when making this, as pictured below in photos 4 & 6. The whole blending process only takes about 5 or 6 minutes from start to finish.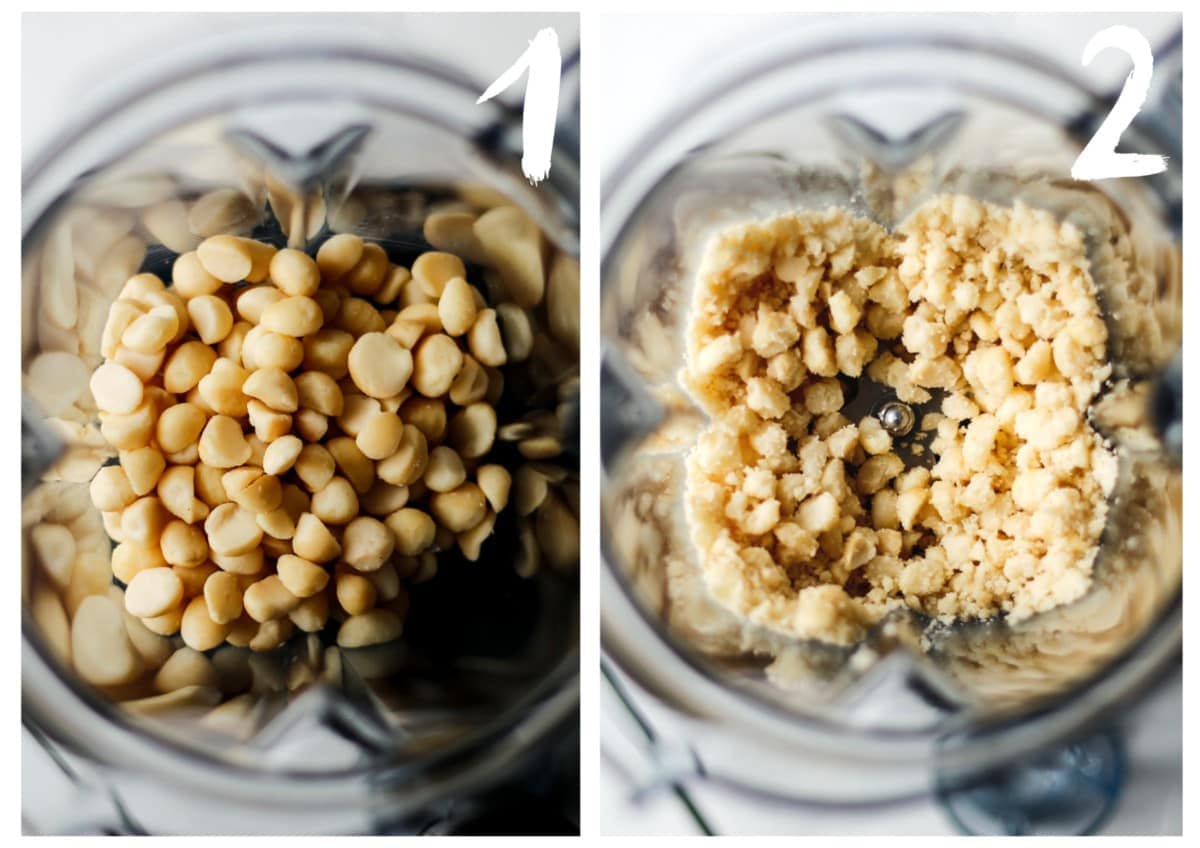 Step 1: Macadamias in the blender.
Step 2: After about 20 seconds on low speed.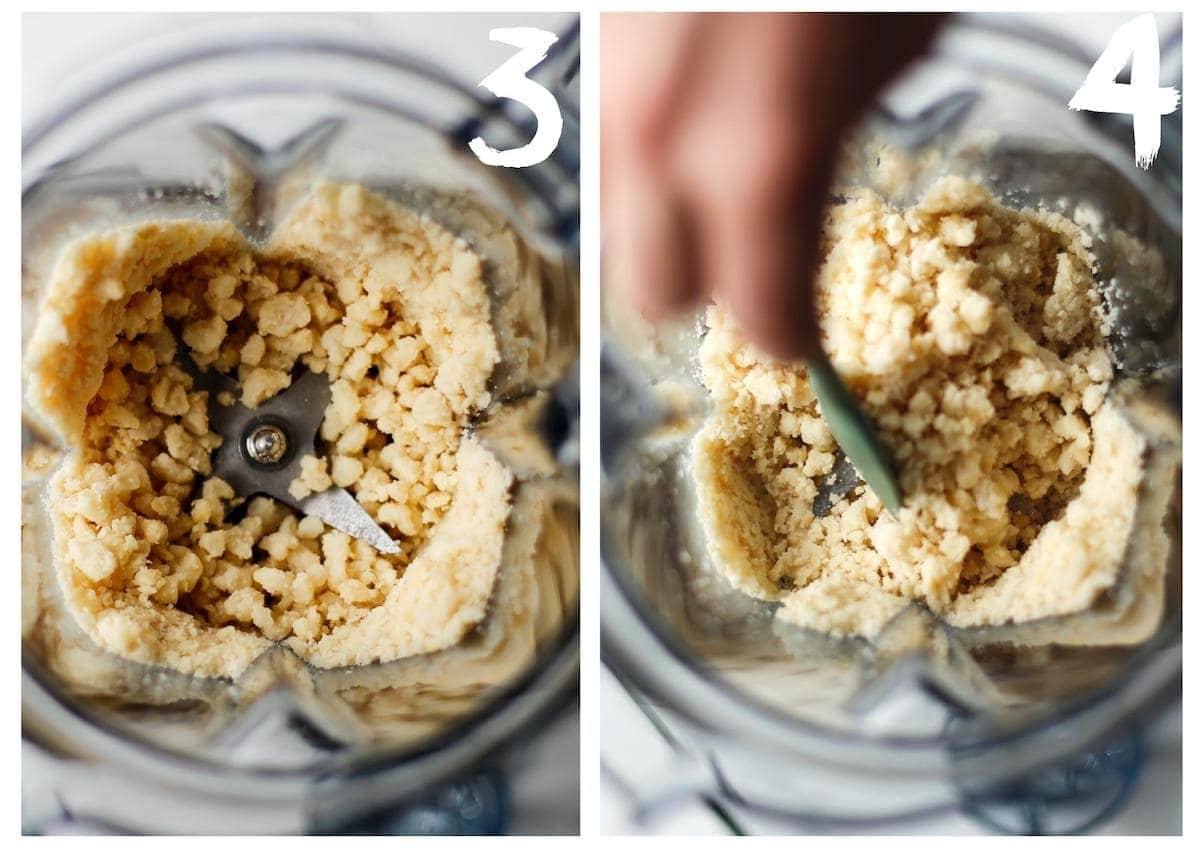 Step 3: After about 30 seconds on low speed the nut butter starts to rise up the sides.
Step 4: Scrape down the sides of the jug.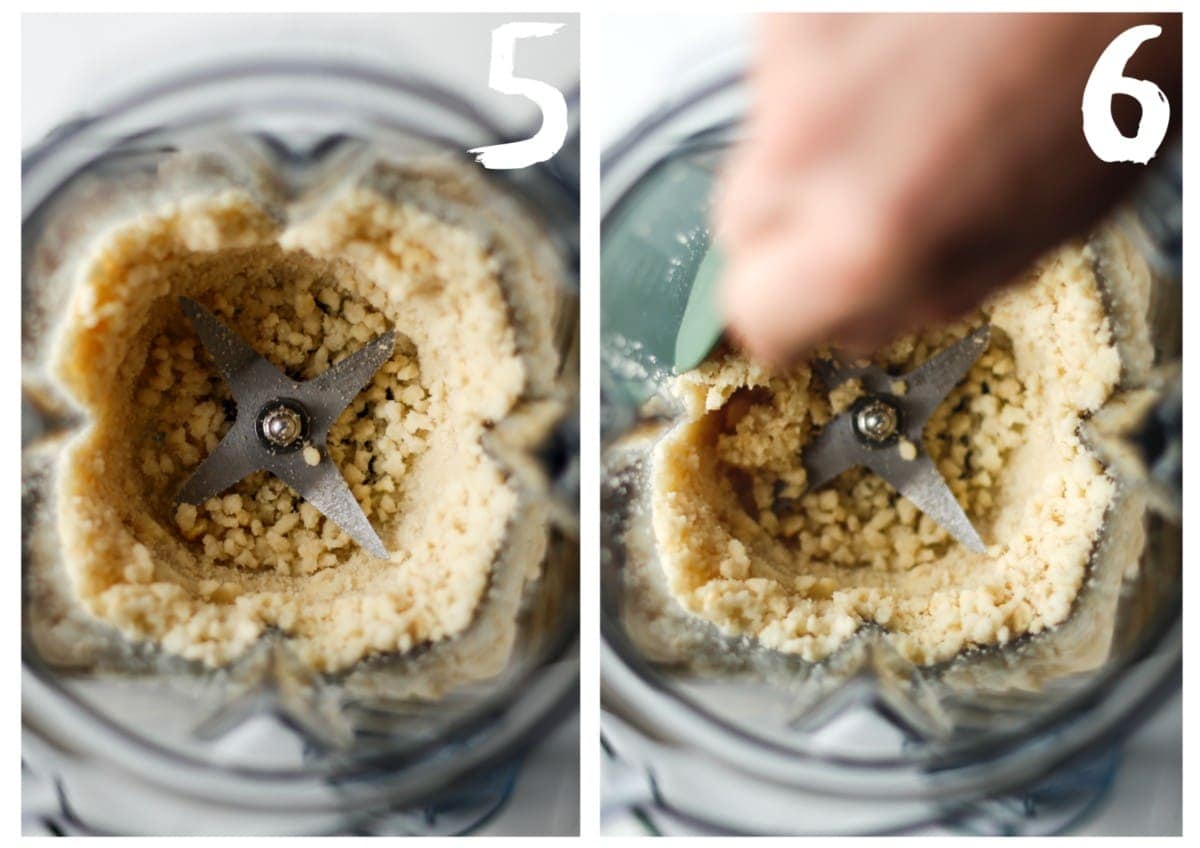 Step 5: Blend for further 15 seconds or so and it will rise up the sides again.
Step 6: Scrape down the sides again.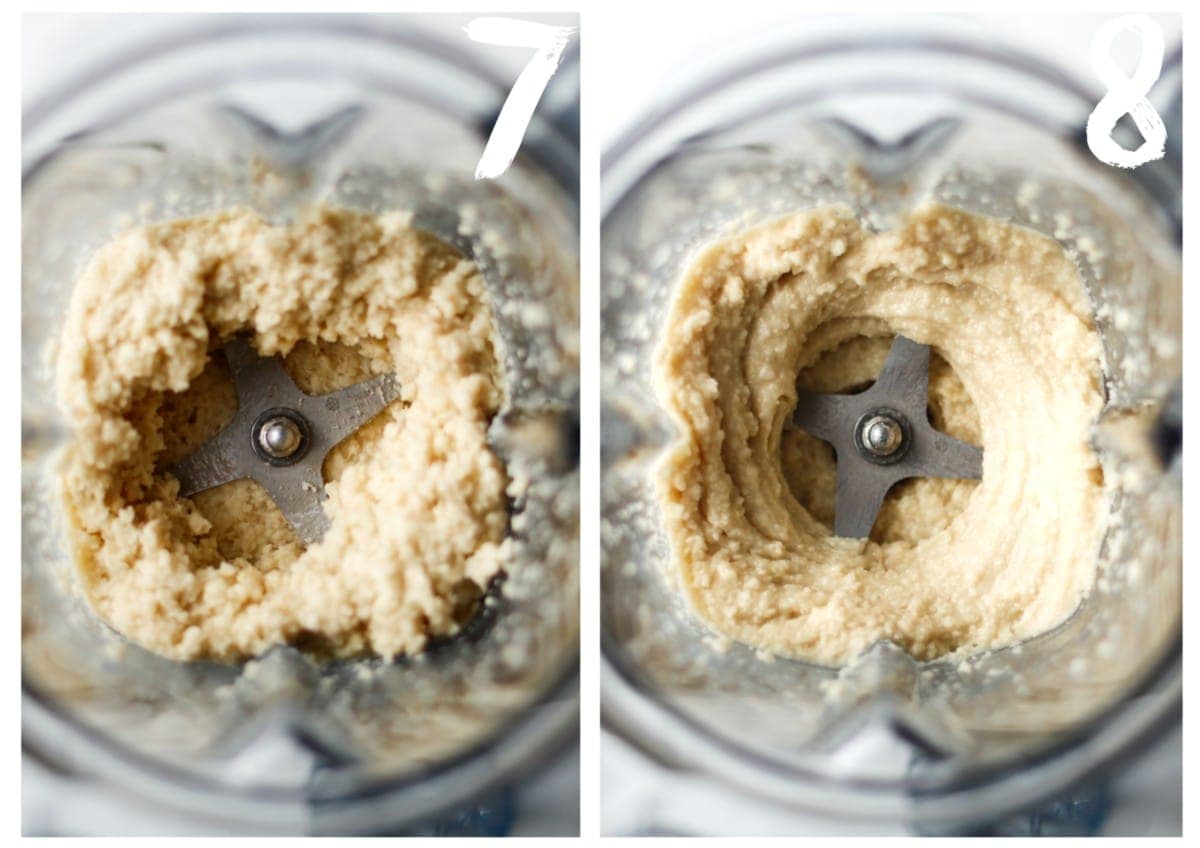 Step 7: Blend again and it should start to fall down under its own weight.
Step 8: When it gets to this consistency gradually increase the speed to about half way.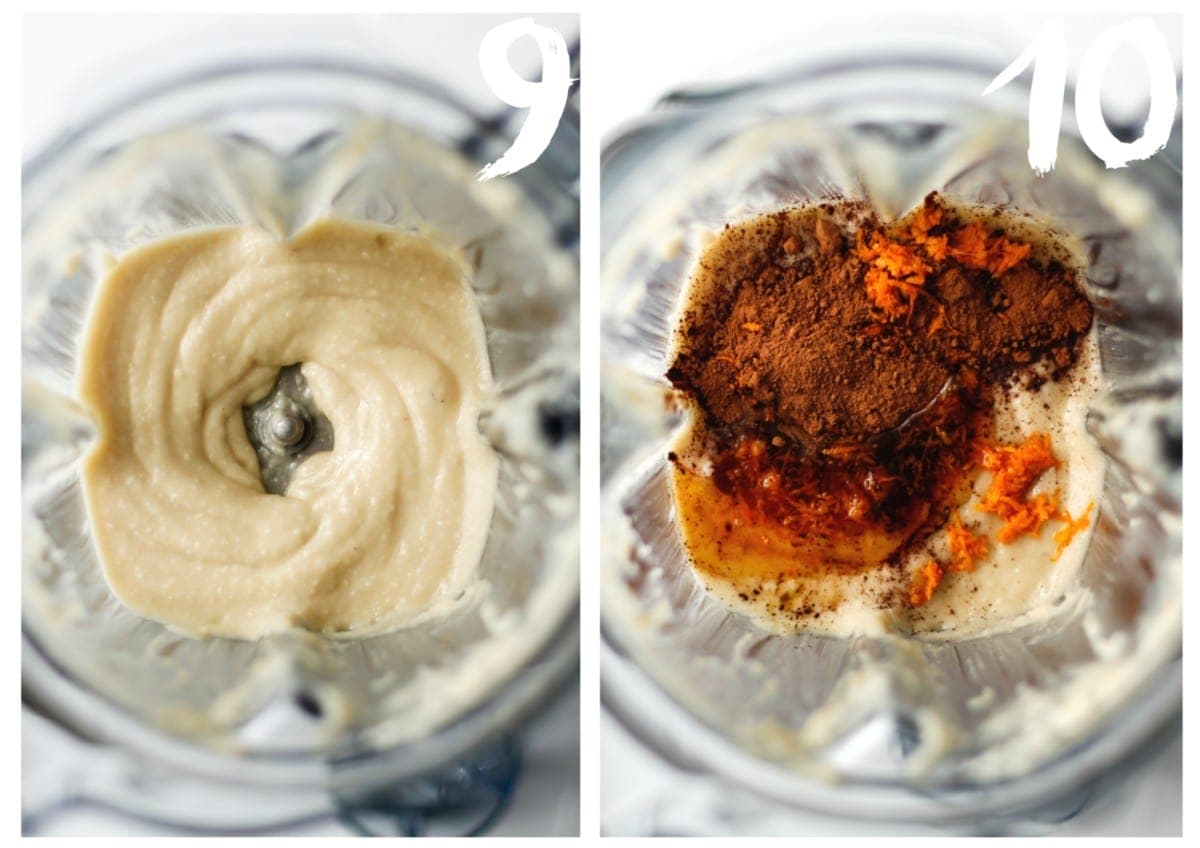 Step 9 - When it gets to a point where its appearance is fairly smooth, add the other ingredients
Step 10 - Add Cacao Powder, Orange Zest, Orange Extract, Maple Syrup and the Vanilla Paste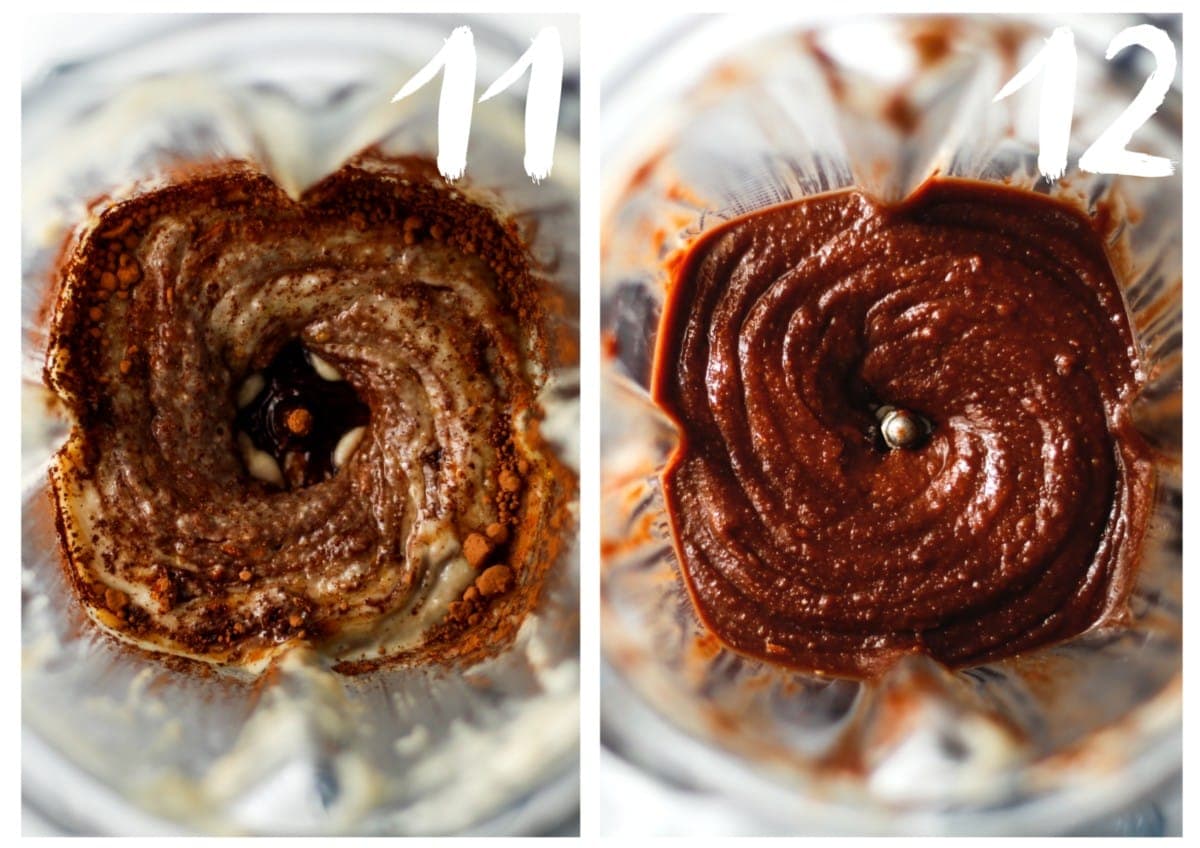 Steps 11 & 12 - Blend until all the ingredients are evenly combined.
Storage
This is best stored at room temperature, in an airtight container for up to 3 weeks. There is no need to refrigerate, but you can do if you like.
Recipe Tip
When making the nut butter you will find that you frequently have to scrape down the blended nuts from the sides of the jug and back towards the centre. You can see how we do this in the photos for stages 4 & 6
Serving Suggestions and Variations
For a quick and easy toddler snack, halve and de-stone some Medjool dates, and then fill them with the Chocolate Orange spread. We also like to top these with a sprinkle of Hemp Seeds, for an Omega 3 boost.
Another way you can enjoy this is to spread it on toast, or a warm bagel. I also like to eat it straight out the jar with a spoon (...but don't tell the kids that).
If you're a fan of our chocolate orange spread, try out our homemade vegan nutella. It's another one of our recipes that takes about 5 minutes to make and only has 2 ingredients.
FAQ's
Do I have to keep chocolate orange spread in the fridge ?
This Chocolate Spreads is best stored at room temperature, in an airtight container. There is no need to refrigerate.
How long does chocolate orange spread Keep for.
If stored in an airtight container, at room temperature, this will keep for 3-4 weeks. It's worth noting that If it has been sat for a few days you may need to give it a stir, because the oils can separate slightly, as with any nut butter.
Can I freeze the chocolate orange spread?
This can be stored in a freezer, in an airtight container, for up to 3 months.
Recipe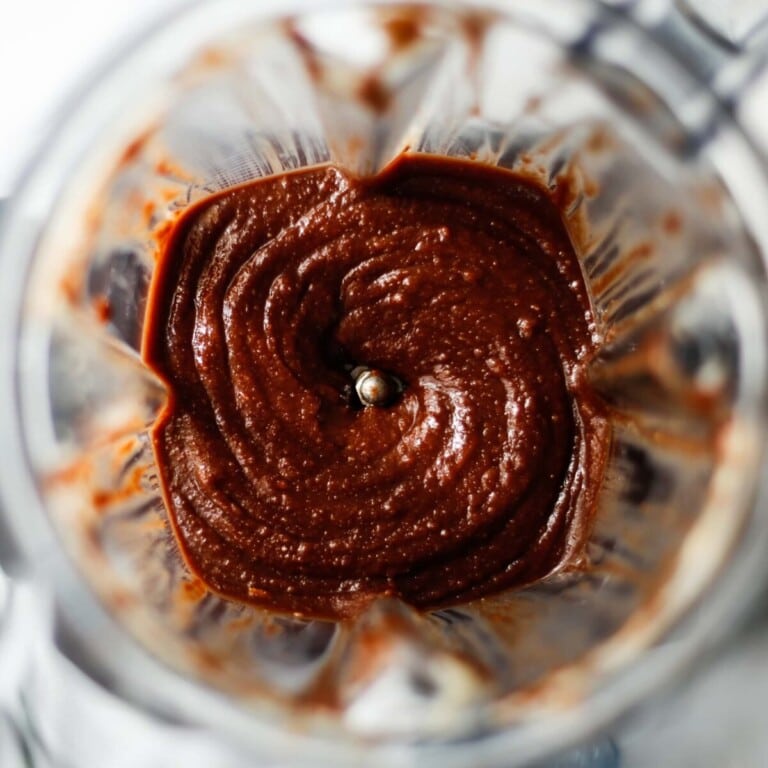 Chocolate Orange Spread
Our super easy Vegan Chocolate Orange Spread. Quick to make, and just as quick to disappear. This is a delicious twist on an old favourite. 
Print
Pin
Rate
Servings:
10
-12 servings
Equipment
High Speed Blender (Such as Vitamix, Ninja or Magimix)
Ingredients
300

g

Raw Macadamia Nuts

2

tablespoon

Cacao Powder

¾

teaspoon

Orange Essence

The Zest of 1 Large Jaffa Orange.

2

tablespoon

Maple Syrup

1

teaspoon

Vanilla Paste
Instructions
Put the Macadamia Nuts into the Blender and start on a low speed.

Each time that the nuts push up the sides of the blender and away from the blade, stop the machine so you can scrape the contents down towards the blade.

Using a spatula, scrape down the nut blend towards the blades and then continue to blend on a low speed.

Repeat steps 2 and 3 until the nut butter is a becoming a fairly smooth consistency.

Increase the speed slightly to help make the Nut Butter as smooth as possible.

Once the Nut Butter is at a consistency where it seems to no longer be changing, stop the blender and add the rest of the ingredients to the Nut Butter.

2 tablespoon Cacao Powder,

¾ teaspoon Orange Essence,

The Zest of 1 Large Jaffa Orange.,

2 tablespoon Maple Syrup,

1 teaspoon Vanilla Paste

Blend again until all of the ingredients are evenly mixed.
Notes
When making the nut butter you will find that you frequently have to scrape down the blended nuts from the sides of the jug and back towards the centre.
Nutrition
Serving:
1
g
|
Calories:
229
kcal
|
Carbohydrates:
7
g
|
Protein:
2
g
|
Fat:
23
g
|
Saturated Fat:
4
g
|
Sodium:
2
mg
|
Potassium:
122
mg
|
Fiber:
3
g
|
Sugar:
4
g
|
Vitamin B1:
1
mg
|
Vitamin B2:
1
mg
|
Vitamin B3:
1
mg
|
Vitamin B5:
1
mg
|
Vitamin B6:
1
mg
|
Vitamin C:
1
mg
|
Vitamin E:
1
mg
|
Vitamin K:
1
µg
|
Calcium:
30
mg
|
Copper:
1
mg
|
Folate:
3
µg
|
Iron:
1
mg
|
Manganese:
1
mg
|
Magnesium:
41
mg
|
Phosphorus:
58
mg
|
Selenium:
1
µg
|
Zinc:
1
mg