There's no denying it's a hot topic. And every time an over sensationalised article appears, it brings in to question the choices of the parents that feed their children a vegan or plant based diet. But is all the questioning and doubting of those parents justified?
What the Science tells us
The Physicians Committee for Responsible Nutrition have advised that a well planned plant based diet can be very beneficial for health. It also prevents against long term health issues. The British Dietetic Association also recognises that plant based nutrition can support healthy living at every age and life-stage.
These organisations, among many others, confirm that in short, Yes, it is completely possible to meet a child's nutritional needs on a plant strong diet.
Meeting their Nutritional Needs
Due to the requirements of children's rapidly growing bodies for more protein, fat, vitamins and minerals, we need to be conscious about what food is given no matter what diet you follow.
Foods such as nut & seed butters, tofu, avocados, olive oil and chia, flax & hemp seeds, are foods my children consume regularly. They are some of the most energy dense plant sources of healthy fats, which is something infants need adequate amounts of. For instance if you take in to consideration that breast milk (natures perfectly designed food for babies), is over 50% fat, you can see how important it is for our children to have.
Whilst it is achievable to meet children's nutritional needs on a plant based diet, it is recommended to appropriately supplement with B12 & vitamin D.
We cannot obtain B12 through our food, and due to a lot of us spending more time indoors, most people also do not get enough sunlight to make enough Vitamin D. As a result, daily supplementation of these vitamins, for all life stages, is essential and thankfully very easy to do.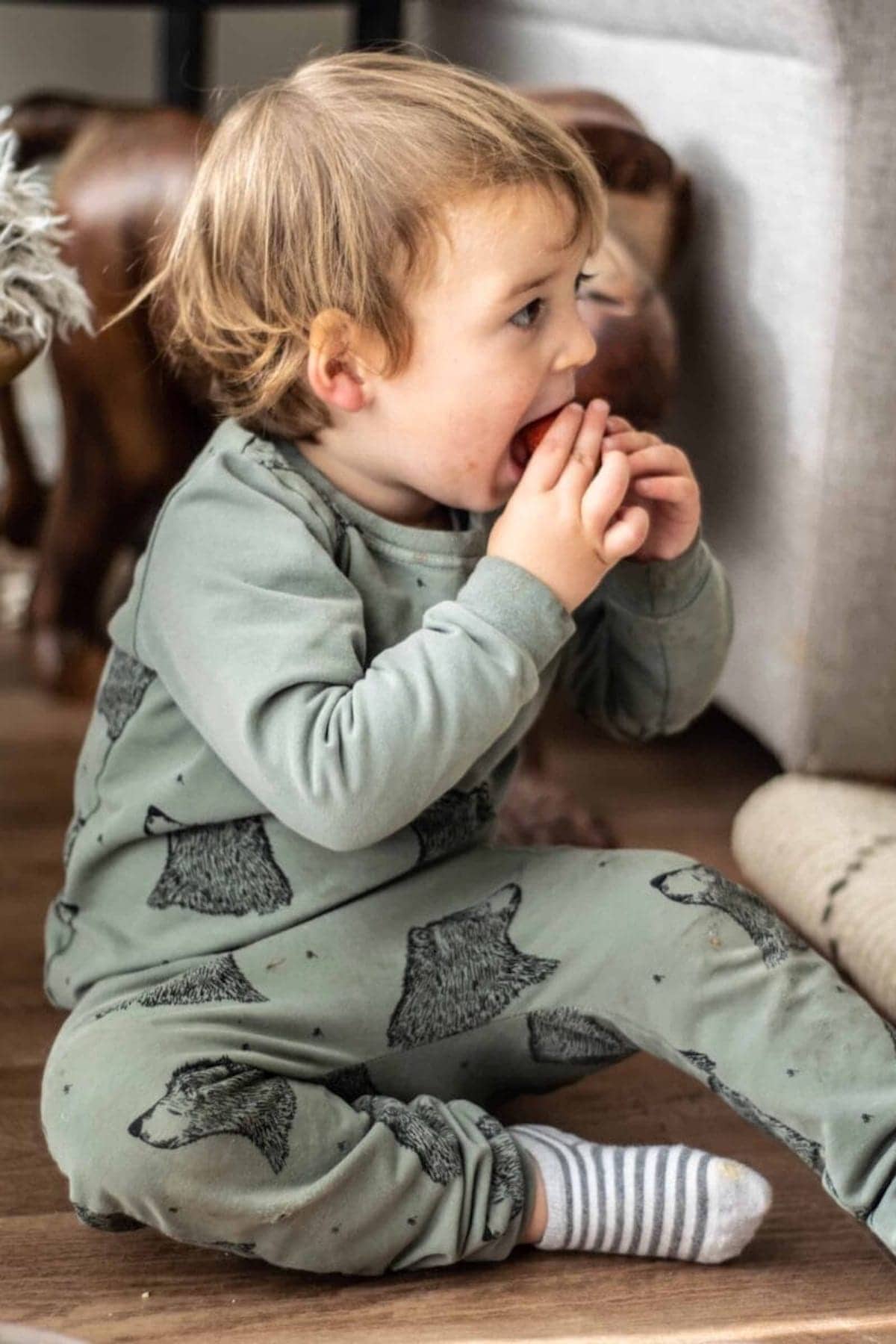 Whether you choose to raise Vegan or not
As parents, we are committed to nourishing our children well. And whether you chose to raise Vegan or not, all children need a variety of whole foods in their diet.
Whole foods such as fruits, vegetables, nuts, seeds and wholegrains are needed in varying quantities in order to meet their nutritional needs.
According to the current recommendations, parents should be aiming to provide their children with at least 5 portions of fruit and veg a day. However, there are a growing number of professionals are strongly recommending for this number to be at least 10 portions a day.
A study conducted by the Imperial College London, calculated that such eating habits, could prevent 7.8 million premature deaths every year. And it's never too early to start improving your families eating habits.
How what we eat during childhood effects us later in life
After reading books such as Dr Joel Furhman's 'How to Disease Proof Your Child', I learnt something really important. That what we feed our children during their developmental years, has a larger impact on their health in the long term than most of us parents know. Knowing this became a real motivator for me to ensure my children ate as healthily as practically possible.
In several European studies it was found that the intake of nitrosamines and nitrate (carcinogens found in animal products such as sausages & bacon) as a child, had a greater increase risk rate of cancers in later life, when compared to consumption of these same carcinogens during adulthood.
The conclusion from this was that due to the rapidly dividing cells of infants and children, the cells are more sensitive to damage from chemical compounds. They therefore become dysplastic, which is an abnormal/pre cancerous state.

In summary...
Plant Based diets can be perfectly safe for children as long as parents and guardians are well informed about the key nutrients required for growth and development. Furthermore, parents of ALL children must be cautious to ensure they're eating a balanced diet and seek professional guidance, where necessary.
If you're not ready to make the switch over to a Plant Based diet just yet, that's ok. Making any changes in that direction make a big difference to yours and your families health.
Some choose to adopt a Vegan ethos, others choose to simply start adding more plants to their plate without taking much else away.
The more nutrient dense food you add to your children's diet, the better, and that looks different for every family.
I recommend choosing to discuss any concerns you may have with a doctor or medical professional (such as a dietician) that is familiar, educated about and supportive of raising children on a Plant Based diet.
Taking advice from someone that isn't up to date with the science on this topic could be detrimental and counter productive.
For an example of what a typical food week looks like for my toddler see my post about 'What my Vegan Toddler Eats in a Week'.
Resources:
Here are a list of some places I went for information about what to feed my family. This list is by no means exhaustive, there are a lot of other reliable resources available.

- Nutritionfacts.org
- How Not to Die
- Plant Proof
- Becoming Vegan
- The China Study
- Whole
- Danielle Belardo MD
- Plant Power Doctor