These Vegan stuffed Mushrooms are one of those recipes you will always go back to, once you've tried them. Stuffed with a Sun-Dried Tomato and Miso Paste and topped with an incredible Vegan Feta and Thyme Crumb. They are seriously tasty and a great meat alternative in meals, whether it be lunch or dinner.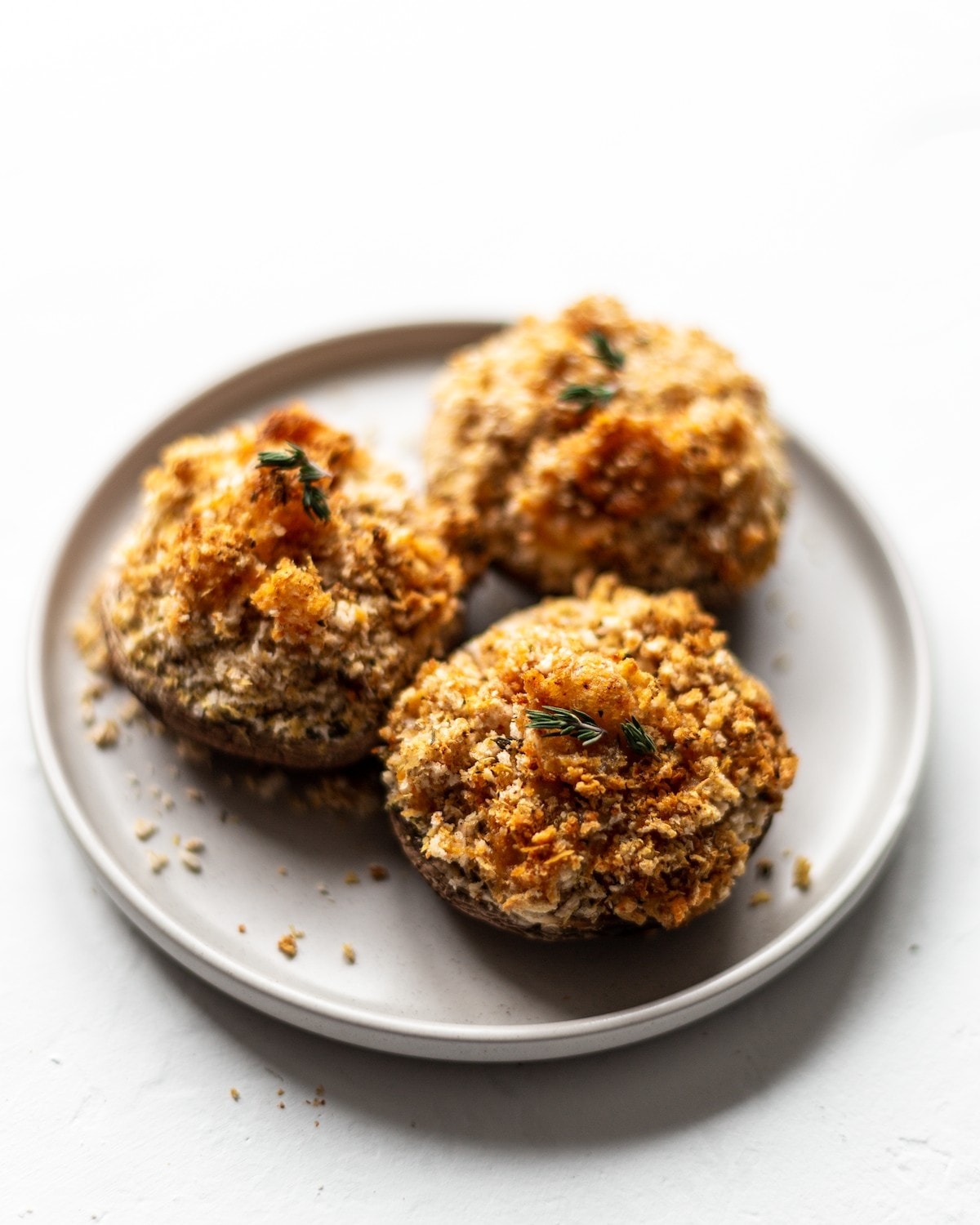 Jump to:
What You'll Need
Ingredients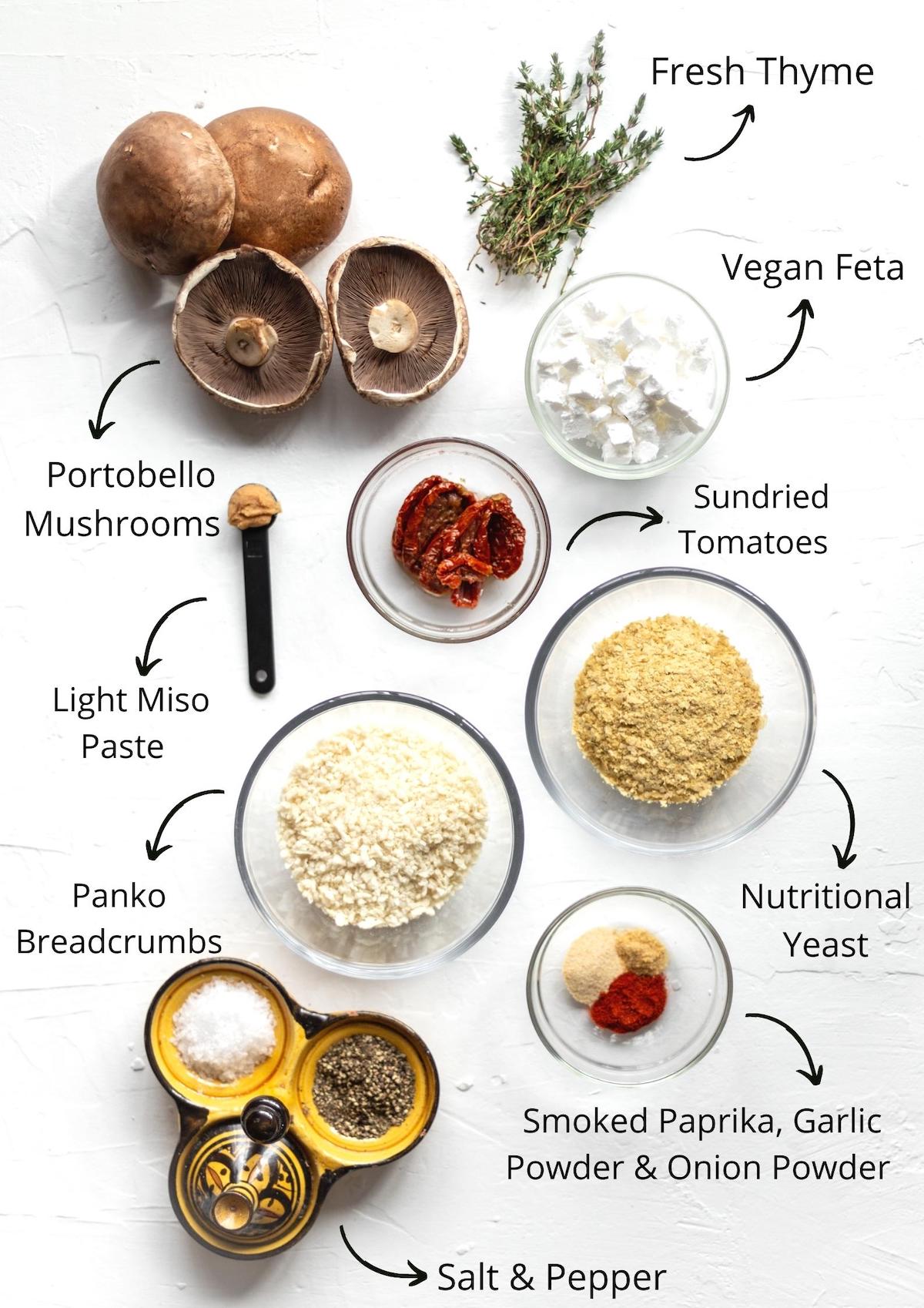 Garlic Powder - The Flavour of the Garlic but without the moisture content of fresh, which makes it perfect for making this crumb.
Miso Paste - Miso is rich in essential minerals and a good source of various B Vitamins, Vitamins E, K and Folic Acid. As a fermented food, Miso provides the gut with beneficial bacteria that help us to stay healthy, vibrant and happy; good gut health is known to be linked to our overall mental and physical well being and health. Look for this in the Asian foods section of shops and supermarkets.
Nutritional Yeast - A favourite among Vegans for giving a cheesy taste to food. We use it in our Vegan Parmesan and Cashew Mac & Cheese. I've found that most Supermarkets stock this, and it can be found in almost every health food store. It's usually fortified with Vitamin B12 as well, which is a bonus.Onion Powder - The flavour of onion, without the water content of fresh, makes this perfect for this crumb.
Panko Breadcrumbs - Panko are made from a crustless white bread that is processed into flakes and then dried. These bread crumbs have a dryer and flakier consistency than regular breadcrumbs, and as a result they absorb less oil. Panko produces a much lighter, tastier and crunchier topping for these mushrooms than normal breadcrumbs.
Black Pepper - a seasoning that we frequently use as it really does add that something special to a dish. Pepper by name, Peppery by nature. A little goes a long way.
Portobello Mushrooms - Portobello Mushrooms are generally larger than normal mushrooms. This means you can get more of the stuffing and topping onto them, which means more of the delicious flavour on your plate. Portobello's are a fairly firm and meaty mushroom, which also works really well when making these stuffed mushrooms.
Sea Salt - It's easy to become a little worried about using salt in recipes especially when it comes to feeding children. But it's important to note that salt is important for our health too, we need it as much as we need other nutrients. The key is to not add too-much. Its an optional ingredient, but a little really does add to the flavour.
Smoked Paprika - A warm and smokey spice that adds depth to the flavour of the crumb.
Sun-dried Tomatoes - These are a great way to add bursts of flavour to a dish, and can also be used to add richness to recipes. Typically these are found jarred in stores, but you can also buy semi-dried tomatoes from deli counters. The semi-dried are less intense in flavour but just as delicious.
Fresh Thyme - We use fresh rather than dried Thyme in the crumb for this recipe as dried thyme really needs to be cooked with a certain amount of moisture in order for it to release its flavour into the dish. Fresh thyme packs an amazing flavour punch before it even hits the crumb mixture.
Vegan Feta - We add vegan feta to the crumb when we make these stuffed mushrooms as we love the way it melts in amongst the crumb when they are baked. We think it just take them to the next level on the taste scale.
Equipment
Baking Tray
Glass Bowl
Sharp Knife
How to Make Them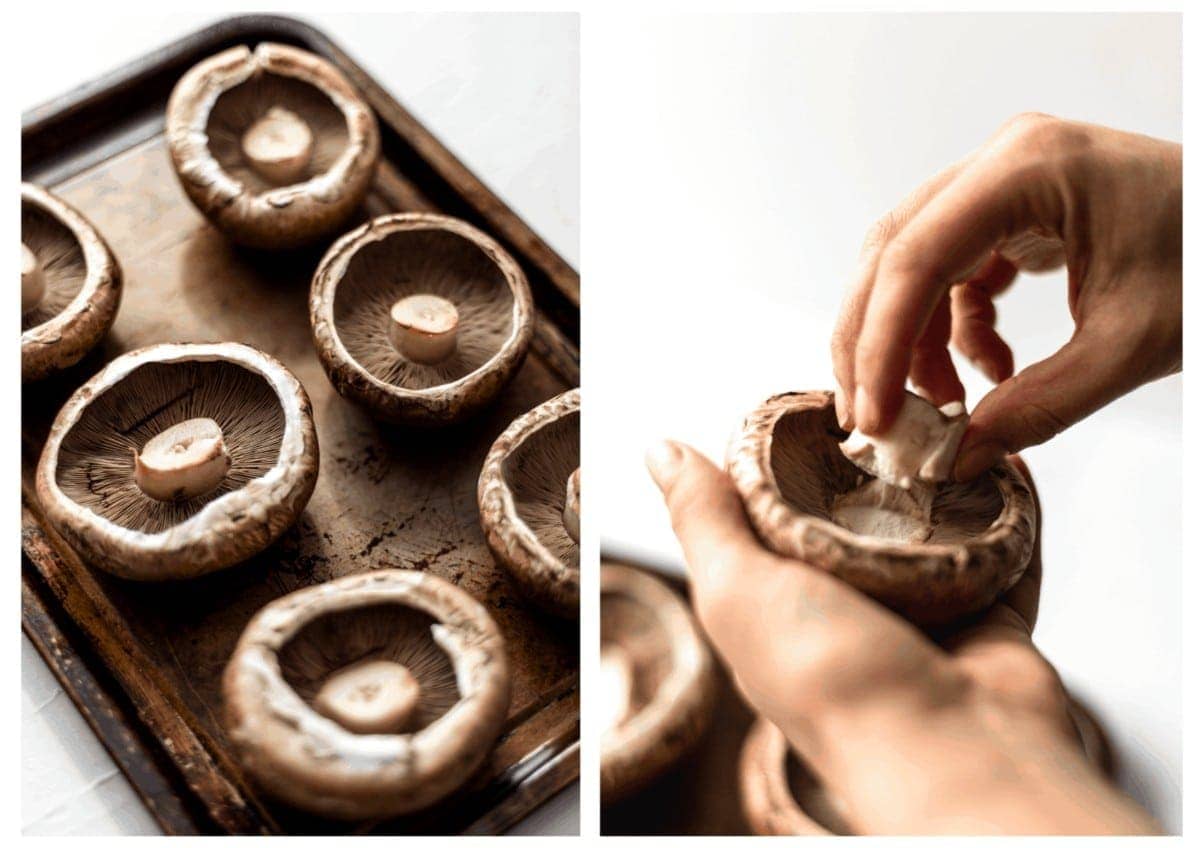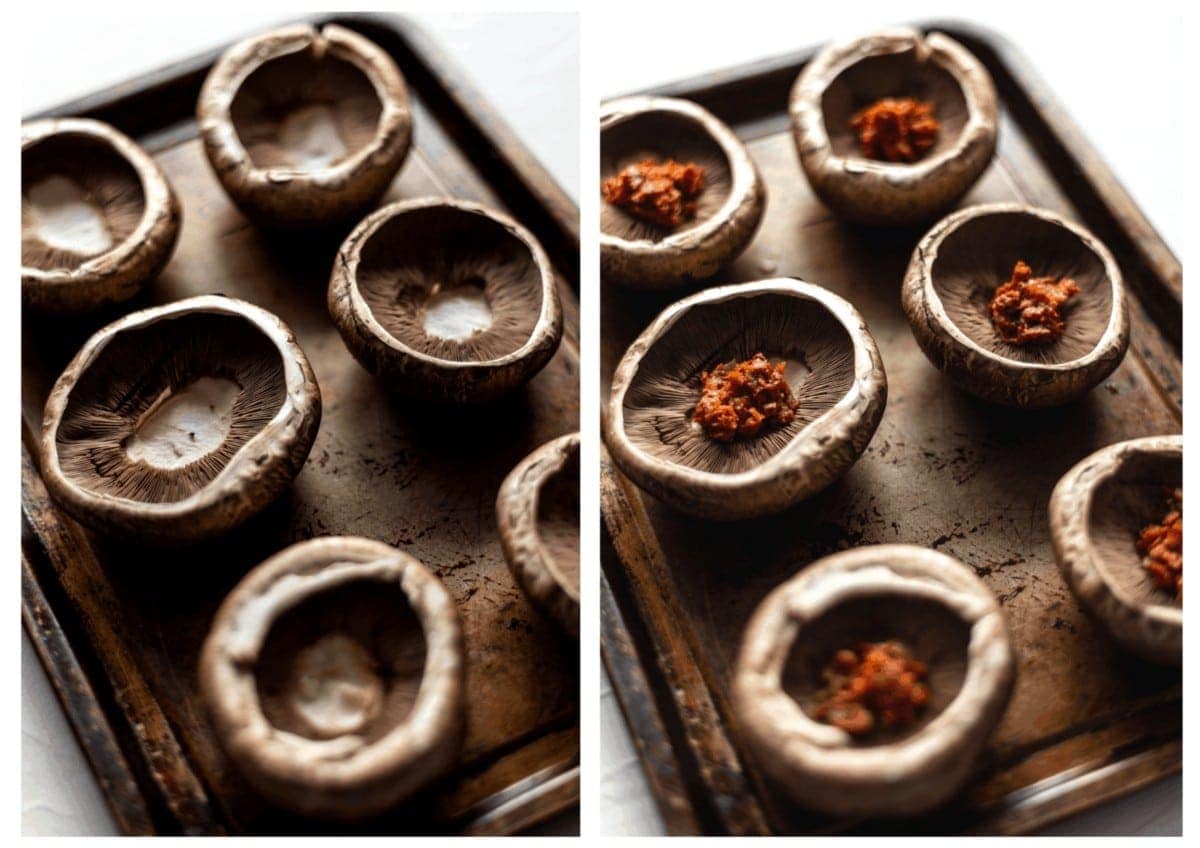 Fill the centre of each Mushroom with 1 teaspoon of the Sun-dried Tomato and Miso Paste, as shown in the picture on the right.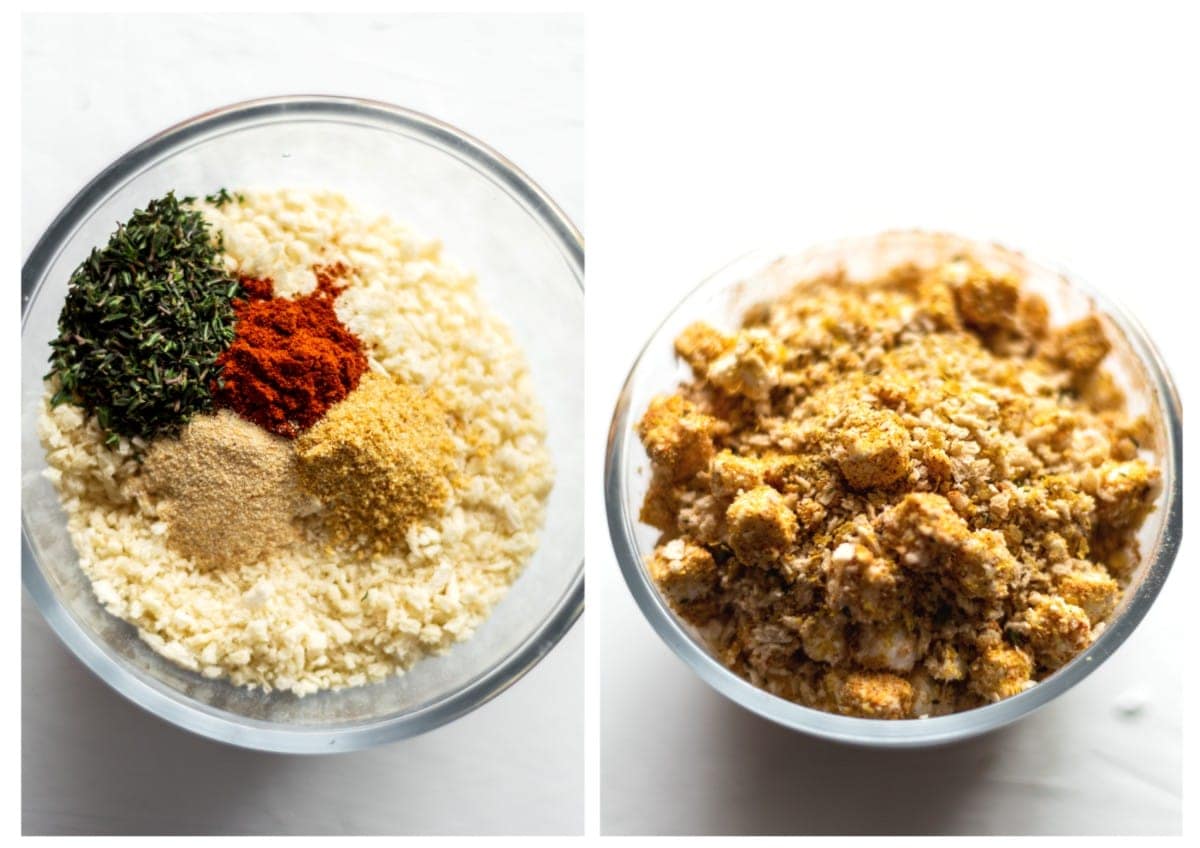 Put all the crumb ingredients, except the Vegan Feta, in a bowl and mix together.
Add the Vegan Feta and mix again.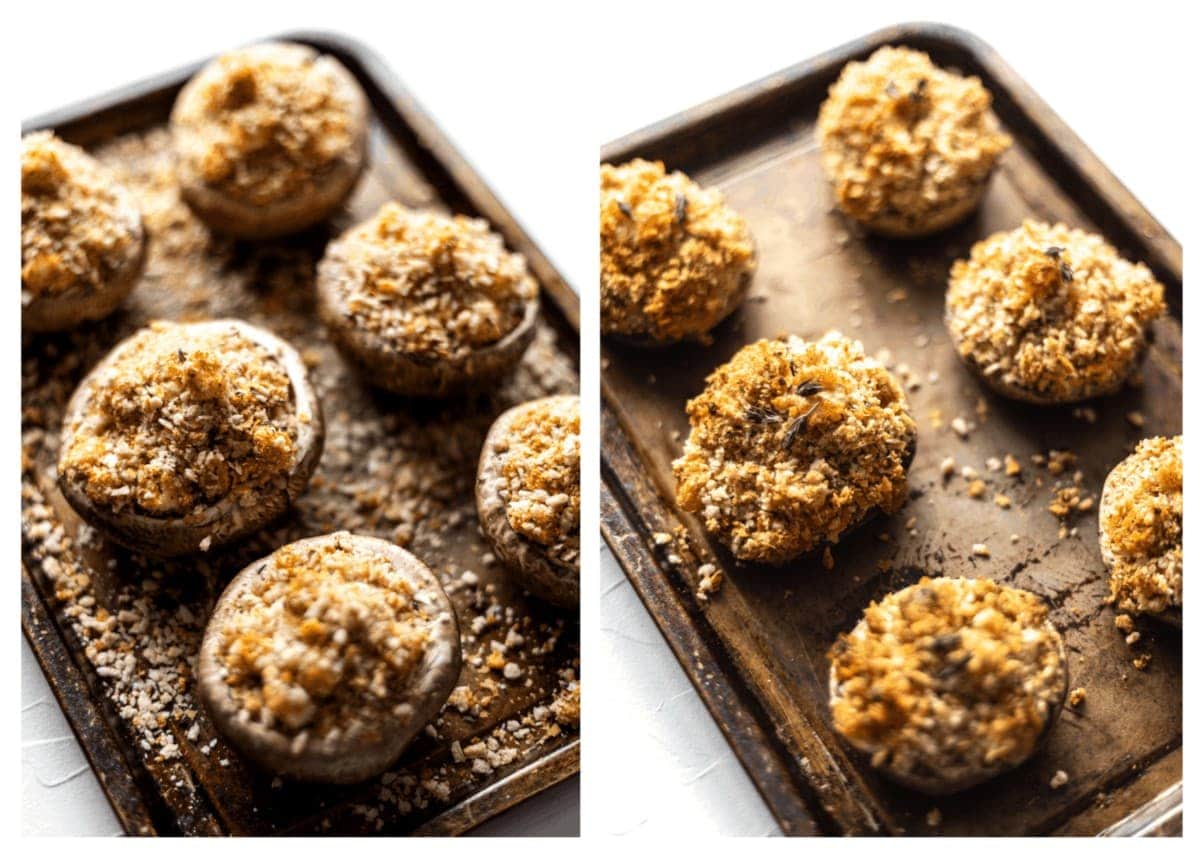 Once stuffed, bake the mushrooms for 10-15 minutes.
Serving Suggestions and Variations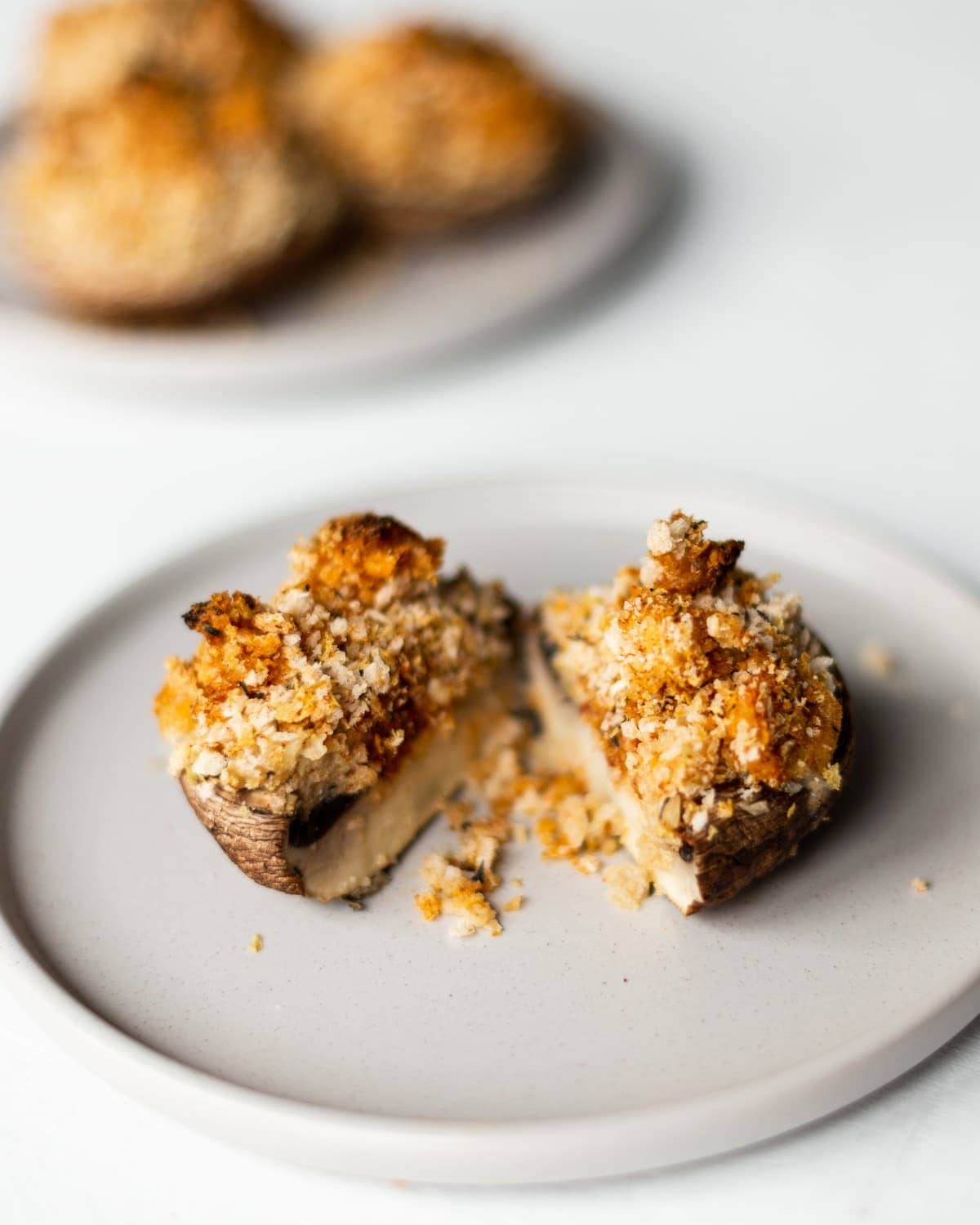 These Stuffed Mushrooms pack such a flavour punch that they are fab just on their own as a quick snack.
FAQ's
Are vegan stuffed portobello mushrooms healthy ?
If you follow this recipe then they are. The only oil in this mushroom recipe is the residual in the sun-dried tomato and garlic paste. And the crumb has no added fat as the cheesy flavour comes from nutritional yeast.
How long do stuffed portobello mushrooms keep in the fridge ?
 You can keep stuffed mushrooms, cooked or uncooked, for 3 to 5 days, but more often than not, they will end up soggy.

Stuffed mushrooms are generally better when eaten hot. So assuming you want them hot why not do all of the prep but then keep the constituent parts separately ? This way the components will keep for 3 to 5 days and it only takes a couple of minutes to construct the stuffed mushrooms.


Result: Fresh Stuffed Mushrooms, instead of reheated, soggy ones! 😉
Other Meal Ideas
Here are a few of our other Delicious Recipes you might like to try.
Recipe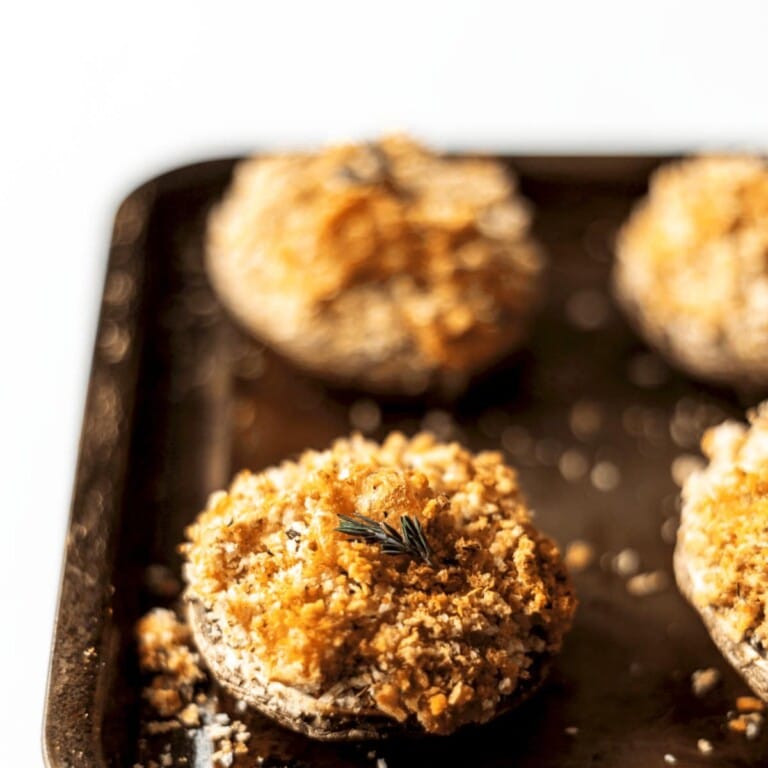 Vegan Stuffed Portobello Mushrooms
These Delicious Vegan stuffed Portobello Mushrooms are stuffed with a Sun-Dried Tomato and Miso Paste and topped with an incredible Vegan Feta and Thyme Crumb.
Print
Pin
Rate
Equipment
1 Baking Tray 

1 Glass Bowl

1 Sharp Knife
Ingredients
The Paste
8

Sun-dried Tomatoes

1

teaspoon

Light Miso
The Crumb
125

g

Breadcrumbs

we use Panko

2

teaspoon

Smoked Paprika

3

teaspoon

Garlic Granules

1

teaspoon

Onion Granules

1

tablespoon

Chopped Fresh Thyme

½

cup

Nutritional Yeast

130

g

Vegan Feta
Instructions
Preheat the oven to 180°C/350°F/Gas Mark 4

Finely chop the Sun Dried Tomatoes and then mix them in a small bowl with the Light Miso. Then set aside.

8 Sun-dried Tomatoes,

1 teaspoon Light Miso

Using your hands, or a spoon, mix all the crumb ingredients, except for the Vegan Feta, together in a bowl.

125 g Breadcrumbs,

2 teaspoon Smoked Paprika,

3 teaspoon Garlic Granules,

1 teaspoon Onion Granules,

1 tablespoon Chopped Fresh Thyme,

½ cup Nutritional Yeast

Add the Vegan Feta to the crumb mixture and gently mix together using your hands, or a spoon. Then set aside.

Carefully de-stalk the Mushrooms. 

Add the Paste:

After arranging the Mushrooms on an oven tray, put a teaspoon of the sun-dried tomato and Miso paste in the centre of each mushroom, trying to keep it to the area that the stalk was in before it was removed.

Carefully top each mushroom with the crumb, making sure to get plenty on to each.

Place the tray of Stuffed Mushrooms in the oven and cook for 12 minutes, or until golden brown.
Notes
When de-stalking a mushroom, I find it easiest to cup it in one hand, and then gently apply pressure to the side of the stalk with the thumb of the other hand. With practice, the stalk will usually come away whole. If necessary pick any pieces off carefully, if the stalk doesn't come away in one piece. 
Nutrition
Calories:
304
kcal
|
Carbohydrates:
41
g
|
Protein:
14
g
|
Fat:
12
g
|
Saturated Fat:
4
g
|
Trans Fat:
1
g
|
Sodium:
438
mg
|
Potassium:
1000
mg
|
Fiber:
9
g
|
Sugar:
9
g
|
Vitamin A:
704
IU
|
Vitamin B1:
1
mg
|
Vitamin B2:
1
mg
|
Vitamin B3:
10
mg
|
Vitamin B5:
2
mg
|
Vitamin B6:
1
mg
|
Vitamin B12:
1
µg
|
Vitamin C:
8
mg
|
Vitamin E:
1
mg
|
Vitamin K:
5
µg
|
Calcium:
109
mg
|
Copper:
1
mg
|
Folate:
87
µg
|
Iron:
4
mg
|
Manganese:
1
mg
|
Magnesium:
32
mg
|
Phosphorus:
268
mg
|
Selenium:
40
µg
|
Zinc:
2
mg
Did you make this recipe?
Let us know what you thought of it in the comment section below. We'd love to hear from you!