We're always thinking up new ways of adding extra nourishment in to every meal for our kids. So, an easy adaptation of a standard breakfast cereal seemed like a no brainer.
By adding Hemp Seeds and Quinoa Flakes we pack our bowls with loads of extra Protein and Omega 3, as well as a few other ingredients to keep it tasting delicious and super healthy. The end result is a Protein rich bowl of Weet Bix (Weetabix if you're in the UK) that you and your children will love.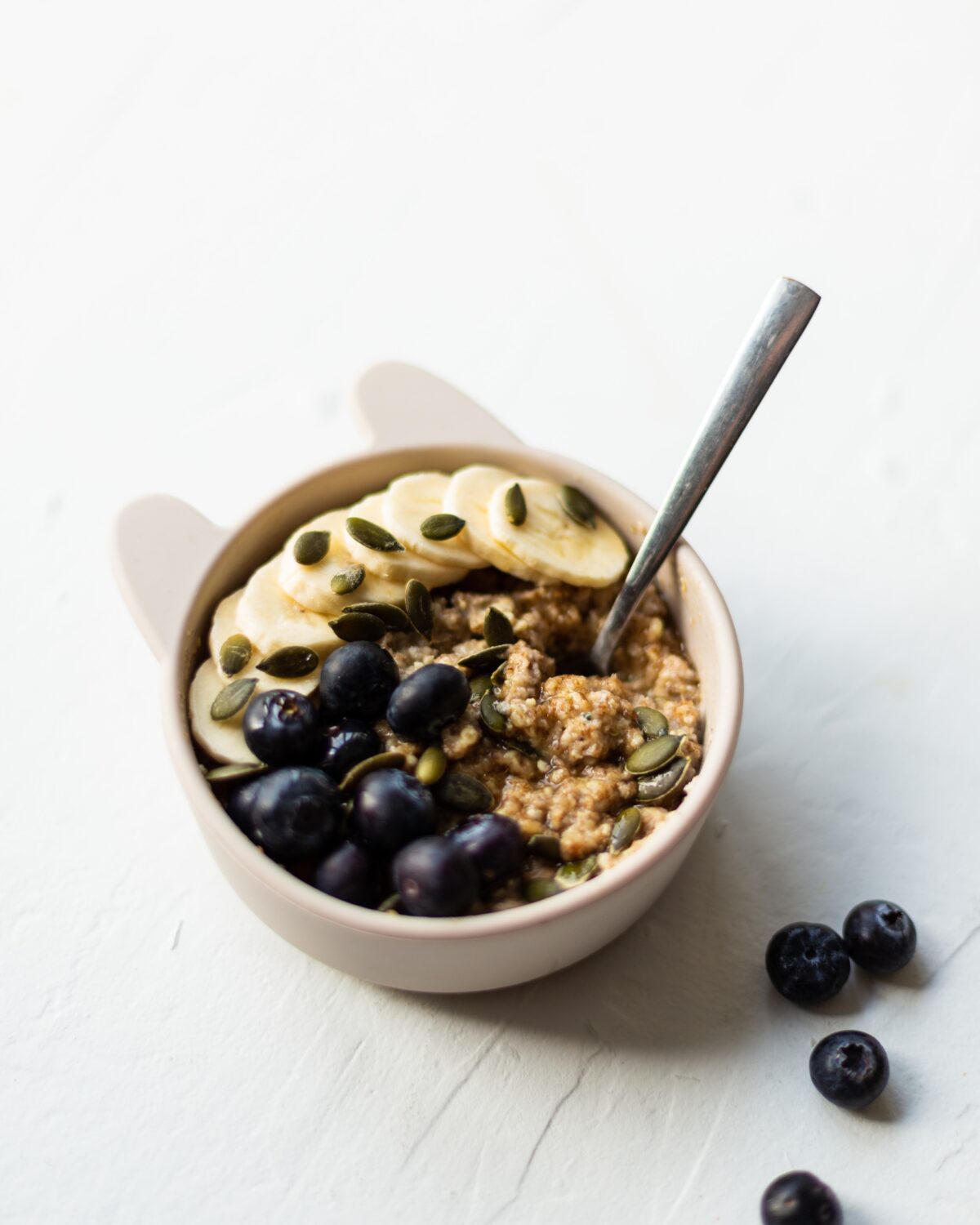 Jump to:
What You'll Need
Ingredients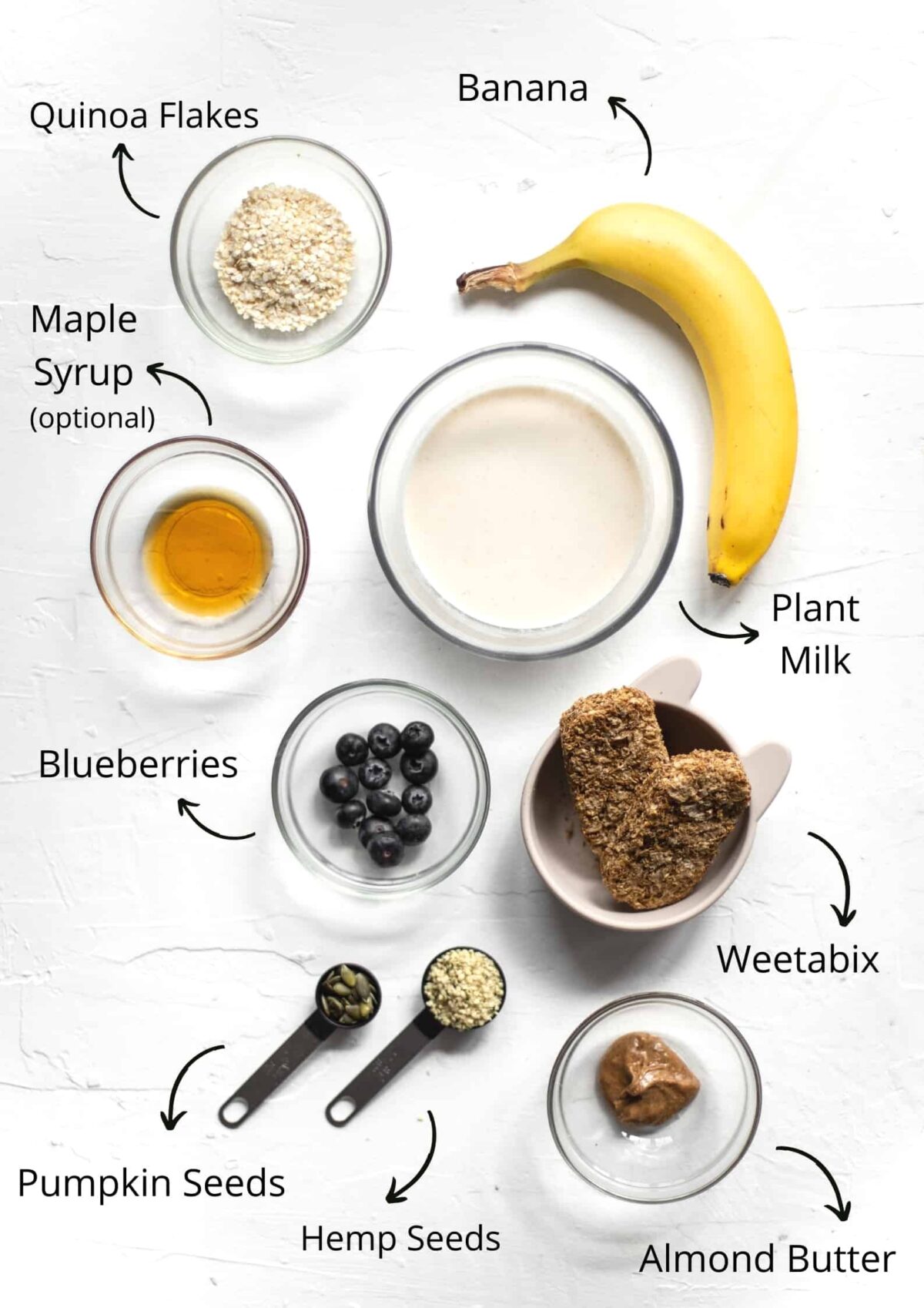 Weet Bix (Weetabix) - Supermarkets also do own-branded cheaper alternatives to these two well known ones. If you need a Gluten Free option, a brand called Nutri Brex have a suitable option. We haven't tried these but the reviews are positive.
Quinoa Flakes - Quinoa (pronounced 'keen-wa') is one of the healthiest and most nutritious foods on the planet. It has all 9 essential amino acids (ones our bodies can't make on their own). It also contains special prebiotics that help gut bacteria thrive.
Banana - Although not as high in potassium as some other foods, such as blueberries, nuts & seeds, but a good source nonetheless. They're also great for digestion due to their high fiber content. The riper they are, the sweeter they'll be. So try and aim for ones with a few brown spots.
Blueberries - A super-food with great immunity boosting properties. Packed with Antioxidants, Potassium, Vitamin C and Flavonoids (a natural substance found in fruits & vegetables that fight off free radicals, among other things). As per Dr. Gregers Daily Dozen recommendations, we try and have berries most days.
Plant Milk - You can use any Plant Milk, we choose to use Soy in this recipe but we often just use whatever we have in the fridge - Almond, Cashew or Coconut have all been used and worked the same. Alternatively, we have a Cashew Milk recipe if you'd rather make your own.
Almond Butter - Sainsbury's (UK Brand) own Almond Butter is the creamiest and most affordable option I've found. There are plenty of other brands that make it though, like Pip & Nut for example. Alternatively you can easily and inexpensively make your own, but you will need a high speed blender or food processor to get the job done. Simply add a cup or two of Almonds in to your food processor and blitz until creamy.
Pumpkin Seeds - Pumpkin Seeds are rich in Vitamins and Minerals like Manganese and Vitamin K, both of which are important in helping wounds heal. Which is what you need when children are renowned for falling over and hurting themselves all the time. They also contain zinc, a mineral that helps the immune system fight bacteria and viruses.
Hemp Seeds - One of the main plant based sources of Omega 3 fatty acids, which are essential for good brain health. They are a complete protein (containing all 9 essential amino acids). Two things all parents need to ensure their children are getting enough of.
Maple Syrup - This can be subbed out for Agave Syrup if needed. I like to use Maple Syrup for its flavour, and the fact that it contains Vitamins &Minerals, and it's also an unrefined sugar. However, you can completely omit this if you like.
Equipment
Bowl
Spoon
Knife for slicing the banana
How to Make it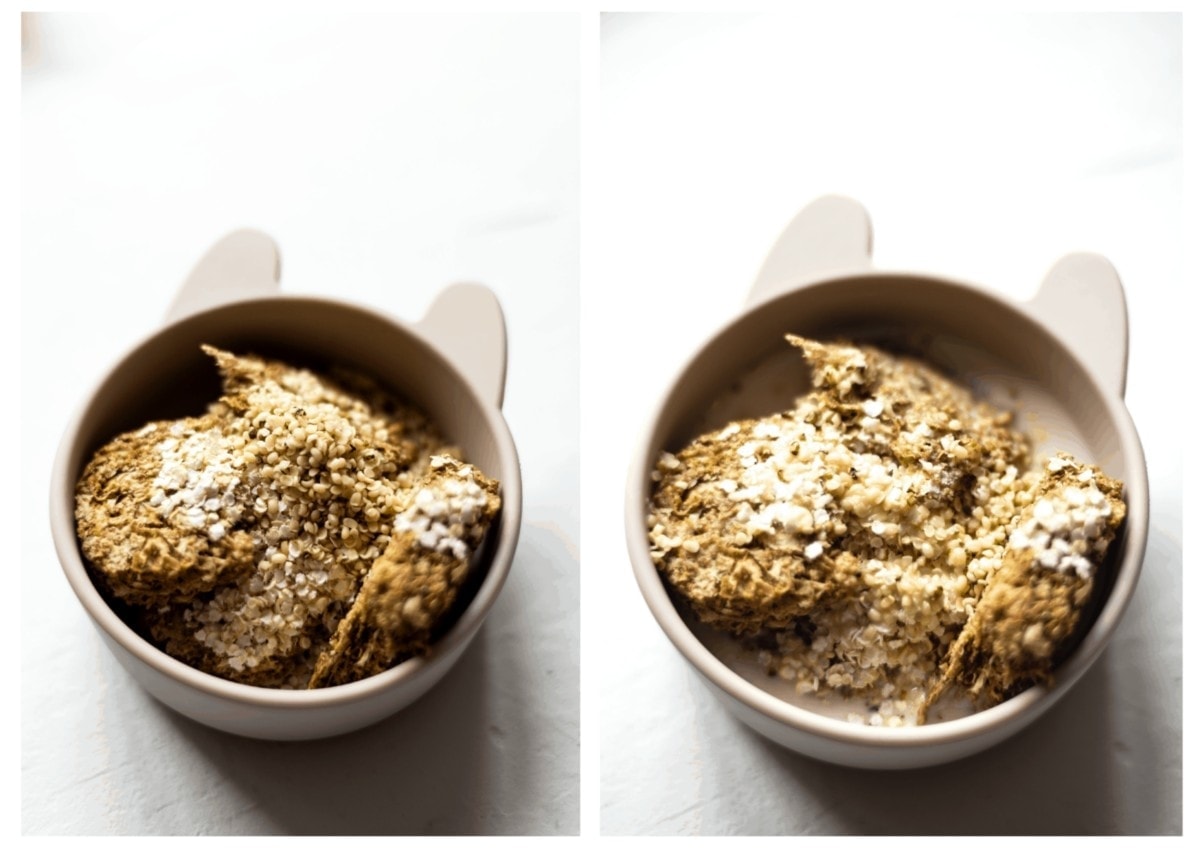 Break the Weet Bix in to smaller bits and put them in the bowl with the Quinoa, Hemp Seeds and Plant Milk. Mash it with a spoon and mix it all together.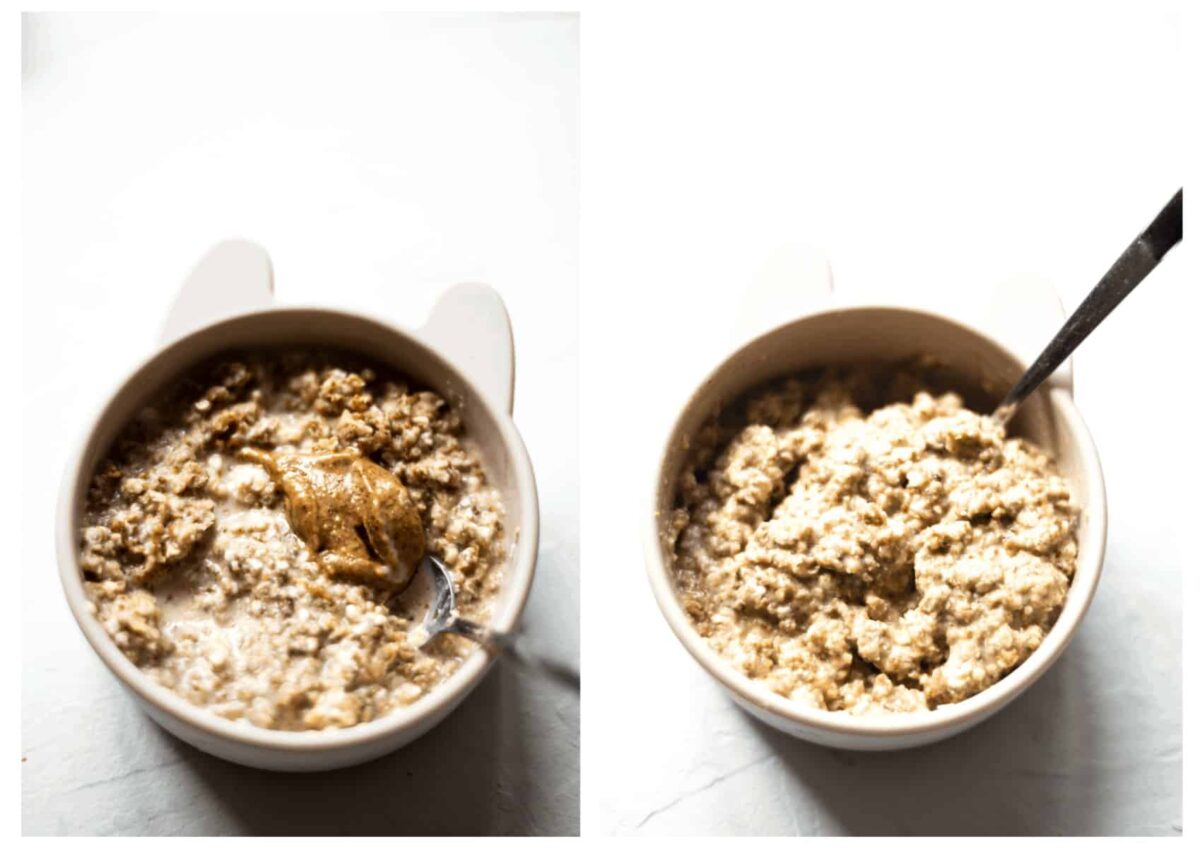 Add the Almond Butter and Maple Syrup and stir through.
Recipe Tip
If preparing in a small Child's bowl then break the Weet-Bix by hand before putting them in as this makes it easier to crush the ingredients together.
Serving Suggestions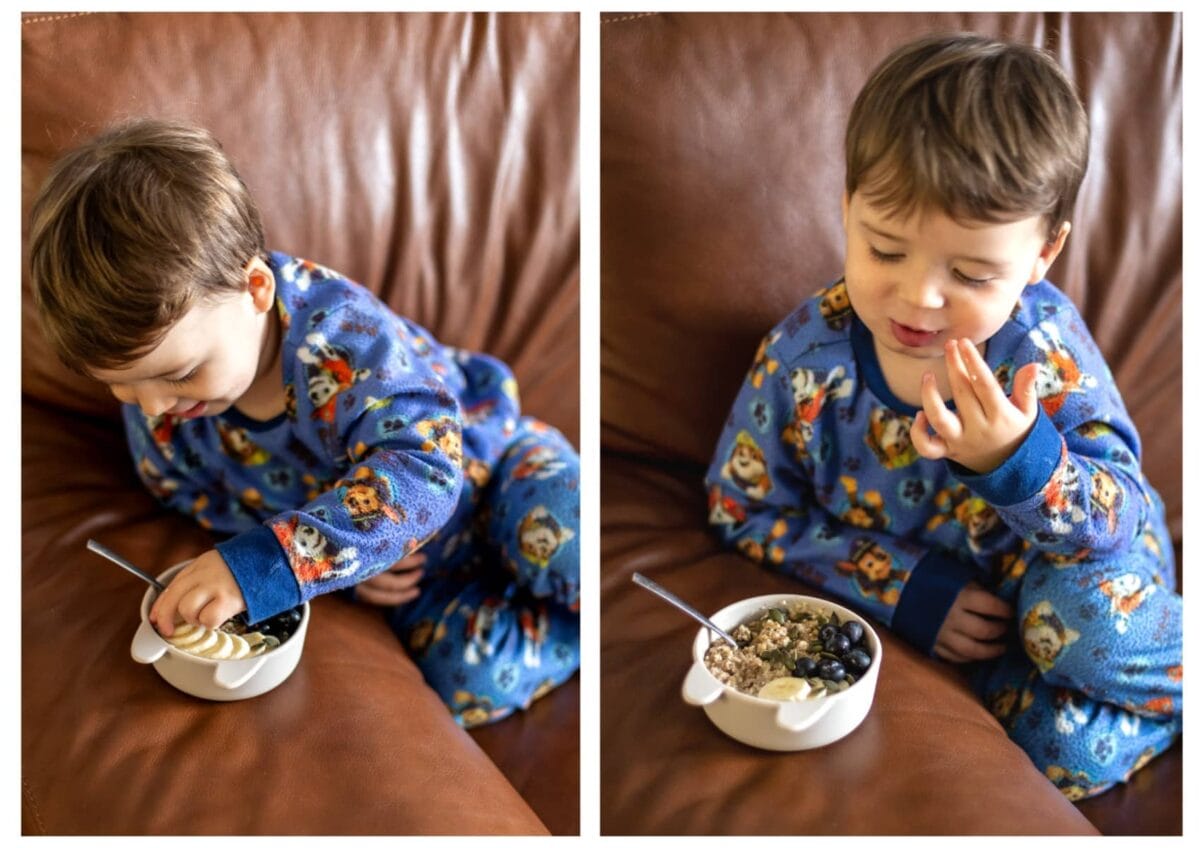 You can top the Weet Bix with Slice Banana, Blueberries and Pumpkin Seeds as per the recipe. Or alternatively you can have it with whatever fruit and seeds your toddler (or you) prefer. For example; Stewed apples, cinnamon and chopped hazelnuts.
Our little man likes to have his cold but if you fancy trying it as a delicious Weet Bix porridge instead then just add a little more plant milk ( ½ cup) to the recipe and then warm it through for a couple of minutes in a pan, before putting in the bowl and topping with the fruit and seeds.
Other Weet Bix Recipes
For some of our other Weet Bix recipes please take a look at our What my vegan toddler eats in a week post for more ideas on how to serve this to your littles.
FAQ's
Are there any other fruit that work well with this?
Other Berries, such as Strawberries, Raspberries or Blackberries go really well with this. It also works well with other soft fruits such as Mango or Papaya. We sometime have it with Passion Fruit as well. We got the idea to try it with this from our Vegan Banana Pancakes with Cashew Cream and it went down a storm !
What could I have with this instead of the Pumpkin Seeds?
For something different you could try it with Sunflower Seeds, if you preferred. Also it works really well if you add some chopped nuts to it as well. We often have it with lightly roasted Hazlenuts and Walnuts.
Other Breakfast Ideas
Here are some more of our Delicious Recipe ideas that you might like try.
Recipe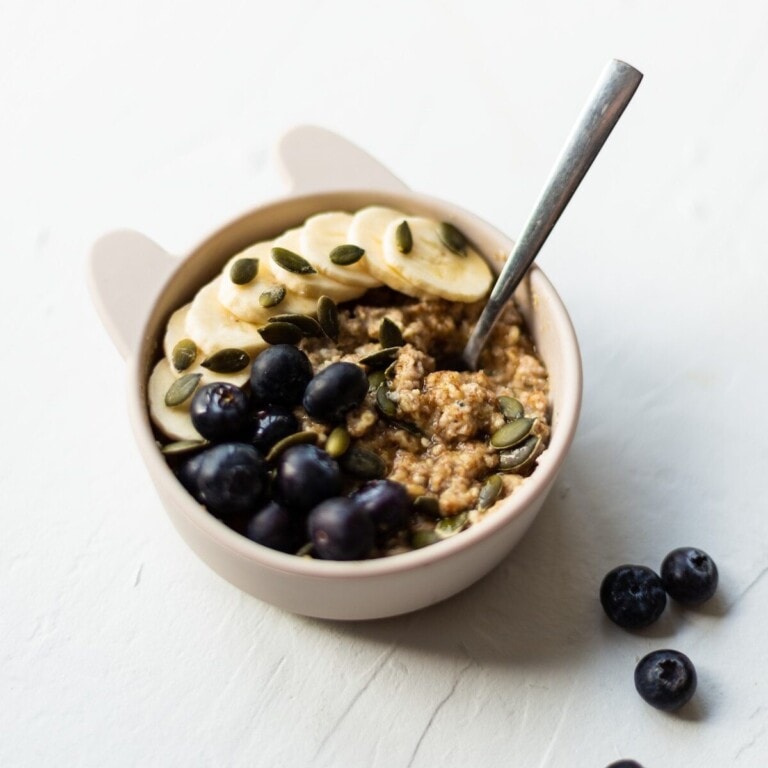 Weet Bix Medley
We pack our bowls of Weet Bix with as many nourishing ingredients as possible to give our kids the best start to their day.
Print
Pin
Rate
Ingredients
2

Weet Bix

(called Weetabix in the UK)

½

Small Banana

¼

cup

Blueberries

½

tablespoon

Pumpkin Seeds

1

tablespoon

Hemp Seeds

1

tablespoon

Almond Butter

1

cup

Plant Milk

1

teaspoon

Maple Syrup

1

tablespoon

Quinoa Flakes
Instructions
Put the Weet Bix, Quinoa, Hemp Seeds and Plant Milk in the bowl and crush together.

2 Weet Bix,

1 tablespoon Hemp Seeds,

1 tablespoon Quinoa Flakes,

1 cup Plant Milk

Add the Almond Butter and Maple Syrup to the bowl and stir through until evenly mixed.

1 tablespoon Almond Butter,

1 teaspoon Maple Syrup

Slice the Banana and top the bowl of Weet Bix mixture with the Banana, Blueberries and Pumpkin Seeds.

½ Small Banana,

¼ cup Blueberries,

½ tablespoon Pumpkin Seeds
Notes
If preparing in a small Childs bowl then break the Weet bix by hand before putting them in as this makes it easier to crush the ingredients together.
You can top these with our suggested fruit and seeds but equally so, if there are others that your toddler prefers they will probably work just as well. Other Berries, such as Strawberries go really well with this and it also works well with seeds instead of (or as well as) nuts.
Nutrition
Calories:
451
kcal
|
Carbohydrates:
40
g
|
Protein:
15
g
|
Fat:
22
g
|
Saturated Fat:
2
g
|
Sodium:
164
mg
|
Potassium:
413
mg
|
Fiber:
7
g
|
Sugar:
17
g
|
Vitamin A:
125
IU
|
Vitamin B1:
1
mg
|
Vitamin B2:
1
mg
|
Vitamin B3:
2
mg
|
Vitamin B5:
1
mg
|
Vitamin B6:
1
mg
|
Vitamin C:
7
mg
|
Vitamin E:
4
mg
|
Vitamin K:
4
µg
|
Calcium:
94
mg
|
Copper:
1
mg
|
Folate:
56
µg
|
Iron:
6
mg
|
Manganese:
1
mg
|
Magnesium:
96
mg
|
Phosphorus:
412
mg
|
Selenium:
2
µg
|
Zinc:
1
mg