This Wild Garlic Pesto is simple to make and absolutely delicious. To make ours vegan we simply sub out the Cheese for Nutritional Yeast.
It's made with Pine Nuts, as a traditional Basil Pesto would be, but that's where the similarity ends. Wild Garlic Pesto has a punchier flavour, making it a very distinctive and delicious alternative. Both are delicious but if we have the choice we all go for the Wild Garlic option every time.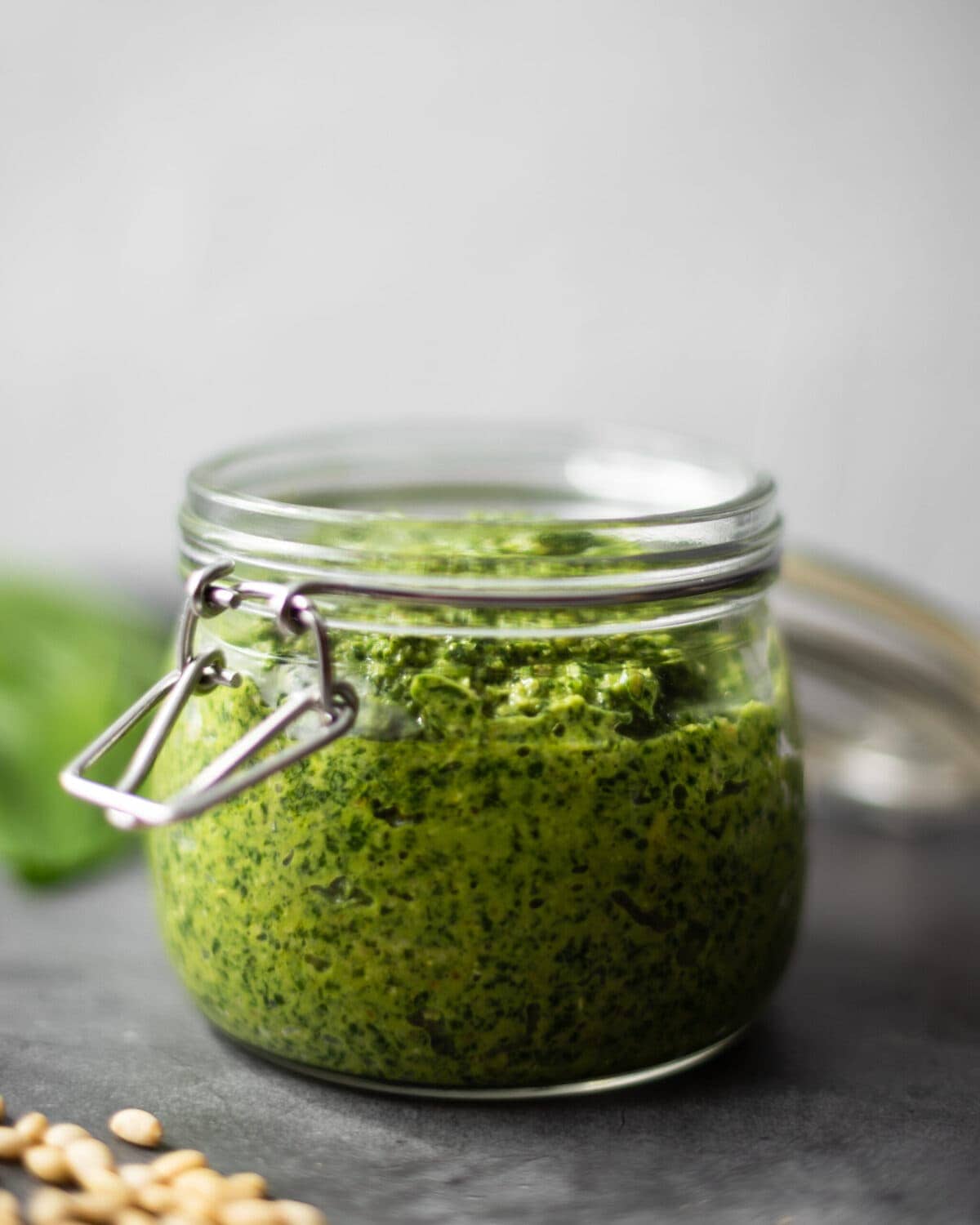 If you love to forage, as we do, then you'll understand why we long for Spring to arrive. After the long winter nights, and short winter days, it's lovely to see everything bursting into life again.
The Wild Garlic carpeting the woods, for us is our first crop of the year. We always keep an eye out for it being ready to start to pick and make sure to harvest plenty through the season to maker enough of our Wild Garlic Pestos and our Wild Garlic Soup to be able to freeze plenty down to see us through the year.
Jump to:
What You'll Need
Ingredients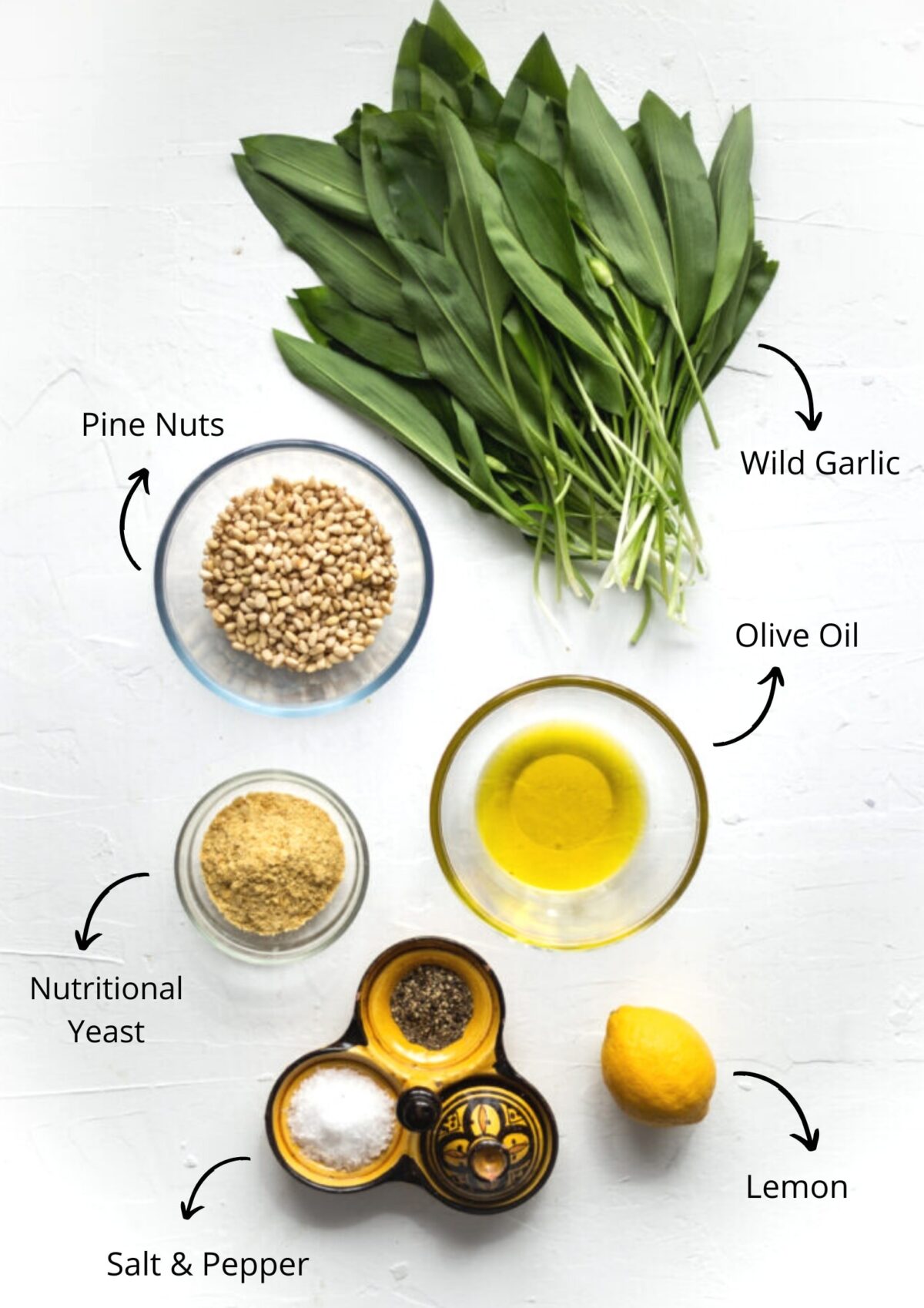 Lemon - Lemon Juice and Zest are both used in our Wild Garlic Pesto recipe. It's light and refreshing, as well as being delicious.
Nutritional Yeast - A Vegan's magic answer to 'Cheese'. It's used throughout Vegan cooking as it has a cheesy taste that you don't get anywhere else. We use it on our Vegan Mac & Cheese, and Vegan Parmesan. Here it is used to replace the tradition animal based Parmesan. You will find this in most supermarkets/stores. And almost guaranteed to find it in all health/whole food stores. Alternatively you can buy online. It is typically fortified with Vitamin B12, which makes it a great dietary source. Check on the packaging to ensure it is fortified before purchasing.
Olive Oil - Extra Virgin Olive Oil is the highest quality Olive Oil, and lends better to foods like Pesto, Dips and Salad Dressings. However, that being said, due to the lengthy process of cold pressing and checking EVOO, it makes it more expensive than other oils. So if it's out of your available budget, regular Olive Oil will work just fine.
Pine Nuts - The nut traditionally used in Pesto. It's wonderfully creamy with a mild taste. These can be fairly expensive but they are well worth the investment. They are also loaded with Vitamin K which has repeatedly been shown in studies to be great for bone strength.
Wild Garlic - Wild Garlic is packed with Vitamin C making a great immunity boosting food. Wild Garlic is also used in Herbal Medicine for its many health benefits and. can help alleviate symptoms for various issues, including common coughs and colds, asthma, indigestion and toothache. You can read up more about the medicinal properties on eatweeds.co.uk, Robin is a great resource for herbal medicines and foraging. Never underestimate the power of plants!
Equipment
Food Processor
Frying Pan
Sharp Knife
Glass Storage Jar
Zester (or a fine grater)
How to Make it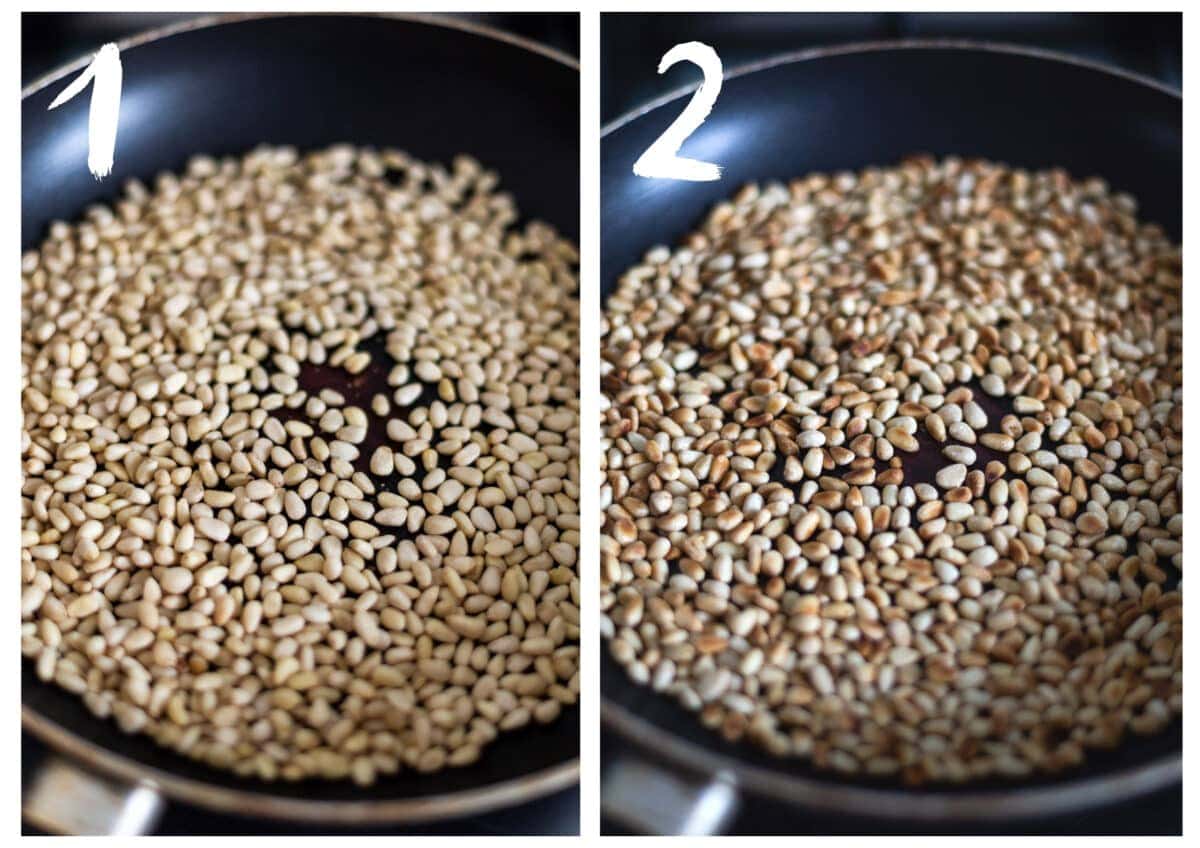 Steps 1 & 2 - Toast the Pine Nuts, over a low heat, in a frying pan until lightly browned.
Steps 3 & 4 - Put all of the ingredients in a food processor (3), and blitz until you have a Pesto consistency (4).
Storage
Wild Garlic Pesto can be stored in the fridge (with a top layer of oil*) for 2-3 weeks.
You can also easily store in in the freezer. We recommend storing in small pots so you can take out and use smaller portions as and when needed, without risking your whole batch going off before you get a chance to eat it.
*Adding a layer of oil to the top of your jar of Pesto acts as a preservative, keeps air from getting to the pesto and prevents mould from growing.
Recipe Tip
Don't over blend your Pesto, this would result in a puree consistency.
Pulsing together all the ingredients (as opposed to sticking on to blend for several minutes), is important as it will allow you to have more control over the consistency.
Serving Suggestions
We love to simply toss it through some pasta and top it with our delicious Vegan Parmesan.
It makes for a great ingredient for a dip, if you mix it 50/50 with some vegan mayo.
It's fantastic in sandwiches and salads too.
FAQ's
How long will this pesto keep for?
If kept in the fridge in an airtight container this will keep for up to 2 weeks. Cover the top of the pesto with a little olive oil, each time after use to keep the pesto at its best.
Can you freeze vegan wild garlic pesto?
Yes you can. This freezes really well if put it in an airtight container or a ziplock bag and it will keep in the freezer for up to 6 months. We have kept it for even longer than this and it has been as good as when it was frozen.
Can you make vegan wild garlic pesto with any other nuts?
We make an equally delicious Wild Garlic Pesto with Walnuts You can also experiment with other nuts as well.
Is it possible to make nut free wild garlic pesto?
You can try making this with Roasted Pumpkin Seeds instead if you want to make it nut free.
Is all wild garlic pesto vegan?
All of ours are, but there are a lot of different recipes out there and some do use non vegan ingredients, such as parmesan.
Other Wild Garlic and Pesto ideas
Here are a few of our other delicious Wild Garlic Recipes and other Pesto ideas that you might like to try.
Recipe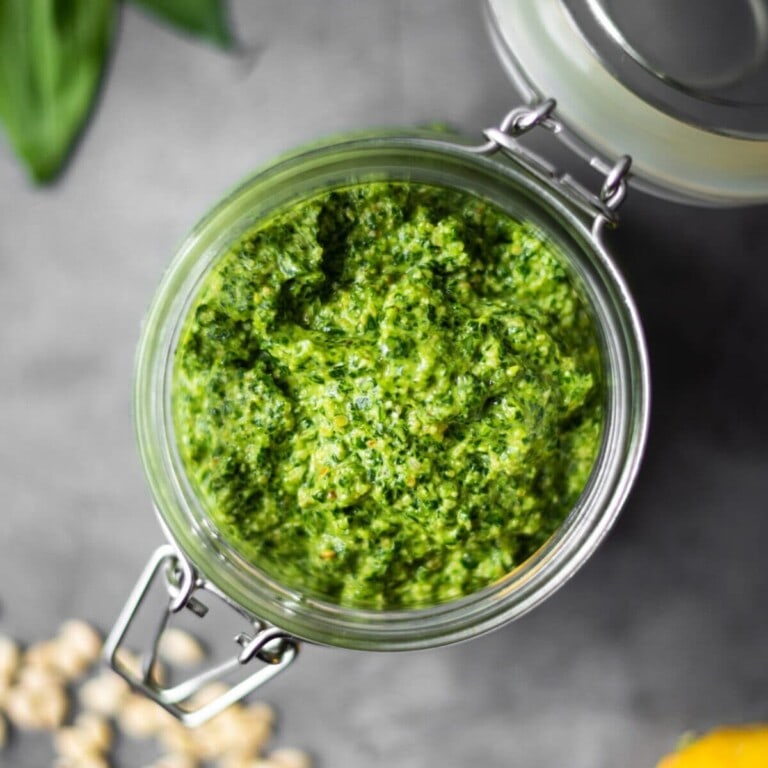 Vegan Wild Garlic Pesto
This is one of our favourite Pestos. A little bit spicy and bursting with flavour. You can use it as you would a traditional pesto. Its great with pasta, Fantastic in a sandwich and delicious to dip in. maybe even just to eat straight out of the jar with a spoon!
Print
Pin
Rate
Equipment
Food Processor

Frying pan)

Sharp Knife

Glass Storage Jar

Zester (or a standard Grater with a Zester)
Ingredients
200

g

Wild Garlic

100

g

Raw Pine Nuts

1

Lemon Zest

½

Lemon Juice

½

teaspoon

Black Pepper

½

teaspoon

Salt

4 ½

tablespoon

Nutritional Yeast

½

cup

Extra Virgin Olive Oil

plus a little extra for topping the jar
Instructions
Put the Pine nuts in a frying pan and toast them over a medium heat, moving them around the pan regularly, for 5 to 6 minutes.

Put all of the ingredients in a Food Processor and blitz until an even Pesto consistency.

200 g Wild Garlic,

1 Lemon Zest,

½ Lemon Juice,

½ teaspoon Black Pepper,

½ teaspoon Salt,

4 ½ tablespoon Nutritional Yeast,

½ cup Extra Virgin Olive Oil

Transfer your Pesto into a jar, spread the top out evenly and then cover with 1 ½ tablespoons of Olive Oil.
Notes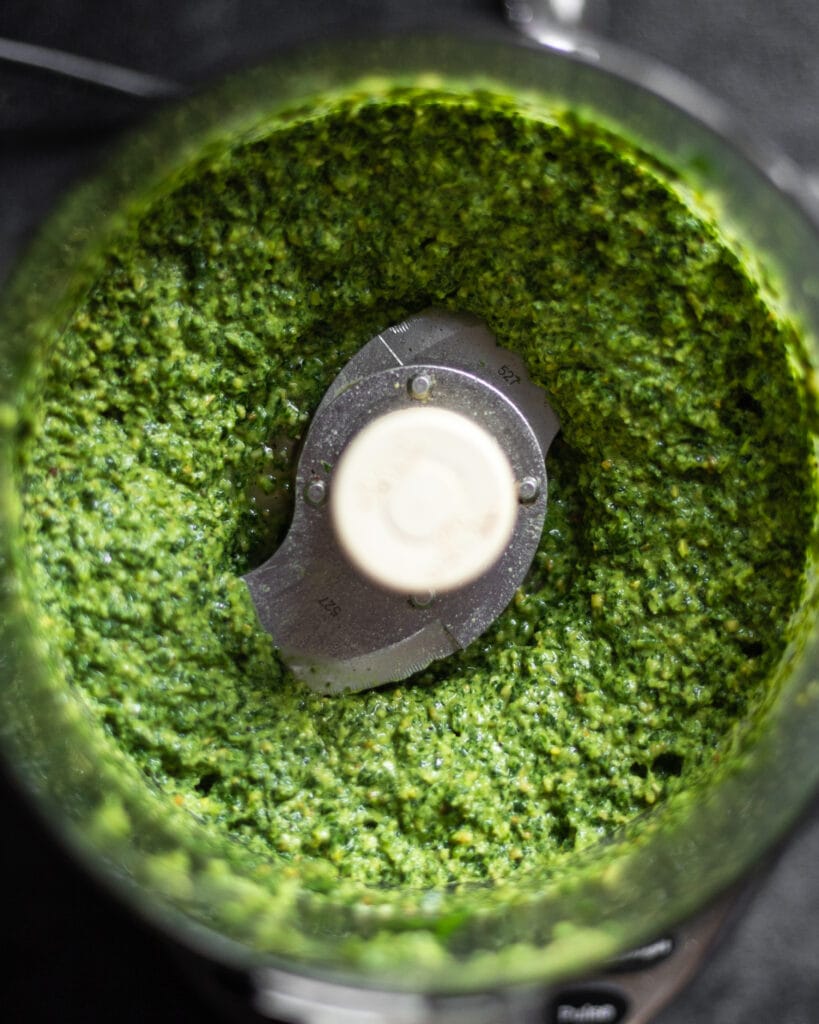 Don't over blend your Pesto, this would result in a Puree consistency. Pulsing together all the ingredients (as opposed to sticking on to blend for several minutes), is important as it will allow you to have more control over the consistency.
Nutrition
Calories:
108
kcal
|
Carbohydrates:
6
g
|
Protein:
2
g
|
Fat:
9
g
|
Saturated Fat:
1
g
|
Sodium:
61
mg
|
Potassium:
66
mg
|
Fiber:
1
g
|
Sugar:
1
g
|
Vitamin A:
2
IU
|
Vitamin B1:
1
mg
|
Vitamin B2:
1
mg
|
Vitamin B3:
1
mg
|
Vitamin B5:
1
mg
|
Vitamin B6:
1
mg
|
Vitamin C:
5
mg
|
Vitamin E:
1
mg
|
Vitamin K:
6
µg
|
Calcium:
27
mg
|
Copper:
1
mg
|
Folate:
2
µg
|
Iron:
1
mg
|
Manganese:
1
mg
|
Magnesium:
13
mg
|
Phosphorus:
29
mg
|
Selenium:
1
µg
|
Zinc:
1
mg