Our smooth, quick, and simple Thermomix Hummus. A delicious blend of garlic, tahini, lemon juice, olive oil and chickpeas, that make the foundation of any good traditional Hummus.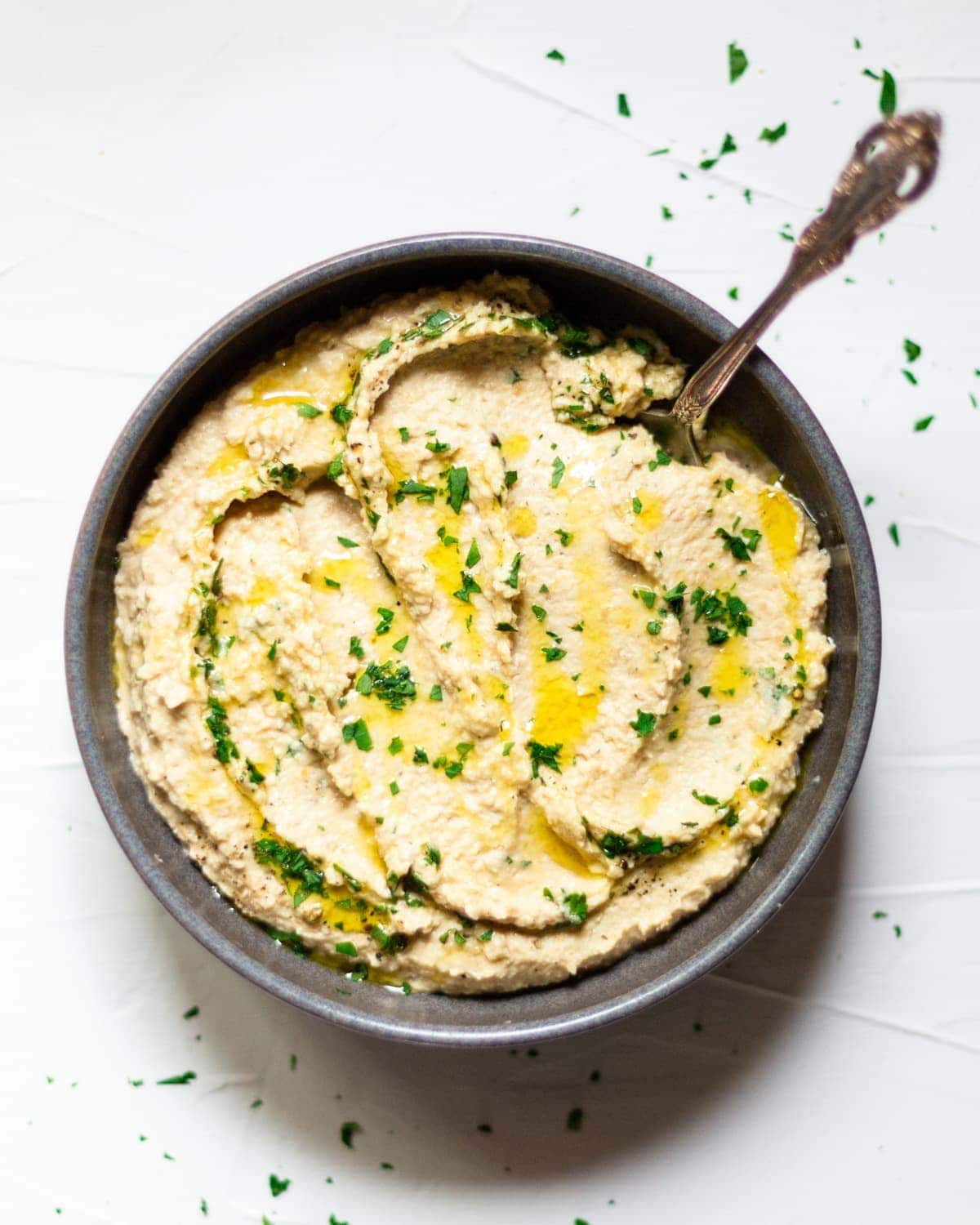 What is Hummus?
Hummus (or Houmous, depending on which country you live in) is a traditional Middle Eastern dip or spread that's enjoyed worldwide. It's traditionally made with Chickpeas, Tahini, Olive Oil, Lemon and Garlic.
Hummus is incredibly versatile, both in terms of how you use it, and what you can add to it. For example you can add pesto's, a wide range of fresh herbs, or even cooked vegetables.
We enjoyed this Hummus recently as part of a Lebanese inspired spread for our dinner guests. We topped it with slow roasted carrots and fennel, in a blend of paprika and ground coriander seeds, and finished it off with freshly chopped parsley and an extra drizzle of olive oil. Needless to say, it went down very well.
Jump to:
What You'll Need
Ingredients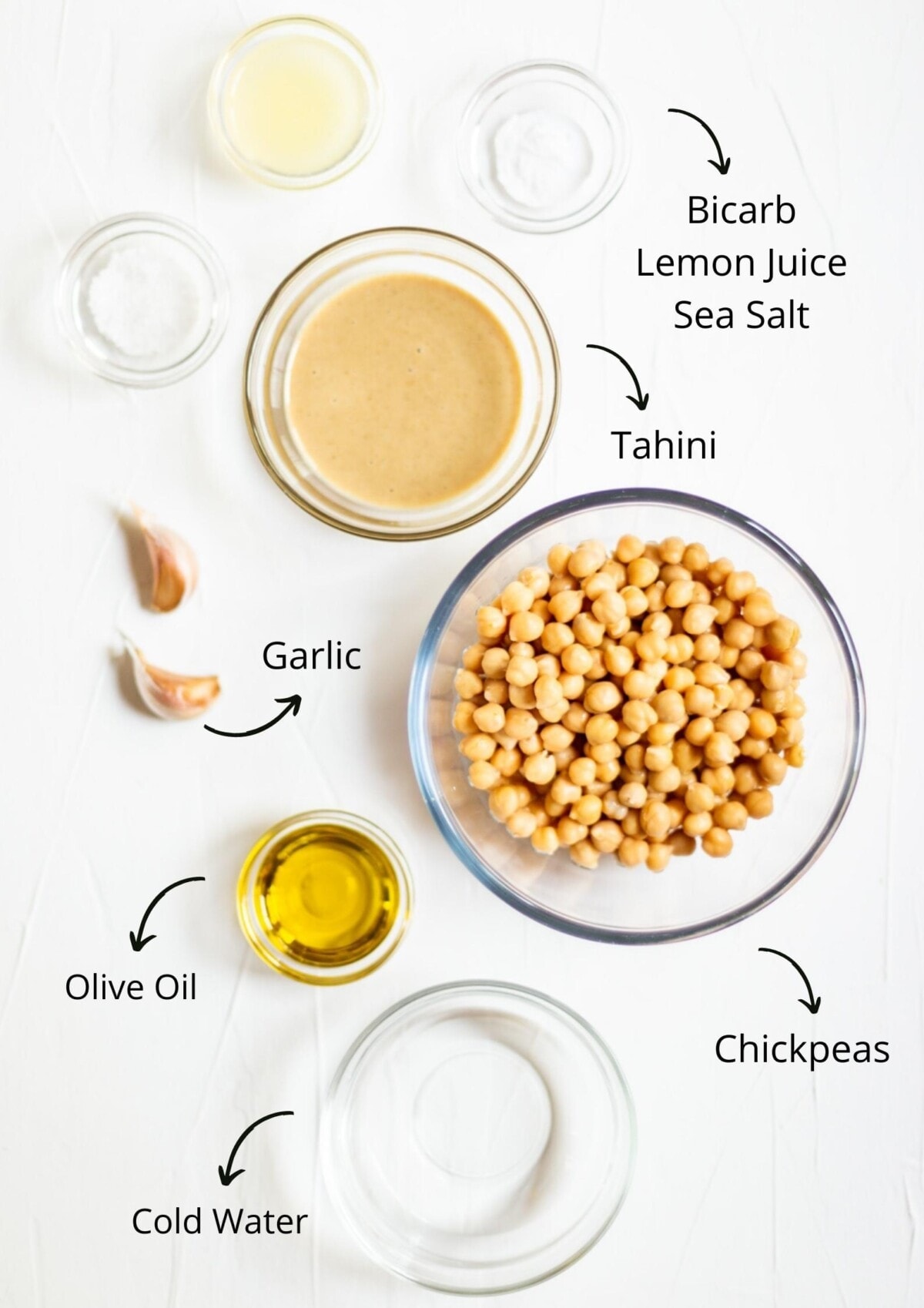 Chickpeas - Every good Hummus starts with Chickpeas, and the better quality chickpeas you buy, the better your Hummus. Because of their mild flavour and smooth texture, they're a very versatile ingredient in cooking. They can even be used to make Cookies with!
Bicarbonate of Soda - We add Bicarb to the water that we pre-boil the tinned Chickpeas in, prior to using them to make the Hummus. We do this because it makes for even softer Chickpeas, and so an even creamier Hummus.
Olive Oil - Any good Hummus should always be made using a good quality Olive Oil, as the oil carries a flavour that contributes to the overall flavour of the Hummus. It also, like the Tahini, adds richness and contributes to the creamy end result that's oh so delicious.
Garlic - The health benefits of Garlic are abundant. It can help lower cholesterol. And it is also a fantastic immunity booster. It also gives the Hummus a big flavour boost and a lovely, lightly spiced undertone.
Tahini - Tahini is made by blending Sesame seeds. It is essentially Sesame Seed Butter. Tahini is used in traditional Hummus recipes and is now of the main ingredients. It adds flavour, richness, smoothness and a wide variety of vitamins and minerals.
Lemon Juice - The Lemon Juice in this recipe lifts the flavour of the Hummus nicely, it's subtle but you can definitely tell the difference.
Sea Salt - It's easy to become a little worried about using salt in recipes especially when it comes to feeding children. But it's important to note that salt is important for our health too, we need it as much as we need other nutrients. The key is to not add too much.
Cold Water - We use cold water in this recipe, to bring out the creaminess of the Hummus, at the final stage of blending. Adding cold, not warm, water, contributes to the Hummus being light and almost fluffy in texture.
Equipment
Saucepan
Spatula
Kitchen Knife
Chopping Board
How to make the Hummus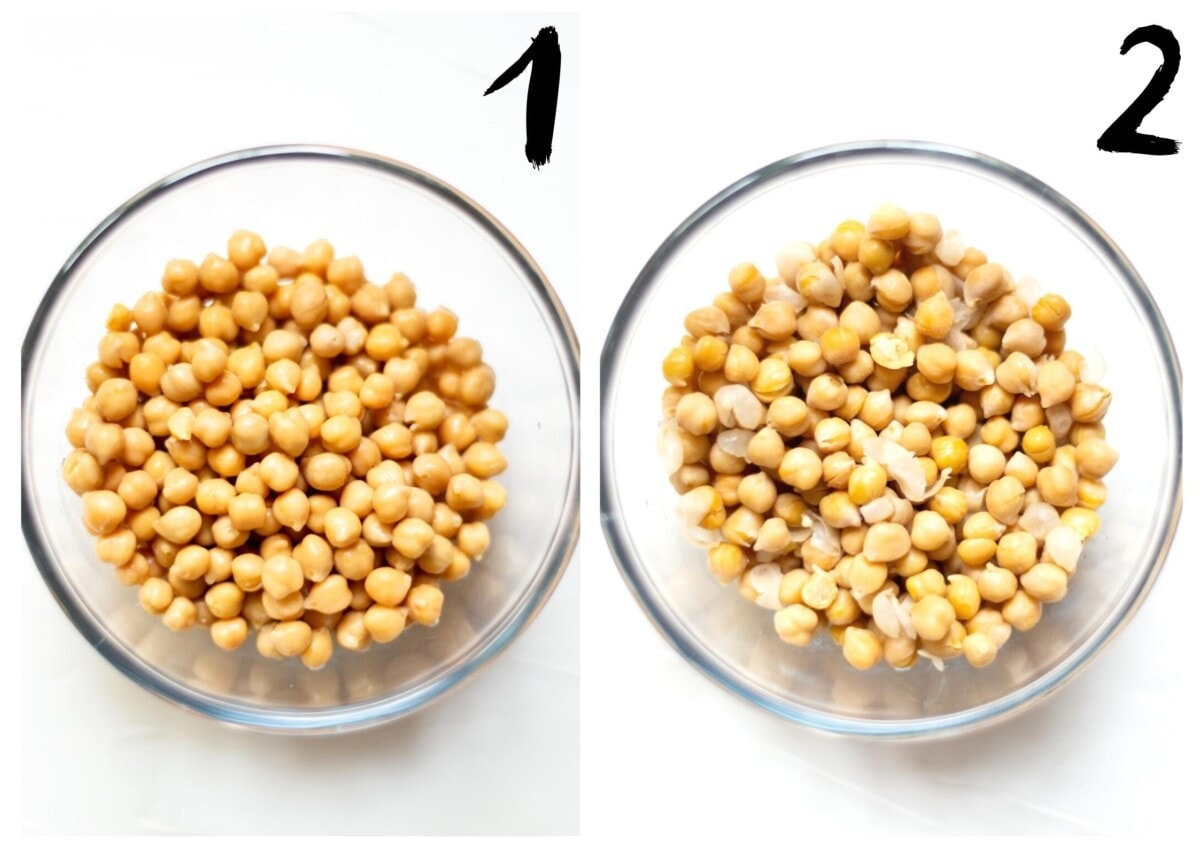 If using dried chickpeas, soak them overnight/for 8 hours, before making the Hummus.
If using tinned chickpeas, ideally you want to pre-boil them, in water with a teaspoon of bicarbonate of soda, in a saucepan for 25 minutes. We do this as we find that it makes for a much smoother Hummus than using them straight from the tin (although this would be ok, if you were in a hurry). The photos above show the chickpeas before and after boiling.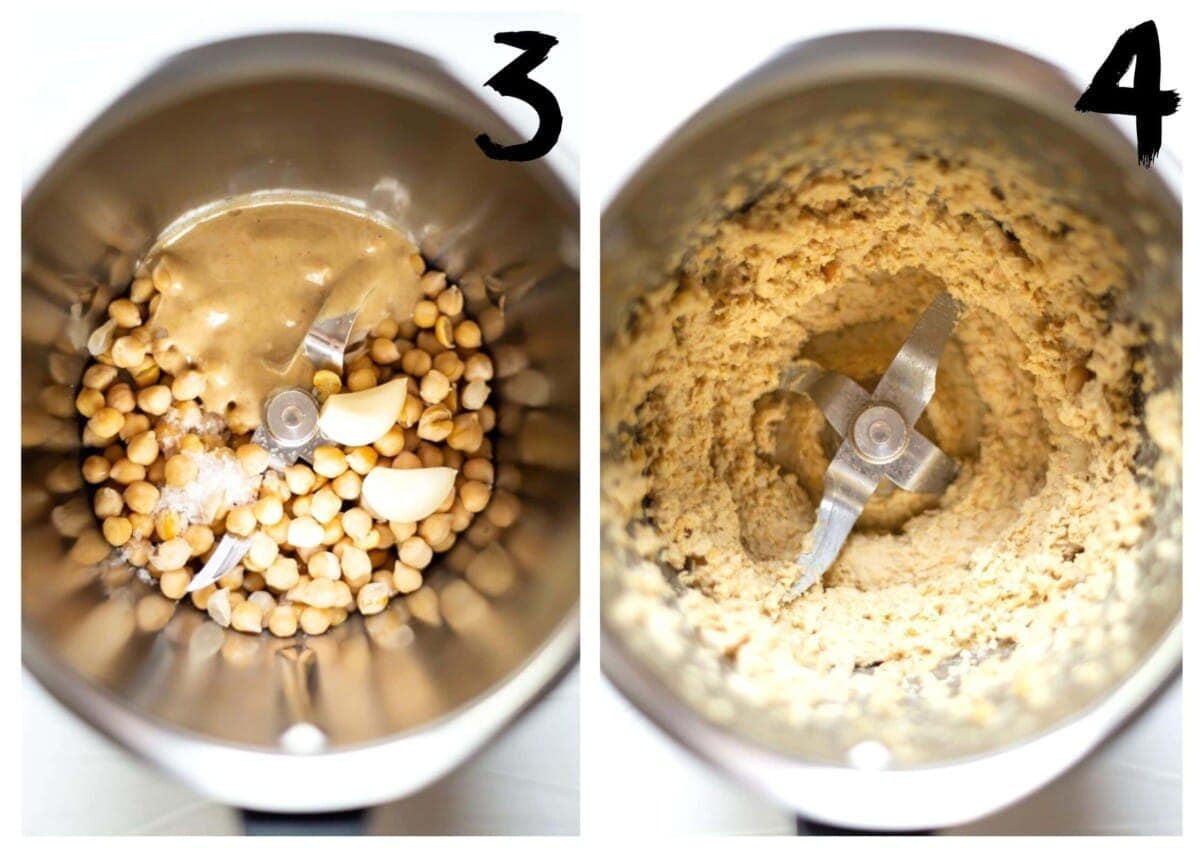 Add all of the Hummus ingredients to the Thermomix and blend on level 4 for 10 seconds.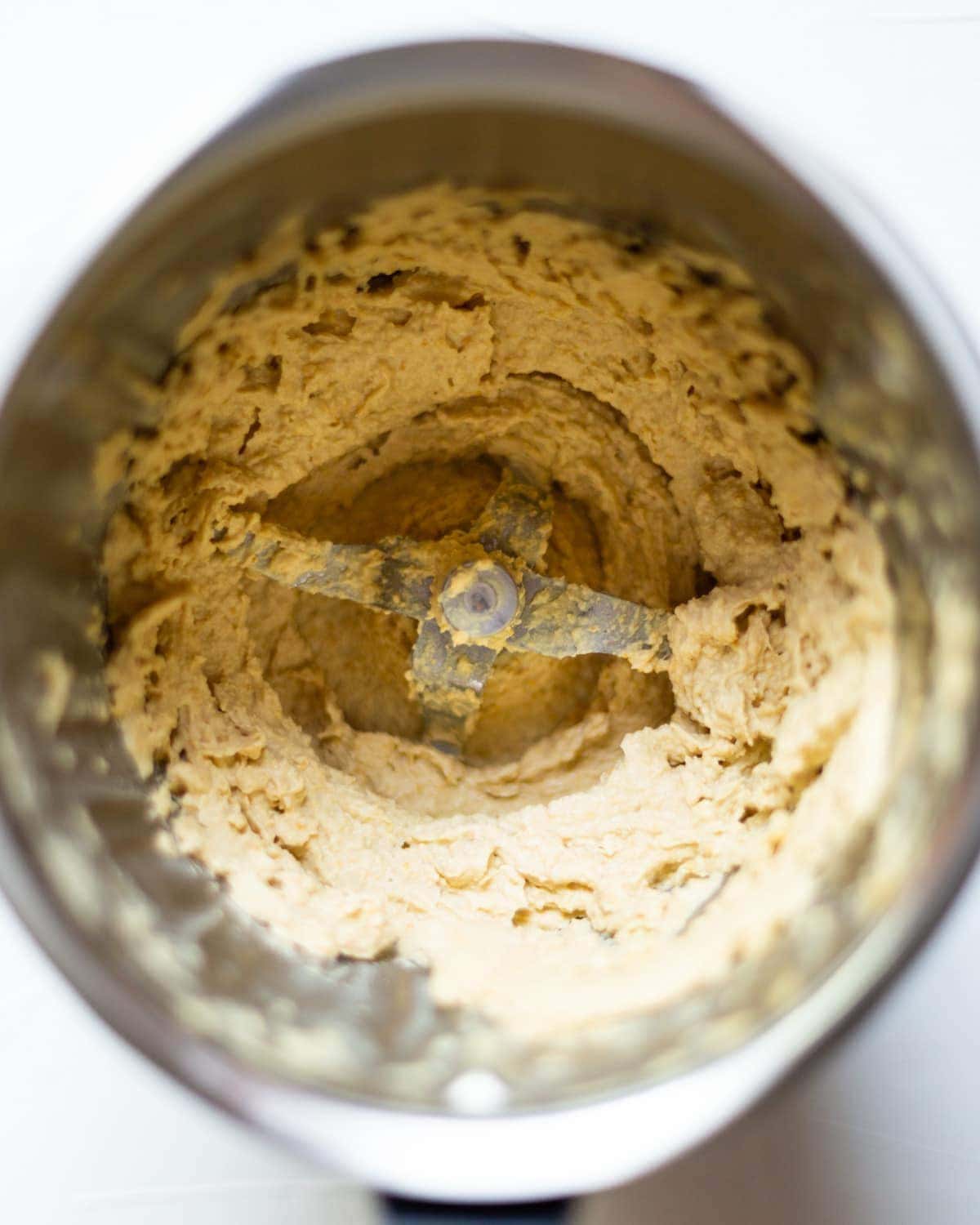 Scrape down the Hummus from the sides of the Thermomix jug, to bring the Hummus back down towards the blades. Then blend the Hummus again on level 4 for another 30 seconds.
Scrape the Hummus down again and blend for another 30 seconds on level 4, this time adding 2 tablespoons of cold water, through the inspection hole, as soon as the Thermomix has started again.
Scrape down again and then blend for a final 60 seconds on level 4.
Substitutions & Variations
You can experiment with adding other flavours to the Hummus when making it. We sometimes like to add a little Chilli, Pesto, or Cumin to give 3 very different flavours of Hummus.
Storage
The finished Hummus can be stored in an airtight container in the fridge for up to 5 days.
It can also be frozen, in an airtight container for up to 3 months.
Other delicious plant based dips
We recommend trying our Thermomix Guacamole and our Thermomix Pesto as well. Both are quick and easy to make and absolutely delicious.
FAQ's
Can I make this Hummus if I don't have a Thermomix?
Yes absolutely. If you don't have a Thermomix, then this Hummus can easily be made using a food processor instead.
Recipe tip
If you're able to, then we find that using dried, soaked, Chickpeas gives the best results. We understand it's not always possible to have the time to do this, and this is why we have shown the recipe using tinned Chickpeas instead.
If using tinned chickpeas - We suggest boiling them before to making the Hummus. This is because tinned Chickpeas are firmer than soaked dried ones and boiling them makes for a smoother Hummus. We also add a little Bicarb to the water when boiling them as well. This speeds up the softening process and makes for a better result.
Recipe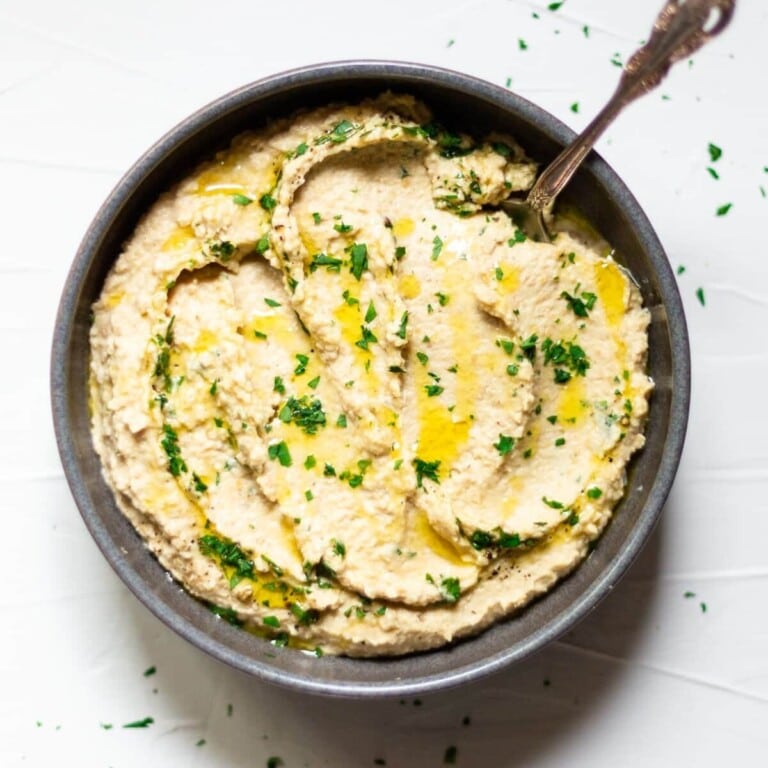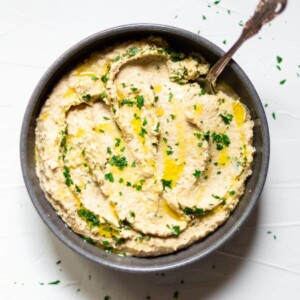 Thermomix Classic Creamy Hummus
Fabulous, yet simple. Our delicious Hummus. Subtle undertones of garlic, sesame and lemon, as well as the Olive oil and Chickpeas that make the foundations of any good Hummus.
Print
Pin
Rate
Equipment
1 Saucepan

1 Spatula

1 Kitchen knife

1 Chopping Board
Ingredients
The Chickpeas
250

g

Tinned Chickpeas

(1 tin drained)

1

teaspoon

Bicarbonate of Soda

(For pre boiling if using tinned Chickpeas)
The rest of the ingredients
4

tablespoon

Tahini

1

Lemon

(The juice only)

2

cloves

garlic

(Peeled and roughly chopped)

½

tsp

salt

5

tbsp

Olive Oil

2

tablespoon

Cold Water
Instructions
How to pre-boil tinned Chickpeas
Drain the tinned Chickpeas and rinse.

Put the Chickpeas in a saucepan of boiling water, with a teaspoon of Bicarbonate of Soda and boil for 25 minutes. (optional)

1 teaspoon Bicarbonate of Soda
How to make the Hummus
Add the drained and cooled (if pre boiled) Chickpeas to the Thermomix jug, along with the rest of the Hummus ingredients, except for the water.

4 tablespoon Tahini,

1 Lemon,

2 cloves garlic,

½ teaspoon salt,

5 tablespoon Olive Oil

Blend on level 4 for 10 seconds.

Scrape down any Hummus from the sides of the jug, back to the bottom.

Blend on level 4 for 30 seconds.

Scrape down the sides of the jug again.

Blend on level 4 for another 30 seconds, adding 2 tablespoons of water through the inspection hole, as soon as the Thermomix has started to blend.

Scrape down the sides of the jug before blending on level 4 for a final 60 seconds.

Any you don't want to eat immediately, transfer to an airtight container and store in the fridge or freezer.
Notes
We include the option of boiling the chickpeas as we find that the Hummus is smoother and creamier for doing so. This is because although tinned chickpeas are cooked, they are still quite firm. So a little extra cooking time works wonders. 
You can also use dried chickpeas, soaked for 8 hours or overnight. If using dried chickpeas, there will be no need to boil them before blending. 
If you have the time to plan ahead and use dried chickpeas, we strongly recommend doing so as we feel this gives the best result. 
Nutrition
Calories:
142
kcal
|
Carbohydrates:
9
g
|
Protein:
3
g
|
Fat:
11
g
|
Saturated Fat:
1
g
|
Polyunsaturated Fat:
2
g
|
Monounsaturated Fat:
6
g
|
Sodium:
230
mg
|
Potassium:
118
mg
|
Fiber:
2
g
|
Sugar:
1
g
|
Vitamin A:
13
IU
|
Vitamin B1:
1
mg
|
Vitamin B2:
1
mg
|
Vitamin B3:
1
mg
|
Vitamin B5:
1
mg
|
Vitamin B6:
1
mg
|
Vitamin C:
6
mg
|
Vitamin E:
1
mg
|
Vitamin K:
5
µg
|
Calcium:
25
mg
|
Copper:
1
mg
|
Folate:
50
µg
|
Iron:
1
mg
|
Manganese:
1
mg
|
Magnesium:
19
mg
|
Phosphorus:
92
mg
|
Selenium:
3
µg
|
Zinc:
1
mg