We all love a good Hash Brown. Crispy on the outside, soft on the inside, and lightly salted with a hint of onion.
They're commonly eaten for breakfast, and they go really well with a portion of smoky tomato beans and sliced avocado. But I'm also quite partial to a huge bowl of them in the evening as a dinner.
Because store bought, and traditionally cooked (fried), hash browns aren't exactly good for you, we decided to come up with a healthy homemade alternative. They're oven baked instead of fried, and have all of the flavour of traditional fried hash browns, but with a much lower fat content.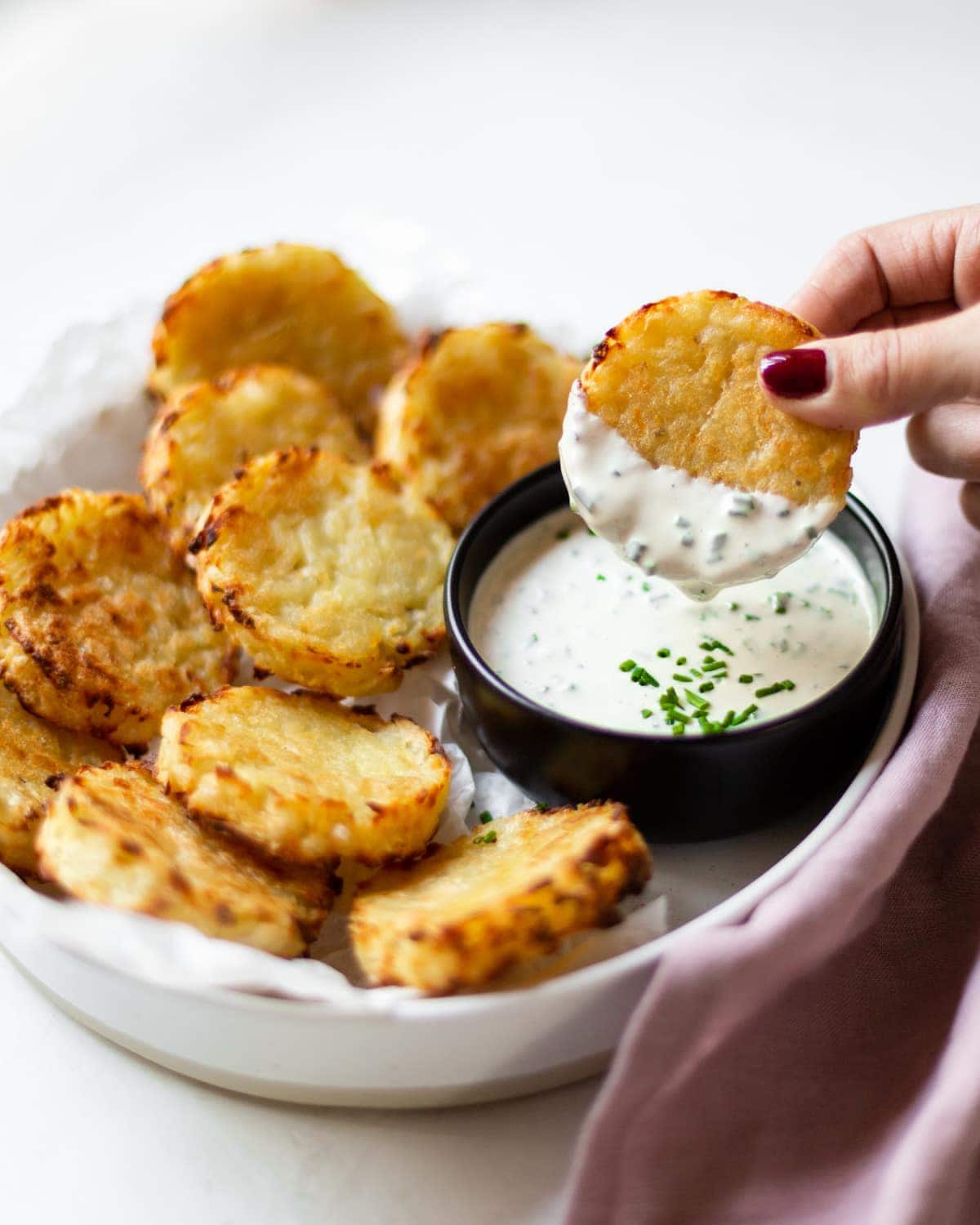 We love these hash browns dunked in our creamy chive dip.
Jump to:
What You'll Need
Ingredients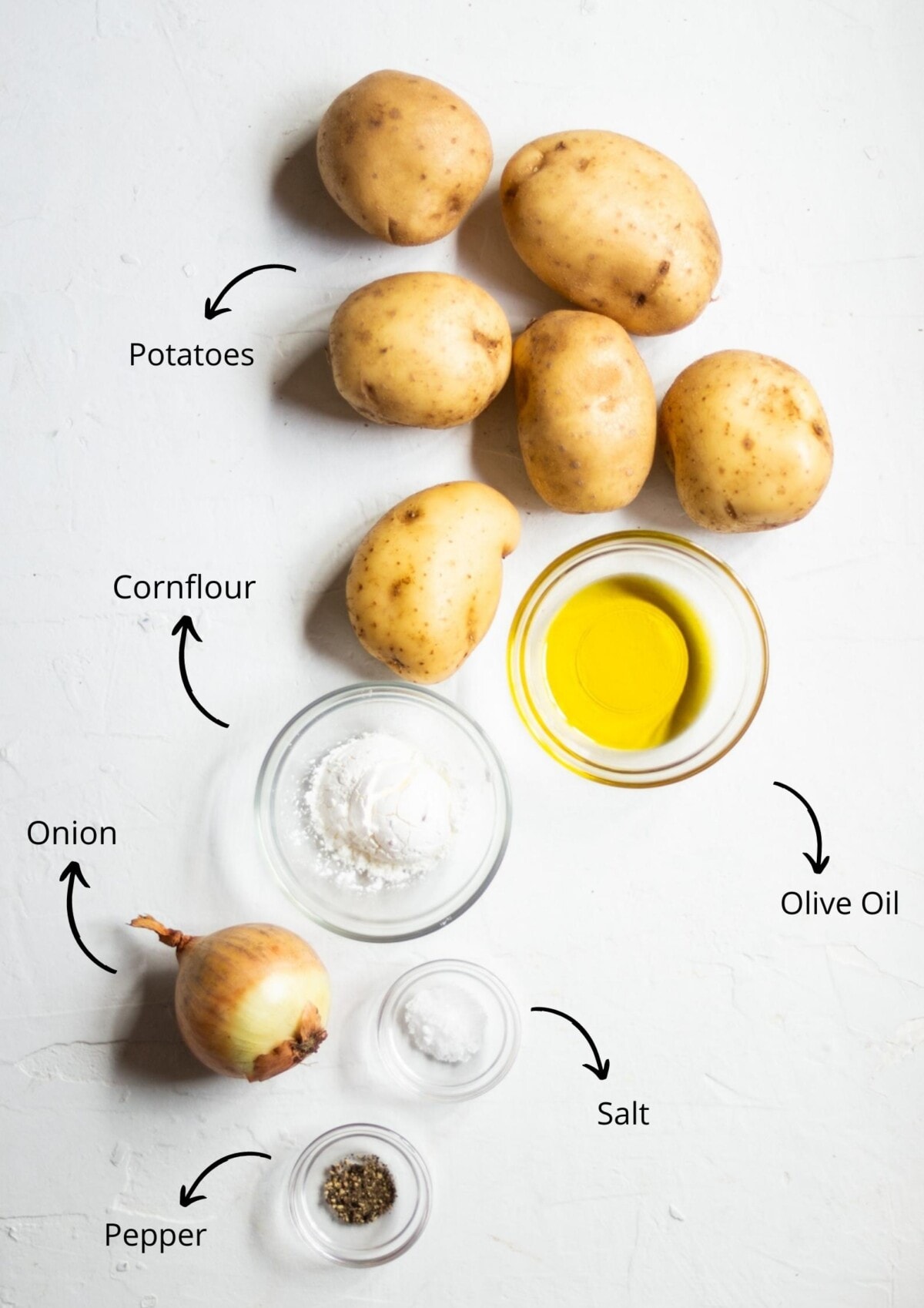 Cornflour - We use a little cornflour to help keep the potato mixture together, instead of using eggs as a binder. If you need to make these Gluten-Free, take a look at the Substitutions and Variations section below.
Olive Oil - You can sub this for another neutral oil, such as avocado or rapeseed, if you wish.
Onion - White onion works best for a more traditional hash brown. You could increase the amount here depending on how 'oniony' you like them. When I'm pregnant I tend to like them with a bit more onion in them and use 1 ½ - 2 onions.
Potatoes - Using a floury potato such as Maris Piper or King Edward works best for this recipe. It keeps the inside of the hash browns soft, but allows for the outside to be perfectly crispy. We used Maris Piper.
Salt and Pepper - Seasoning is always optional, but for best taste results we always recommend using a little.
Equipment
How to make the Hash Browns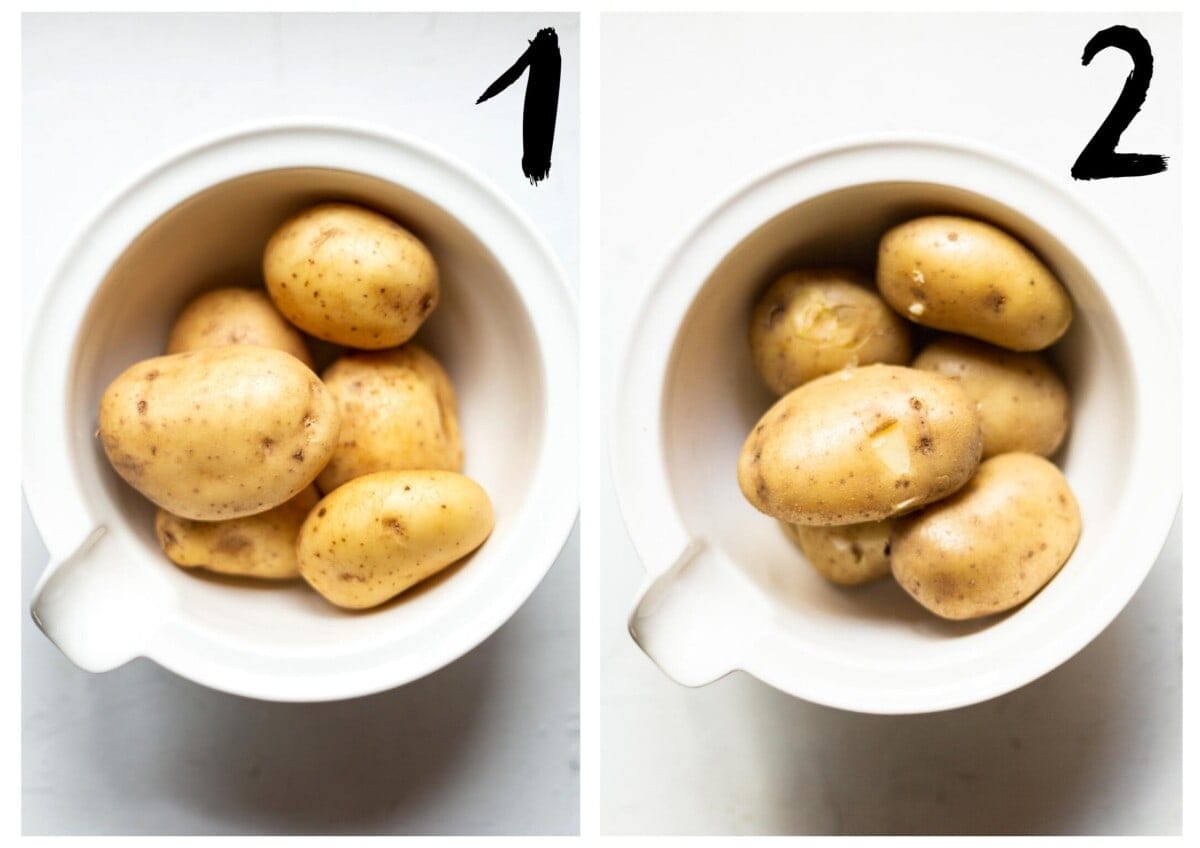 Steps 1: Boil the potatoes, in their skins, for 10 minutes.
Step 2: Then drain out of the water and leave to cool for 10 minutes.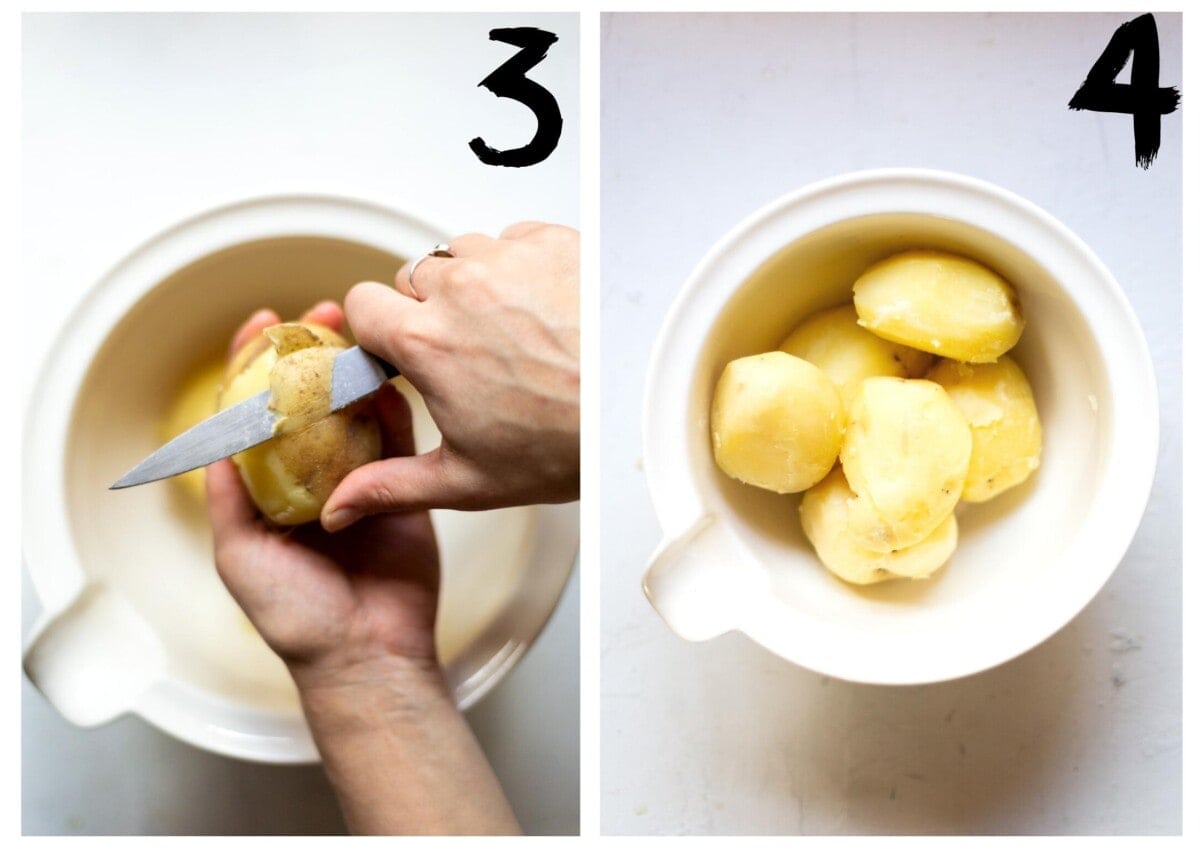 Steps 5 & 6: Grate the potatoes and the onion into the bowl, then add the other ingredients and stir together.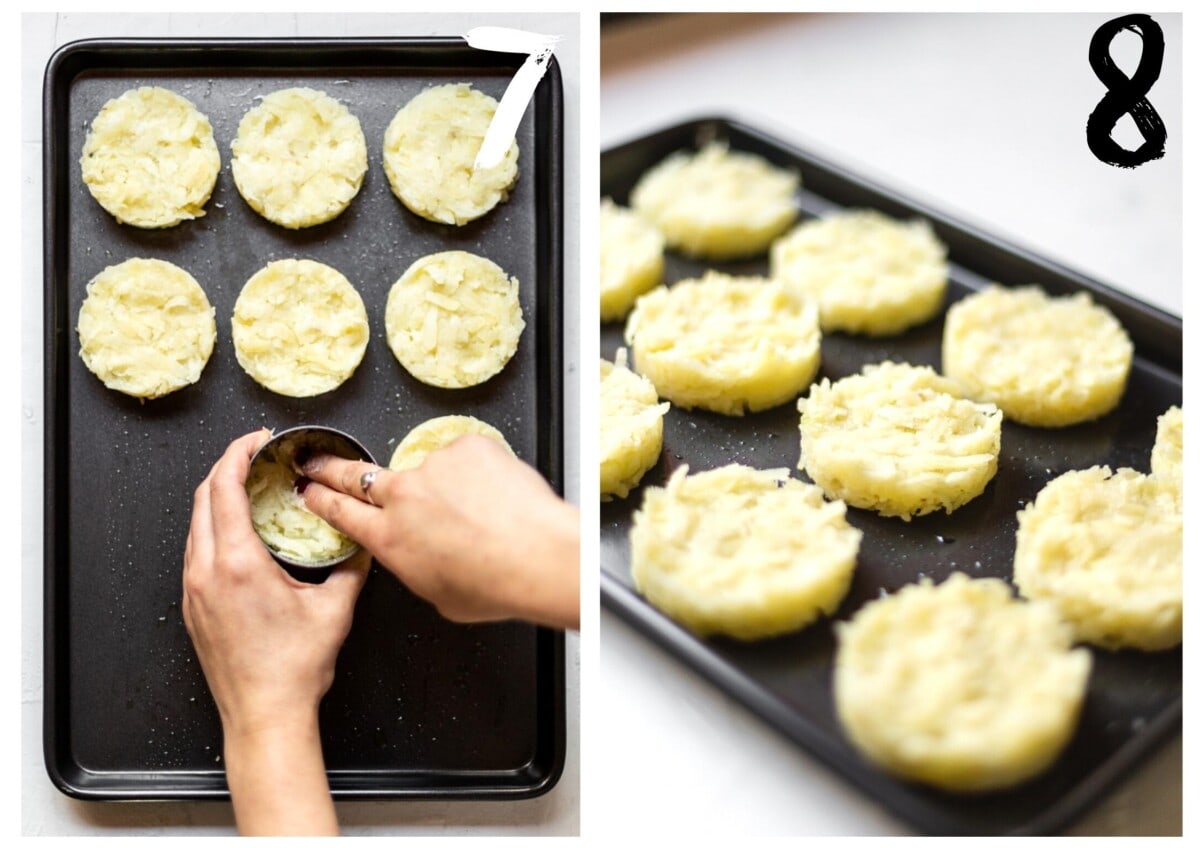 Using a Cooking Ring or similar, mould the Hash browns by putting ⅓ of a cup of the Hash brown mixture into the ring, on the oven tray.
Then using your fingers to press it down gently, before carefully pushing them through on to the oven tray, whilst lifting the ring.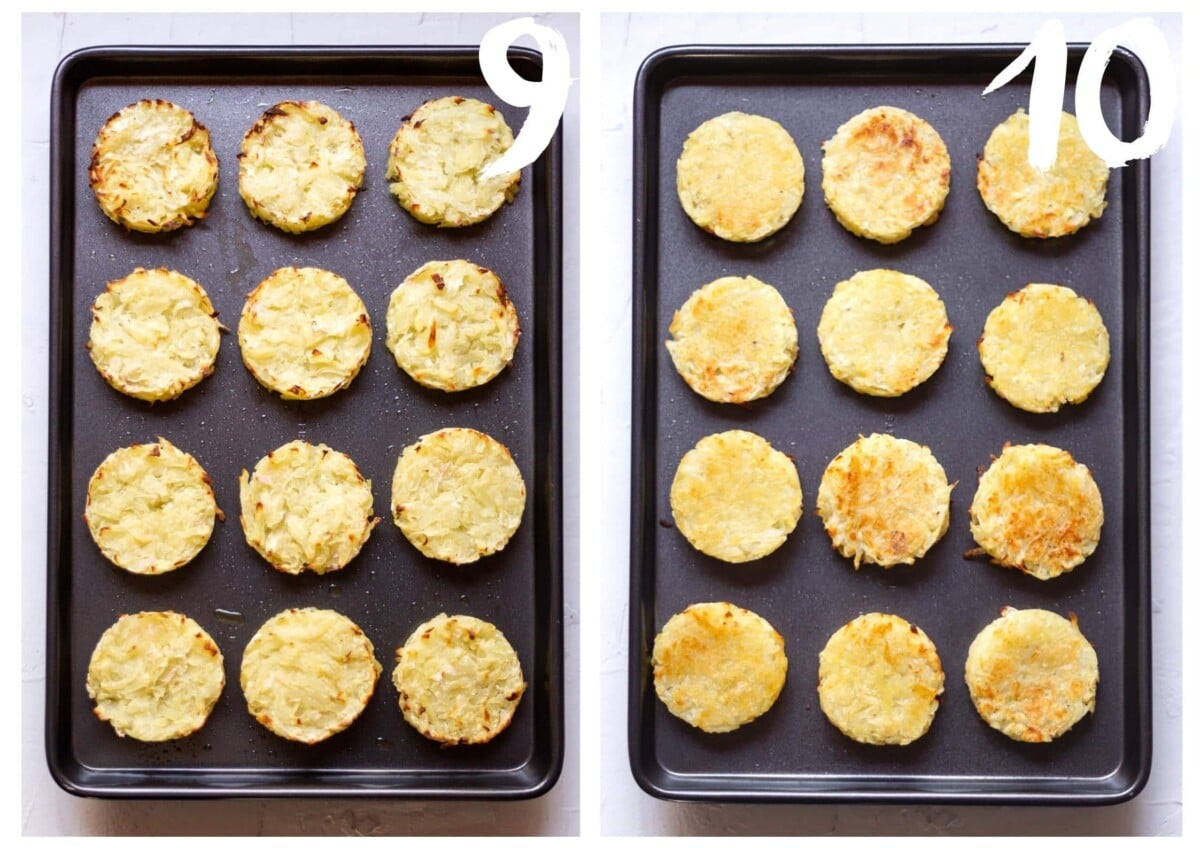 Bake for 15 minutes at 175C then turn over and bake for a further 10 minutes, or until golden brown.
(If cooking from frozen, then cook at 200 degrees Celsius for 25 minutes).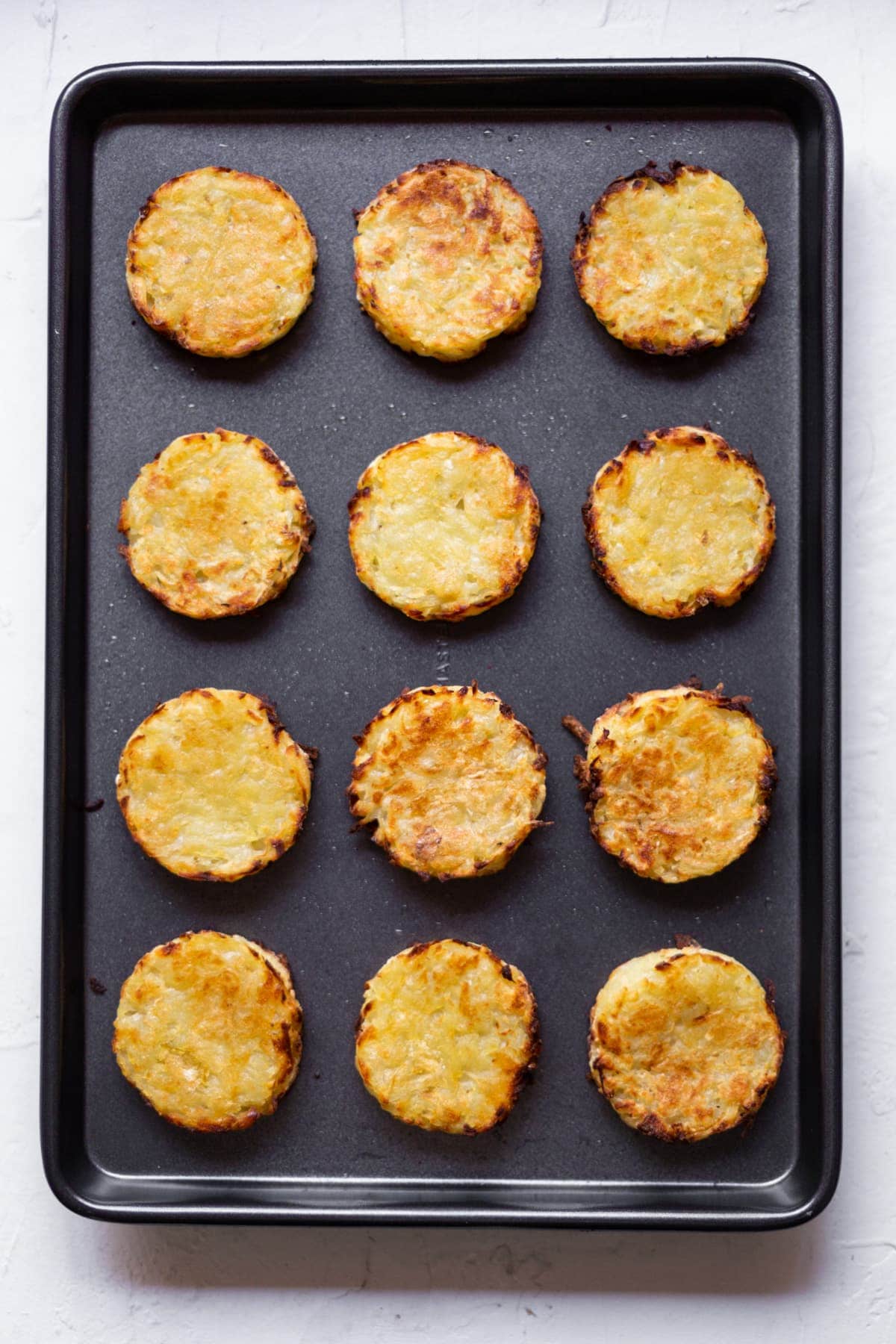 Substitutions and Variations
Gluten Free - You can sub out the cornflour for arrowroot powder or tapioca starch.
Onion - I haven't tried it but I imagine spring onions (scallions), would be really tasty in the hash browns if you either didn't have a white onion, or if you just want to try something different.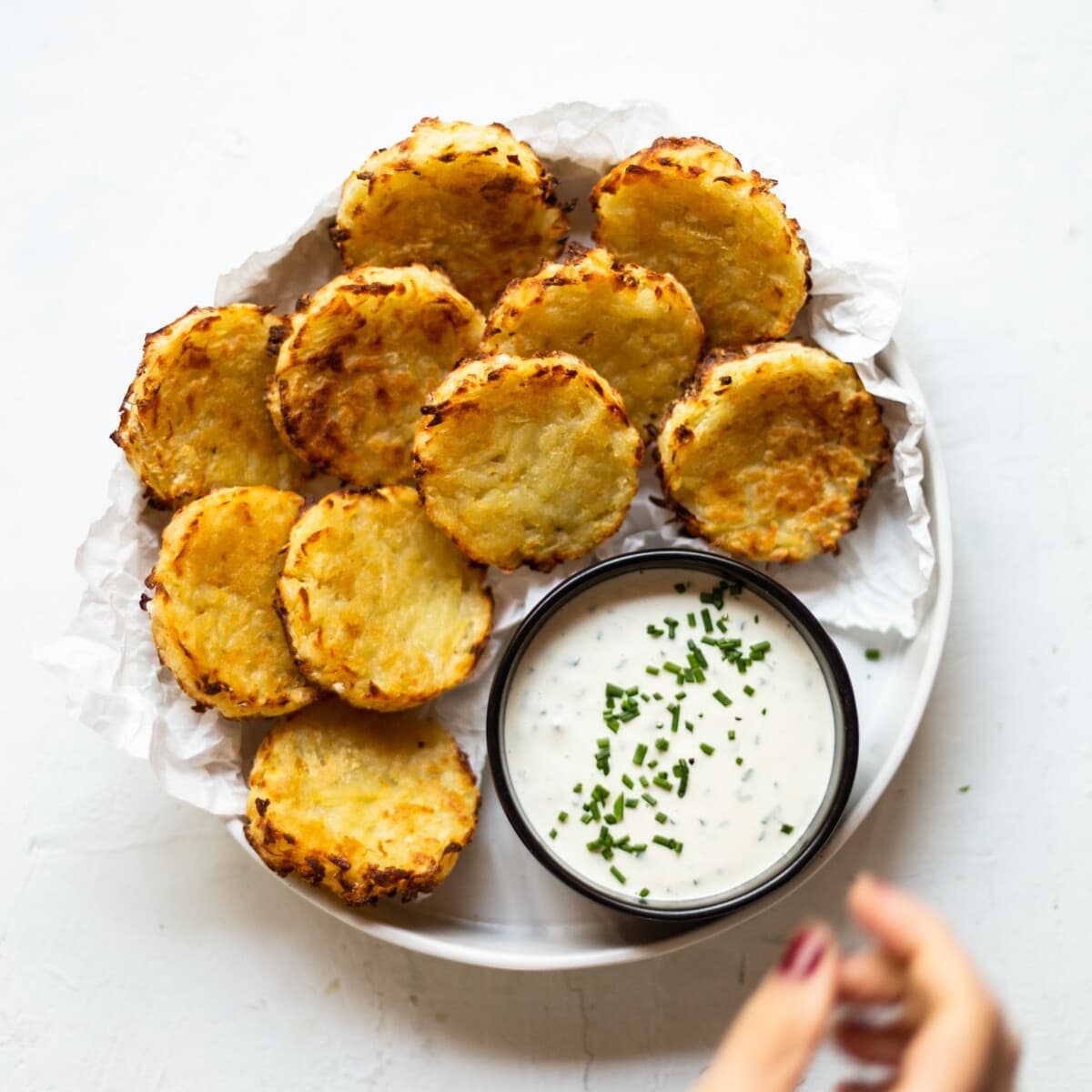 Storage
These are best stored frozen. Simply place the baking tray of hash browns in to the freezer and leave for 1-2 hours. All you then need to do is transfer them to a freezer suitable tub or bag for storing.
They will keep in the freezer for up to 3 months.
If you don't want to freeze them then they are best cooked fresh, otherwise the potato can discolour in the fridge. The cooked Hash Browns can then be stored in the fridge for up to 3 days and reheated as needed.
Recipe Tips
Make sure to use a good non stick tray. Also rub the tray with a little oil on a piece of kitchen paper as well, before pressing out the Hash Browns.
FAQ's
Other Breakfast Recipes:
For a more leisurely breakfast how about Banana Pancakes? For a breakfast before work or school you could try our Chia Pudding or Flaxseed Pudding or maybe a Weetabix Medley. For those mornings when you've just got no time and its a breakfast on the run, then how maybe our Banana and Pecan Muffins . Take a look and see, they're all recipes that we love and all of them are tried, tested and enjoyed by our whole family.
Recipe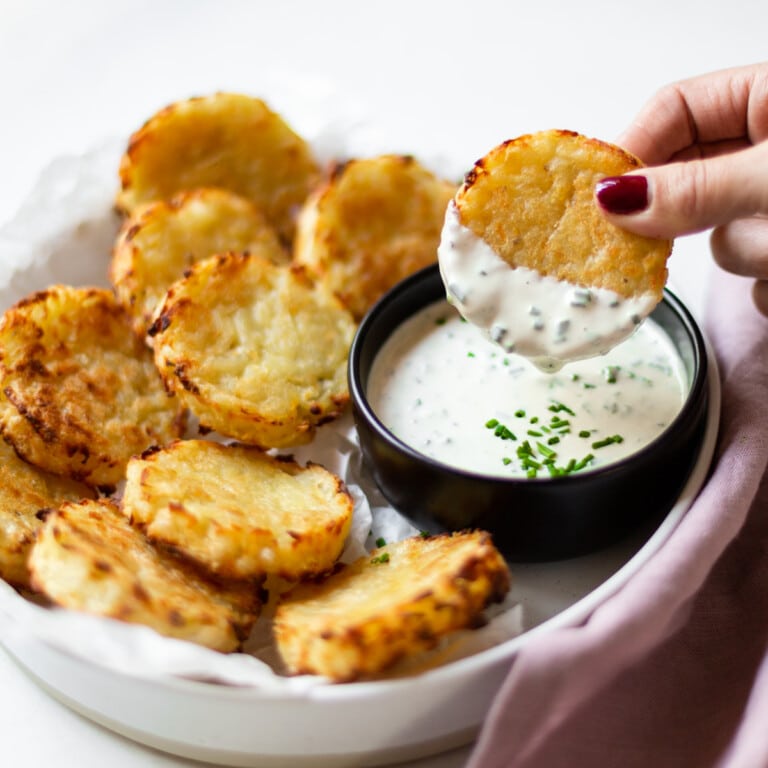 Oven Baked Hash Browns
Much healthier than a traditional Hash Brown, as they're oven baked instead of fried. Still crispy and delicious and with all the flavour, but without so many of the calories.
Print
Pin
Rate
Equipment
1 Grater

1 Saucepan

1 Baking Tray 

1 Wooden Spoon

1 Cooking Ring, Cookie Cutter,

or similar (if you have one)
Ingredients
1

kg

Potatoes

We use Maris Piper

1

Large White Onion

1

tablespoon

Cornflour

1

teaspoon

Salt

½

teaspoon

Pepper

Olive Oil
Instructions
Boil the Potatoes in their skins for 10 minutes.

Drain the potatoes and leave them to cool for 10 minutes.

Preheat the oven to 175°C. (if cooking the Hash Browns when they are made)

Grate the Potatoes and the Onion into a bowl.

Add the Cornflour, Salt and Pepper to the bowl.

1 tablespoon Cornflour,

1 teaspoon Salt,

½ teaspoon Pepper

Mix gently, using a wooden spoon, or similar.

Place a 3 inch cooking ring, cookie cutter or similar on a lightly oiled, non stick baking tray.

Put ⅓ of a cup of the Hash Brown mixture into the ring and then gently press it down, using your fingers, or a spoon.

Gently press the Hash Brown out of the ring, keeping it on the tray, whilst lifting the ring away.

Repeat this process until all the Hash Browns are all on the tray.

It's at this point that you put the tray in the freezer, if freezing the Hash Browns.

If cooking them fresh then place the tray full of Hash Browns in the oven and bake for 15 minutes.

Take the tray out of the oven and carefully turn over the Hash Browns.

Put the tray back in the oven for another 10 minutes, or until the Hash Browns are golden brown.
Notes
Make sure to use a good non stick tray. Also rub the tray with a little oil on a piece of kitchen paper as well, before pressing out the Hash Browns.
Nutrition
Calories:
81
kcal
|
Carbohydrates:
16
g
|
Protein:
2
g
|
Fat:
1
g
|
Saturated Fat:
1
g
|
Polyunsaturated Fat:
1
g
|
Monounsaturated Fat:
1
g
|
Sodium:
199
mg
|
Potassium:
365
mg
|
Fiber:
2
g
|
Sugar:
1
g
|
Vitamin A:
2
IU
|
Vitamin B1:
1
mg
|
Vitamin B2:
1
mg
|
Vitamin B3:
1
mg
|
Vitamin B5:
1
mg
|
Vitamin B6:
1
mg
|
Vitamin C:
17
mg
|
Vitamin E:
1
mg
|
Vitamin K:
2
µg
|
Calcium:
13
mg
|
Copper:
1
mg
|
Folate:
15
µg
|
Iron:
1
mg
|
Manganese:
1
mg
|
Magnesium:
20
mg
|
Phosphorus:
50
mg
|
Selenium:
1
µg
|
Zinc:
1
mg