A creamy and fruit filled summer breakfast, packed with protein and omegas from the Chia and the Flaxseed, as well as plenty of vitamin C from the fruit. Also makes for a fantastic dessert, or a high energy snack. Delicious just about any time of day.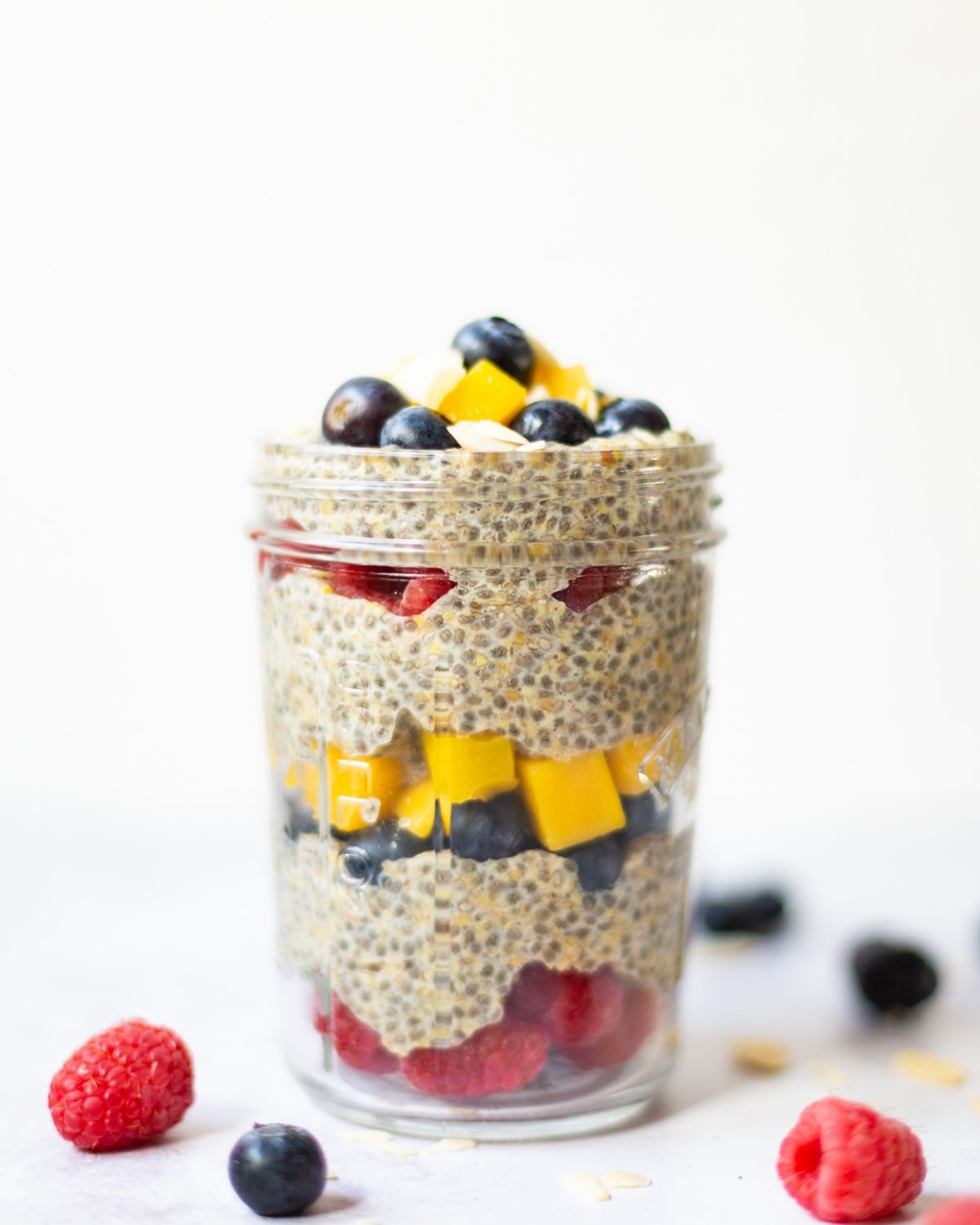 Jump to:
What You'll Need
Ingredients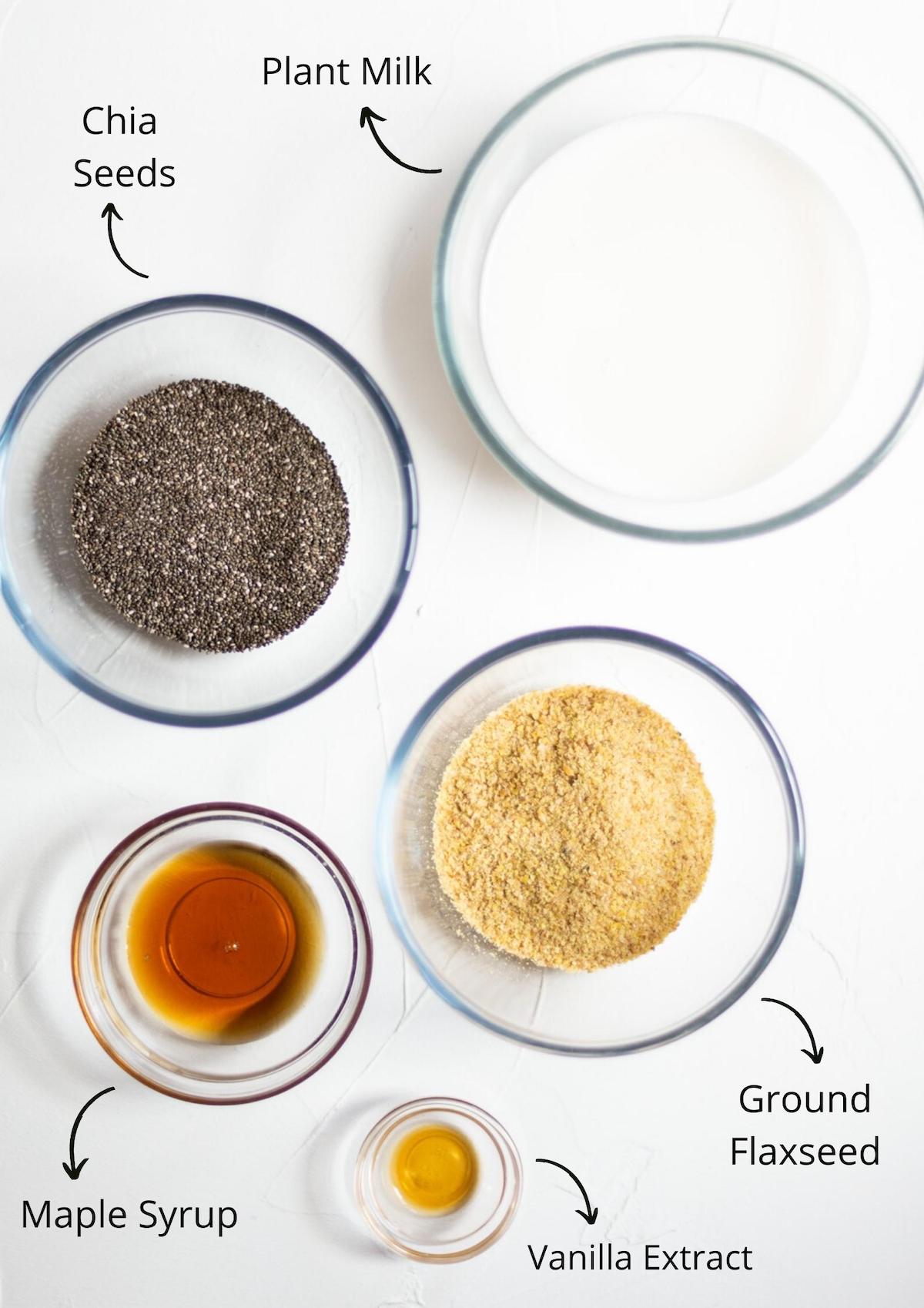 Chia Seeds - Living up to it's name as a Superfood, it contains a lot of antioxidants, high amounts of Calcium, and is a well known plant based source of Omega 3 fatty acids. In fact, about 75% of the fats in Chia Seeds are Omega 3's.
Ground Flaxseed - It's important here to use Ground Flaxseed and not whole. This is due to the fact they are more nutritionally bio-available once ground. Our bodies can't break down the outer casing easily. Ground Flax is usually another easily accessible product from wholefood or health stores. You can purchase this from multiple places online by simply searching in Google.
Maple Syrup - This can be subbed out for Agave Syrup if needed. I like to use Maple Syrup for its flavour, and the fact that it contains vitamins, minerals and antioxidants. In particular it has high amounts of Zinc, and Manganese - a mineral essential for healthy brain and nervous system function.
Plant Milk - You can use any Plant Milk, we choose to use Soy in this recipe but we often just use whatever we have in the fridge - Almond, Cashew or Coconut have all been used and worked the same. Alternatively, we have a Cashew Milk recipe if you'd rather make your own.
Vanilla Extract - This can be subbed for vanilla paste or fresh vanilla seeds depending on what you have at home.
Fruit and Nuts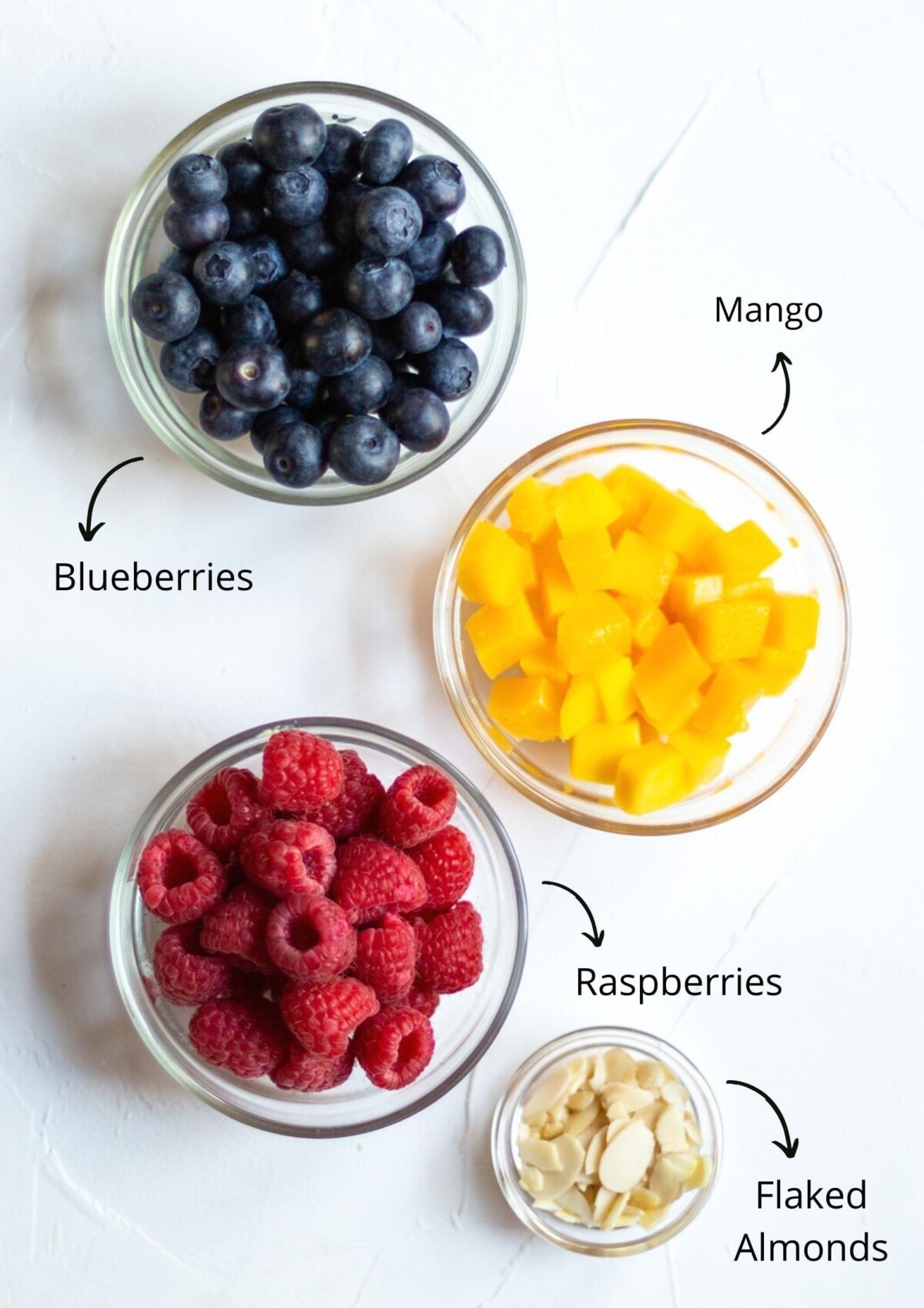 Blueberries - Blueberries are among the most nutrient dense berries. When it comes to the nutritional value of fruits, blueberries are right up there. They're packed with antioxidants, including anthocyanins and various other plant compounds, some of which can cross the blood-brain barrier and exert protective effects on your brain.
Flaked Almonds - Loaded with Antioxidants & a reliable plant based source of Calcium, Magnesium and Vitamin E. Calcium, as we know, is great for supporting bone health. Magnesium aids in Calcium absorption as well as being crucial for muscle and nerve function. Vitamin E is a great Antioxidant, helping protect skin cells from damage (think UV rays from the sun).
Mango - Mangos are a good source of protective compounds with antioxidant properties, such as gallotannins and mangiferin. Both have been studied for their ability to counter the oxidative stress associated with day to day living and exposure to toxins.
Raspberries - They provide potassium, essential to heart function, and proven to lower blood pressure. They contain omega-3 fatty acids, which can prevent stroke and heart disease. They also contain manganese, which is necessary for healthy bones and skin and also helps to regulate blood sugar.
Equipment
Glass Bowl
Whisk or fork
Kitchen Knife
Chopping Board
How to make it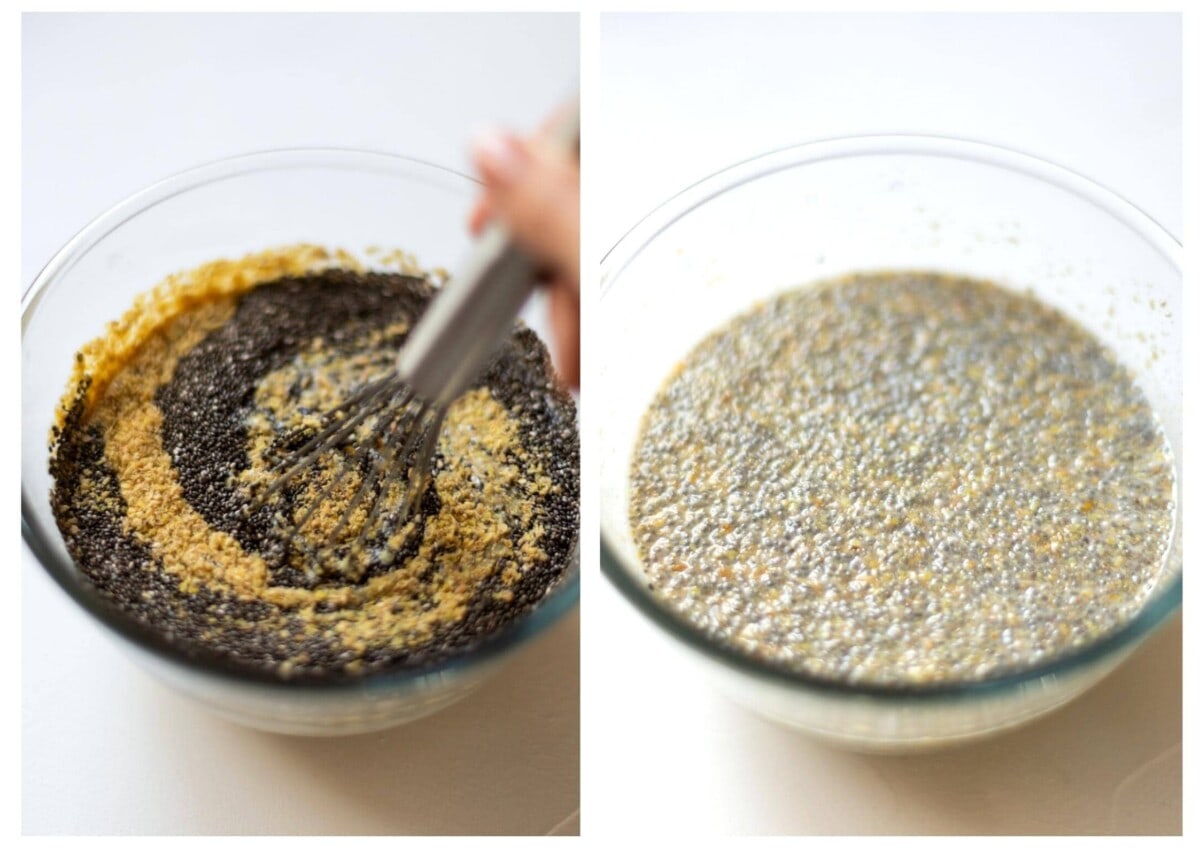 Combine all of the ingredients in a glass bowl, except for the fruit and nuts.
Stir together, using a whisk and then leave to soak in the fridge for 30 minutes, or until the mixture has thickened to a pudding like consistency.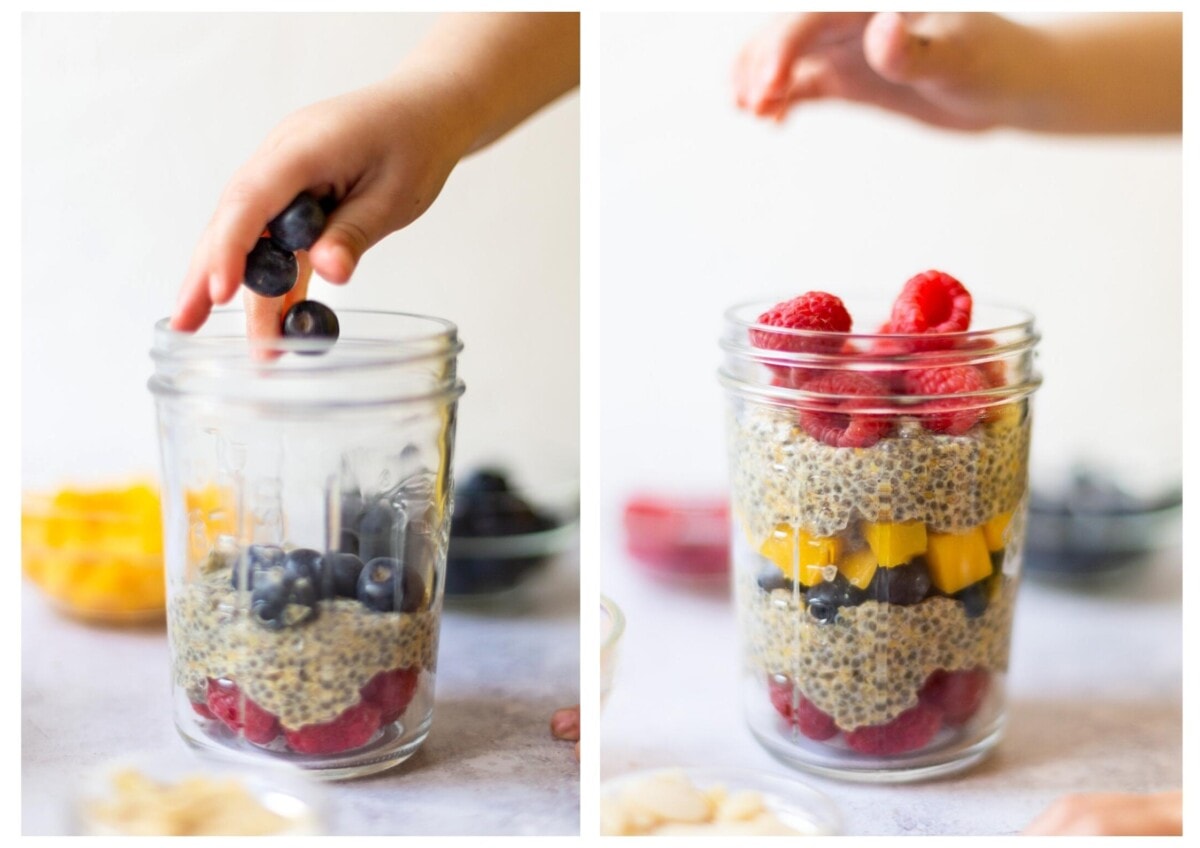 Stir the Chia and Flaxseed pudding mixture through thoroughly whilst it is still in the bowl. This will make spooning it out in to serving jars or bowls easier.
Dice the Mango and then layer the Pudding, Mango and Berries in a glass.
Top with more fruit and some Flaked Almonds.
Substitutions & Variations
Fruit - You can try swapping out the fruit for whatever fruit you fancy at the time. We've used Mango, Blueberries and Raspberries in this as an example (albeit a delicious one!). Some other great combinations are:
- Mango, papaya, kiwi and raspberry
- Strawberry and banana
- Blackberries and a little grated lemon zest
Nuts - Chopped pecans, walnuts or lightly toasted hazelnuts can all make great additions to chia and flaxseed pudding. It's a great way to use up any that may have been sitting in the cupboard a while.
Nut Free - To have a nut free option, simply use seeds instead of the nuts. Sunflower, pumpkin or hemp seeds are all great options.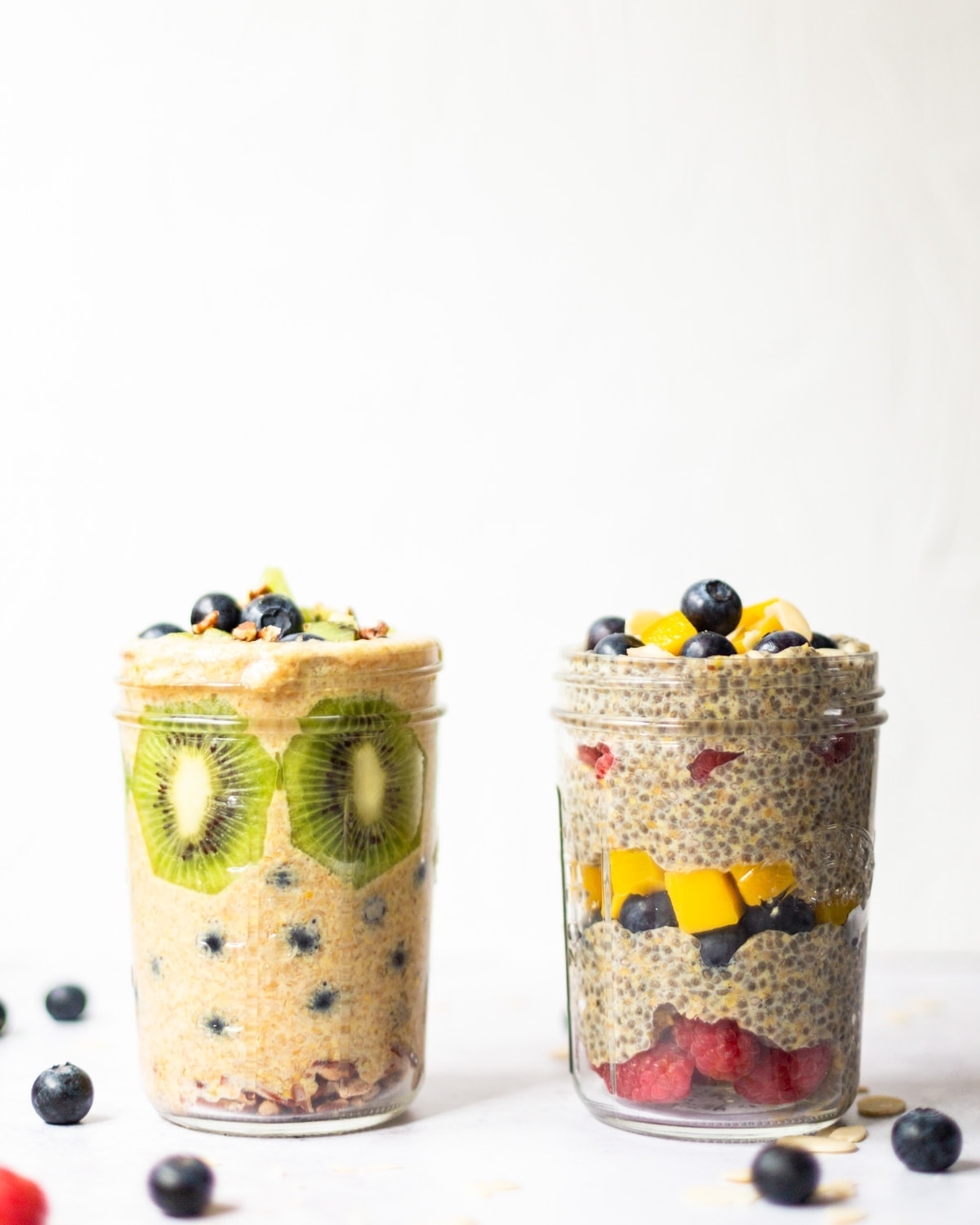 Your gonna love this Chia and Flaxseed Pudding, nut once you've made it you might also like to try our Delicious Flaxseed Pudding as well. (Pictured above, on the left).
Storage
Chia and flaxseed pudding is best made on the day. Alternatively you can make it the night before so that it's ready to go for breakfast the next morning.
We wouldn't recommend freezing this pudding.
Recipe tip
Once set in the fridge, if you find that your pudding is too thick, add 1-2 tablespoons of plant milk and mix well. Or if you find that its a little too runny, add in another 1-2 tablespoons of chia seeds, stir well, and place back in the fridge to set for a further 10 minutes.
FAQ's
Can this be made with any fruit?
Pretty much, yes. If there is a fruit that you particularly enjoy then give it a go with this pudding.
Other Breakfast ideas
For a more leisurely breakfast how about Banana Pancakes or Hashbrowns? For a breakfast before work or school you could try our Flaxseed Pudding or a Weetabix Medley. For those mornings when you've just got no time and its a breakfast on the run, then maybe our Banana and Pecan Muffins. Take a look and see, they're all recipes that we love and all of them are tried, tested and enjoyed by our whole family.
Recipe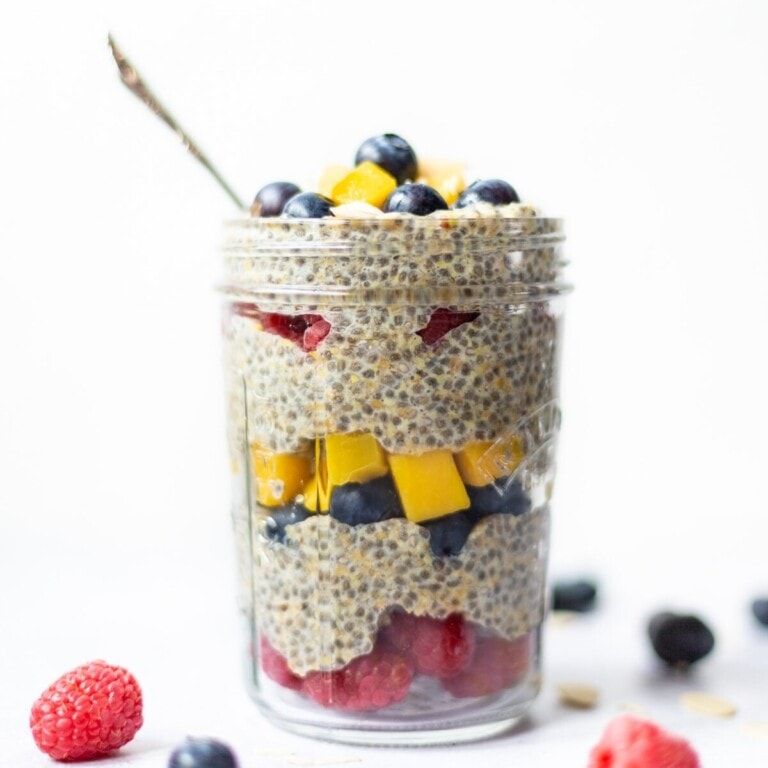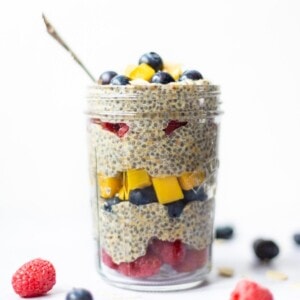 Chia and Flaxseed Pudding
A creamy fruit filled dessert, packed with Protein and Omegas from the Chia and the Flaxseed, as well as plenty of vitamin C from the fruit.
Print
Pin
Rate
Equipment
1 Kitchen knife

1 Chopping Board

1 Glass Bowl

1 Whisk
Ingredients
Pudding Ingredients
½

cup

Chia Seeds

½

cup

Ground Flaxseed

1

teaspoon

Vanilla extract

2

tbsp

Maple syrup

2

cups

Plant Milk
Fruit and Nuts
1

Mango

1

cup

Blueberries

1

cup

Raspberries

1

tablespoon

Flaked Almonds
Instructions
Add all of the pudding ingredients, except for the fruit and nuts, to the glass bowl.

½ cup Chia Seeds,

½ cup Ground Flaxseed,

1 teaspoon Vanilla extract,

2 tablespoon Maple syrup,

2 cups Plant Milk

Stir together using the whisk, until well combined.

Leave to combine and soak for half an hour.

Layer the Chia and Flaxseed pudding in a glass with the fruit. Starting with fruit at the bottom, and then alternate layers all the way to the top.

1 cup Blueberries,

1 cup Raspberries

Top the glass full of pudding off with more fruit and some of the Flaked Almonds.

1 tablespoon Flaked Almonds
Nutrition
Calories:
342
kcal
|
Carbohydrates:
40
g
|
Protein:
9
g
|
Fat:
18
g
|
Saturated Fat:
2
g
|
Polyunsaturated Fat:
11
g
|
Monounsaturated Fat:
4
g
|
Trans Fat:
1
g
|
Sodium:
92
mg
|
Potassium:
461
mg
|
Fiber:
17
g
|
Sugar:
19
g
|
Vitamin A:
601
IU
|
Vitamin B1:
1
mg
|
Vitamin B2:
1
mg
|
Vitamin B3:
3
mg
|
Vitamin B5:
1
mg
|
Vitamin B6:
1
mg
|
Vitamin C:
31
mg
|
Vitamin E:
2
mg
|
Vitamin K:
13
µg
|
Calcium:
221
mg
|
Copper:
1
mg
|
Folate:
60
µg
|
Iron:
3
mg
|
Manganese:
2
mg
|
Magnesium:
176
mg
|
Phosphorus:
349
mg
|
Selenium:
17
µg
|
Zinc:
2
mg
Did you make this recipe?
Let us know what you thought of it in the comment section below. We'd love to hear from you!